Meighan Youth Theatre (MYT) Productions return to Waterside Arts in Sale next week with their annual musical offering. In the last three years they have presented Ghost the Musical, The Addams Family and A Chorus Line and this year it is Jason Robert Brown's Parade.
Parade is not performed on UK stages as often as some of the more popular titles which mystifies me somewhat as it is one of the most powerful pieces of theatre I have ever witnessed.
Parade is a stirring and deeply moving examination of the darkest corners of America's history. In 1913 Leo Frank, a Brooklyn raised Jew living in Georgia is put on trial for the murder of thirteen-year-old Mary Phagen, a factory worker under his employ. Already guilty in the eyes of everyone around him, a sensationalist publisher and a janitor's false testimony seal Leo's fault. His only defenders are a Governor with a conscience and, eventually, his assimilated Southern wife who finds the strength and love to become his greatest champion.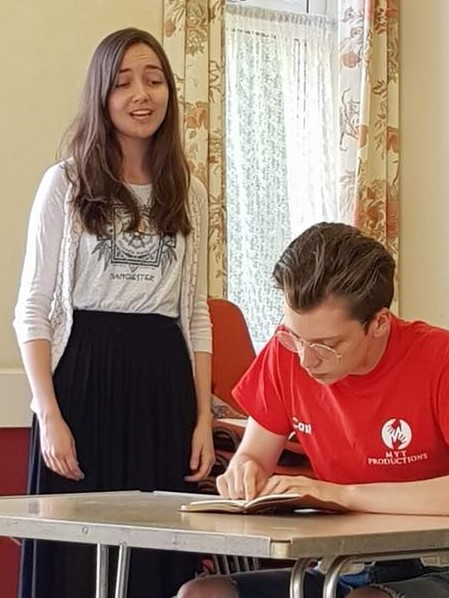 North West End were thrilled to be invited to rehearsals for the show on Friday in Manchester and what we saw was nothing short of inspirational and quite frankly unbelievable.
Each year MYT somehow manage to rehearse and perform a full-scale musical with just 8 eight-hour rehearsal days, 1 technical and 1 dress rehearsal. You would think from this incredibly tight schedule quality would be sacrificed in order to get the show on the stage. You'd be wrong! What we witnessed on their first full run through of the show was a performance you would quite happily pay top money to see in any professional theatre. The preparation the entire team have done in the run up to the rehearsal week has most certainly paid off.
Leading the hugely talented young cast, many of which are at or are off to performing arts colleges and universities in September is Jack Gibby as Leo Frank alongside Tara Kitson playing Lucille. Both these talented young actors could have been born to play these roles and delivered powerful emotion filled performances during the rehearsal.
Cast members returning to MYT after last year's 5-star production of A Chorus Line include Chris Wagstaff, Rhys Nuttall, Lara Hancox, David Beeby and Ciara-Alexandra Booker. Annie Welsh, Emmanuel Moro, Miriam Blackburn, Evan Reah and Rebecca Myers are amongst those making their MYT debut.
Parade directed by Joseph Meighan with Musical Director Neil G Bennett opens on the 1st August at Waterside Arts in Sale and plays for just 4 nights. Tickets are available from www.watersidearts.org with all tickets for opening night just £10. In the two previous occasions this show has been performed in the North West they have resulted in complete sell-outs, so don't delay in booking.
Due to the nature of the subject matter dealt with in the production it is not recommended for anyone under 14 years of age.
Meighan Youth Theatre are looking forward to celebrating their 10th anniversary in 2019 with three productions planned during the year beginning with Arthur Miller's The Crucible at Altrincham Garrick Playhouse in March followed by their annual musical (to be announced) in August at Waterside Arts, before culminating in a spectacular concert at Altrincham Garrick on the 24th August which promises to bring together past and present cast members for an unforgettable evening of musical theatre.