It was an absolute pleasure to catch up with the team behind the forthcoming production of the multiple Grammy Award winning Dolly Parton's '9 to 5 The Musical' at St Helens Theatre Royal. Director Simon Foster (better known to many as the talented St Helens resident Pantomime Dame) was sadly taken ill but producer James Kirby more than stepped into his shoes to give me the lowdown on Pilkington MTC and this production.
Kirby explained that Pilkington MTC was originally founded over ninety years ago by employees of the celebrated glass corporation. Unsurprisingly it grew and spread with its doors eventually being thrown open to the wider community to come and tread the boards. More recently it has merged with St Helens Operatic Society which had been entertaining locally since 1910.
Although the connection with Pilkington is now gone, it was fascinating to discover that St Helens Theatre Royal used to be owned by Pilkington and lovely to know that as the only amateur society performing there, the historic connection to its formation remains.
But back to the present: what had led the company to this current production? I'm more than intrigued when Kirby tells me it involved a bit of a lucky break – and not for the first time either! Like many musical theatre companies, Pilkington MTC had made the decision a few years to break from the traditional standards and reach out to the modern audience, managing fortuitously to pick up 'The Addams Family' on its first release. Last year they had more good fortune acquiring 'Sister Act The Musical' which went on to be a sell-out success for them. This year with a couple of ideas kicking around, '9 to 5 The Musical' suddenly became available and the team jumped straight on it in advance of Dolly Parton's own West End production which doesn't kick off until next January. Someone is certainly shining a light down on Pilkington MTC!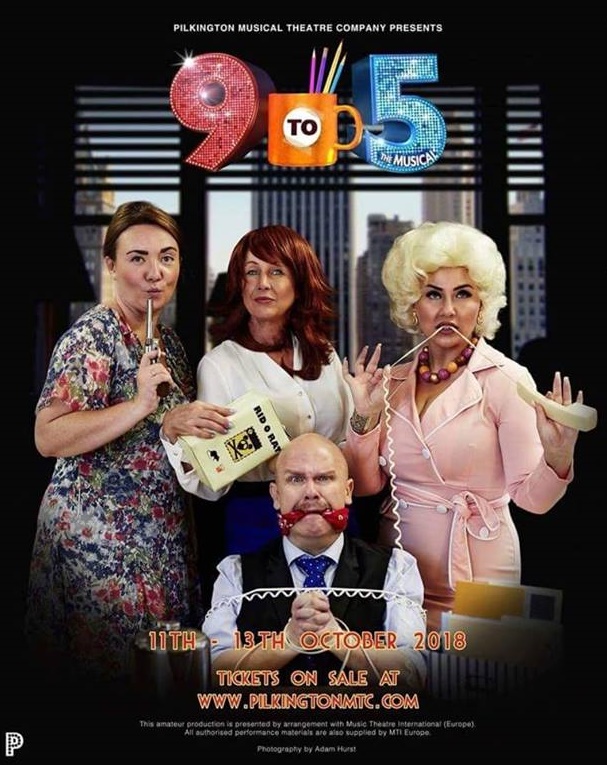 9 to 5 The Musical, with music and lyrics by Dolly Parton and book by Patricia Resnick, is based on the hit movie, set in 1979 in a world where apples and blackberries are merely fruit that come off trees and the office was ruled by men, memoranda and monotony. It centres on three female office workers - Violet (Diane Glover), Judy (Katie Speakman), and Doralee (Sarah Johnson) - who turn the tables on their sexist, lecherous, lying, bigot of a boss, the ultra-assured Franklin Hart Jr. (Foster) in a somewhat 'unusual' manner with plenty of humour, some romance and food for thought thrown in along the way. The musical bonanza under the direction of Wayne Oakes is guaranteed to delight audiences and they have even obtained a special digital guest appearance from Dolly Parton herself.
Kirby notes that their recent shift towards newer, modern shows has injected a new lease of life into the company whilst ensuring there is a role for everybody who wants to be involved, which is reflected in their recent successes at regional NODA awards including last year's Best Choreography (Anna Whittle) and Best Lead Female Actor in a Musical (Emma Dears) with their production of Sister Act The Musical. They are always on the lookout for new members – particularly men – so if you fancy giving it a go then get in touch with this friendly and welcoming group at https://pilkingtonmtc.com/
9 to 5 The Musical runs from October 11th to 13th with a matinee performance on October 13th, with tickets are on sale from St Helens Theatre Royal Box Office on 01744 756000 or http://www.sthelenstheatreroyal.com/show/?show_id=873585157
Previewer: Mark Davoren