Storyhouse announced today that a new production of Howard Ashman and Alan Menken's musical Little Shop of Horrors will run on the main stage from Friday 10th May – Sunday 2nd June, to mark the multi award-winning arts centres second birthday.
The perennial cult-favourite sci-fi musical has devoured the hearts of audiences around the world for more than 30 years, following the story of floral assistant Seymour who stumbles across a new breed of carnivorous plant that promises to grant him fame, fortune and all his desires - as long as the blood keeps flowing.
Little Shop of Horrors is the latest show to be produced by Storyhouse and will feature the creative talent of Olivier award winning director and choreographer Stephen Mear (Gypsy, starring Imelda Staunton, West End's Mary Poppins with Sir Matthew Bourne).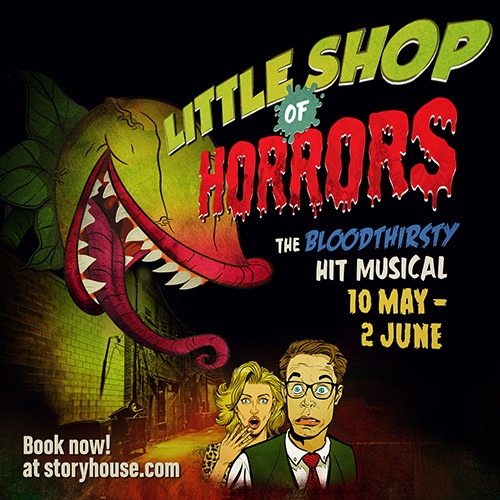 Howard Ashman and Alan Menken (Disney's The Little Mermaid, Beauty and the Beast, and Aladdin) are the creative geniuses behind what has become one of the most popular shows in the world. Little Shop of Horrors is based on a Roger Corman thriller from the 1960's (which featured a young Jack Nicholson). As a musical it has enthralled audiences since its opening off-Broadway in 1982. The 1986 film adaption had an all-star cast featuring Rick Moranis, Ellen Greene, Steve Martin and Bill Murray.
Following in the success of The Beggar's Opera and A Little Night Music (SONDHEIM), Little Shop of Horrors will be the third consecutive Made by Storyhouse summer musical and will play on the theatre's more intimate thrust stage. The production will mark Storyhouse's second birthday, there will be celebrations throughout the building across the month of May.
Alex Clifton, artistic director of Storyhouse said:
This is a joyous musical, telling a story of young love and killer plants. It's a loving homage to the B-movie schlock genre, with music by the composer who defined Disney for a generation, writing the music for Aladdin, The Little Mermaid, Beauty and the Beast, Hercules, Enchanted, Tangled... It's very funny, whole-hearted and exactly the sort of good night out that we know our audiences will love.
Storyhouse opened on 11th May 2017, since then it has welcomed over 1.5 million visitors and won a series of awards.
Tickets are now on sale, find out more at www.storyhouse.com