'You are about to see a story of murder, greed, corruption, violence, exploitation, adultery and treachery – all those things we hold near and dear to our hearts.'
In roaring twenties Chicago, chorine Roxie Hart murders a faithless lover and convinces her hapless husband, Amos, to take the rap… until he finds out he's been duped and turns on Roxie. Convicted and sent to death row, Roxie and another 'Merry Murderess', Velma Kelly, vie for the spotlight and the headlines, ultimately joining forces in search of the 'American Dream': fame, fortune and acquittal. Watch as superstar lawyer, Billy Flynn, defends both women in a court and town that seem far more focusses on fame than the truth.
Featuring a soundtrack that doesn't disappoint, including Broadway hits such as All That Jazz, Mister Cellophane and The Cell Block Tango, this production is not to be missed.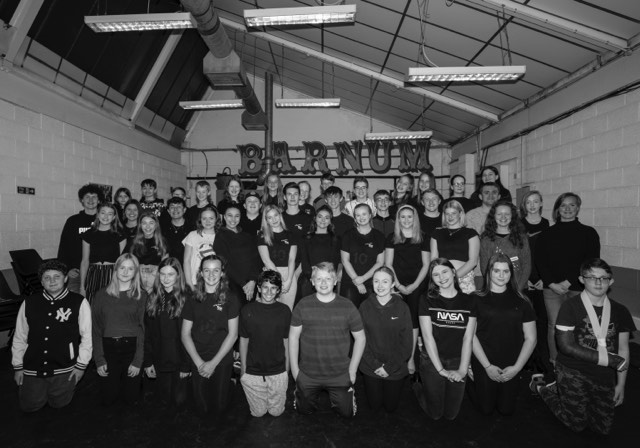 Sharing the role of Velma Kelly are Alice Weltermann (Thursday night and Saturday night) and Rosa Bolton (Friday night and Saturday matinee). Alice has been a part of Easy Street for almost 5 years and recently she has played the Rose Seller in Oliver and Fantine in the 10th anniversary concert. Rosa is also a well-established member of the company having previously performed as Young Eponine in Les Misérables and the nurse in Oliver. She is also working towards her Grade 4 duet singing exam with fellow cast member Ben Storey and has just finished playing Tammy in Easy Street's NT Connections play 'Class'.
Appearing as Roxie Hart will be Hannah Prichard (Thursday night and Saturday night) and Megan Moss (Friday night and Saturday matinee). This is Hannah's 4th year at Easy Street, having previously played Mrs Sowerberry, So-Shy and Cinderella. She is currently preparing for her LCME Grade 8 singing exam which she will be taking in the summer. Megan is making her principal debut with Easy Street but she is no stranger to the stage. Previous roles include Sandy in Grease and Princess Rose in Sleeping Beauty the Pantomime. Last year Megan went to Chichester University to do Music and Musical Theatre but after first semester she soon joined the Musical Theatre foundation degree course at Sheffield College.
Also in the cast are Charlie Bower and Jacob Broughton-Glerup as Amos, Danny Hawley (Friday night and Saturday matinee) and Harry Foster-Major (Thursday night and Saturday night) as Billy Flynn and Ed Maxted (Thursday night and Saturday night) and Ben Storey (Friday night and Saturday matinee) as Fred Casely, with Rhys Quinn playing Fogarty and Emily Axe playing Mary Sunshine, alongside Emma Nielsen who will take on the iconic role of Matron 'Mama' Morton. They will be joined by an exceptional ensemble taking on the other roles in the show.
Easy Street Theatre Company has been providing Sheffield with high quality youth theatre and training for over ten years now. With 40 members this year's summer musical is the Tony and Olivier award winning musical Chicago. We pride ourselves on training young people in all aspects of musical theatre.
Many of our past students have continued to study theatre at some of the UK's most prestigious drama institutions including Guildford School of Acting, Performance Preparation Academy and The London School of Musical Theatre. All of our shows are of an incredibly high standard and accompanied by a full, live band.
Youth theatre showcases young and raw talent and is a pleasure to watch – we hope you can make it down to see Chicago in all its glory at the Montgomery Theatre from 4th to 6th July.
Tickets are on sale now and can be bought online at https://themontgomery.org.uk/TheMontgomery.dll/WhatsOn?Film=364189 or in person at the venue's box office or over the phone (0114 327 3456).