Box of Tricks have the casting for their premiere of Daniel Kanaber's new play Under Three Moons which starts its Autumn tour at Salford's The Lowry,
The two-hander will feature Darren Kuppan fresh from his year long stint in a number of productions as part of the Leeds Playhouse Ensemble as Paul, and he is joined by former Eastender Kyle Rowe who has also appeared on Coronation Street, as his best buddy Michael.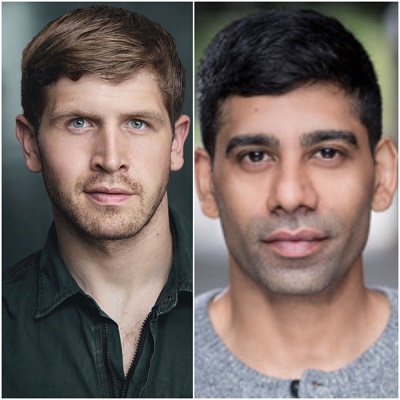 Spanning half a lifetime, Under Three Moons takes place on three nights across three decades of two friends' lives. From a school trip to France as teenagers, to a surf shack in their twenties, to Christmas in their thirties, Mike and Paul meet up and talk into the night. From boyhood to manhood to fatherhood, these are the nights they share.
Kanaber tells the story of the two men growing together, a relationship that's close but often unarticulated. It also explores how that lack of direct expression can become the defining trait in a life and the shifting view of male identity in today's society from talk of 'lad culture' to the 'metro-sexual' and now 'toxic masculinity'.
Under Three Moons will be directed by Box of Tricks' Joint Artistic Director and co-founder Adam Quayle and is designed by award-winning designer Katie Scott who did a brilliant job on their award-winning production Narvik.
Under Three Moons will open at The Lowry, Salford from the September 24th – 28th and then tours until the November 2nd to Huddersfield, Liverpool, Crewe, Hull, Leeds, Ormskirk, York, Newcastle, Mold and Whitehaven.
For further information and tickets for Under Three Moons and Box of Tricks, visit www.boxoftrickstheatre.co.uk
Tour Dates
24th – 28th September at 8pm - The Lowry, Salford
(Matinees: Parent & Baby Performance Weds 25th Sept 11am | Sat 28th Sept 2pm)
Box office: 0343 208 6000 https://thelowry.com
1st – 5th October at 7.30pm - Lawrence Batley Cellar Studio, Huddersfield
(Matinee: Sat 5th October 2:30pm)
Box office: 01484 430528 https://www.thelbt.org
9th – 12th October at 7.30pm - Unity Theatre, Liverpool
Box office: 0151 7094988 https://www.unitytheatreliverpool.co.uk/
15th October at 7:30pm - Crewe Lyceum Studio
Box Office: 01270 368242 https://crewelyceum.co.uk/Online/
16th – 17th October at 8pm - Hull Truck Studio
Box office: 01482 323638 https://www.hulltruck.co.uk/
18th October at 7:45pm - Carriageworks Theatre, Leeds
Box Office: 0113 376 0318 http://www.carriageworkstheatre.co.uk
21st October at 7.30pm The Arts Centre, Ormskirk, Edge Hill University
Box Office: 01695 584480 https://www.edgehill.ac.uk/artscentre/
22nd October at 7.45pm - York Theatre Royal
Box office: 01904 623568 www.yorktheatreroyal.co.uk
25th – 26th October at 7:30pm -Live Theatre, Newcastle
Box office: 0191 2321232 https://www.live.org.uk/
28th – 30th October at 7.45pm - Theatr Clwyd, Mold
Box office: 01352 701521 https://www.theatrclwyd.com
2nd November at 8pm - Rosehill Theatre, Whitehaven
Box office: 01946 692422 https://www.rosehilltheatre.co.uk/