There's a new theatre company in town and it's no picnic – it's Pique Niche Productions and I was pleased to catch up with the lady behind it, Donna Day, who is well known in Liverpool theatre circles as well as being Chair of Liverpool Network Theatre.
Day feels that new writing and fringe companies have become somewhat lost as production companies can often fail to appreciate what they have in their rush to shoehorn everything into a performance. This is where Pique Niche Productions steps in as it aims to support new writers in taking their words to the stage and where Day's experience as a writer, actor, and director comes to the fore as she facilitates the whole process. Their first production – Picture This – presents three plays which explore relationships and family life in Liverpool with links to art and photographs.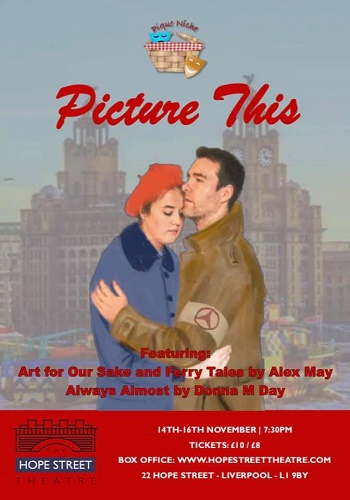 Ferry Tales, by Alex May, follows two couples on the iconic Mersey ferry as they discuss life and love, revealing their different outlooks on people and society and showing how a throwaway remark can change a relationship forever. Always Almost, by Day, explores what it means to be successful in life as a prolific, bestselling poet muses on her experience of infertility. Art for our Sake, by Alex May, follows a man who discovers a painting he has always hated may be worth a fortune. Should he share the good news with his sister or keep quiet and use the money to save his business? Meanwhile in Liverpool 1939 a young woman meets a German man who is fighting against the rise of fascism while pursuing his passion for art. As war approaches, will they find a way to be together?
Day is keen to make theatre for those who don't usually attend by presenting subject matter that reaches beyond traditional boundaries. People tend to hold strong views on art and so it becomes the perfect medium to encourage healthy debate over different perspectives in contrast to the disagreements that break out on a daily basis on social media between strangers whose vitriol is geared by being right and others being wrong.
Day never switches off and is already working on a production for next Spring – The Stranger by Danny John Wright – which started life as a dark comedy screenplay that she has helped adapt for the stage. With the promise of an added touch of Faustus I'm already hooked.
She is also a keen fantasy writer and her latest piece – People Will Talk – appears in Mothers Milk Books The Forgotten and Fantastical Vol.5 which is being launched on 19th October at Fantasy.Com. A previous piece – Godmother's Fairy Tale Ending – appeared in an earlier volume. She is currently working on a novel.
And on top of all this she has her day job as a copy editor and proof-reader. I don't know how she makes the time for all these things but I'm glad that she does – maybe she's a real-life Wonder Woman after all.
The Forgotten and Fantastical Vol.5 is available at https://www.mothersmilkbooks.com/
Pique Niche Productions is a Liverpool based theatre company supporting northern writers from Merseyside and beyond. Further details https://www.facebook.com/piqueniche/
Picture This performs at The Hope Street Theatre between 14th and 16th November with performances starting at 7.30pm. Tickets available http://hopestreettheatre.com/whats-on/