George Egg is an instantly likeable chap, walking on to the stage in a slightly nervous but immediately endearing fashion, after a very dramatic visual opening. Immediately you know that what you have come to see is completely unique, as is George himself.
The show comes from his time on the road as a stand-up comedian, staying in varies hotels up and down the country, as well as abroad. George admitted to getting very nervous before a show, fighting the desire to throw up, but then after a show he wants to eat the world! However, at the time a show finishes he has limited culinary options: takeaway or hotel room-service - both are not very satisfying and the latter is extremely over-priced. So, using his powers of divergent thinking, he began cooking in the hotel room, using the equipment that is provided. These experiences birthed a show that has been a sell out at the Brighton Fringe for the last two years and last year sold out at the Edinburgh Fringe - winning him the Spirit of the Fringe Award 2015.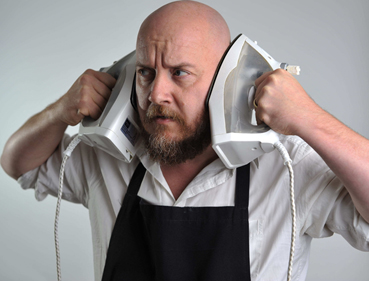 As George alluded, and I paraphrase, this show isn't just a stand-up show and it's not cookery demonstration but it has enough stand-up to keep those who like it happy and enough cookery to keep the budding chefs happy too. It's a fusion of comedy, demonstration and "sticking to the man" that I have never seen or heard of before; it was incredibly refreshing.
Therefore, for just over an hour, we watched George produce a three-course meal using shop bought ingredients and the utensils and appliances found in a typical hotel room - with the exception of a flick knife brought from home used to slice, dice and fillet the various ingredients. As well as prepare the food, George regaled us with tales of other things he'd managed to make in hotels including: ricotta cheese, scrambled eggs, cured salami and fresh bread! In addition he added some musings and funny stories, some of which were a little on the blue side, but were overall very amusing.
The result of George's labours were a simple starter of bruschetta topped with a fresh salad, a main course of poached sea bream and a delicious desert of pancakes with nuts and syrup. The joy of the show for me was trying to work out how it could be cooked and prepared, I'll leave that enjoyment for you to discover for yourself.
This is a show unlike any other I have seen, George is an incredibly likeable funny man and an incredibly resourceful cook. In essence this a conversation with a man who wants us to see beyond the things that are around us; to be creative, divergent thinkers; and to join in his culinary anarchy! I'm not sure the likes of Premier Inn, Best Western and Days Inn will know what has hit them if he succeeds!
Reviewer: Alan Harbottle
Reviewed: 31st May 2016