Walking into the theatre, you are immediately thrust into a time nobody who was born before 1990 will ever forget - 9/11. The set is exposed, raw and drab, like something you can imagine appearing in a Pink Floyd video and there's a TV screen suspended from the ceiling fluctuating between oppressive white noise and newsreel from that terrible day. Seeing the World Trade Centre on fire, hearing the aggressive words of George W Bush really did set a very powerful scene.
American Idiot is the story of three friends struggling to be anything in Jinglestown, USA. Following 9/11, these friends - Johnny (Newton Faulkner), Tunny (Cellen Chugg Jones) and Will (Steve Rushton) decide to bust out of suburbia and head for big city USA. As they are leaving, Will's girlfriend Heather (Emma Housley) announces she is pregnant so the trio becomes a duet as only Johnny and Tunny head to the city.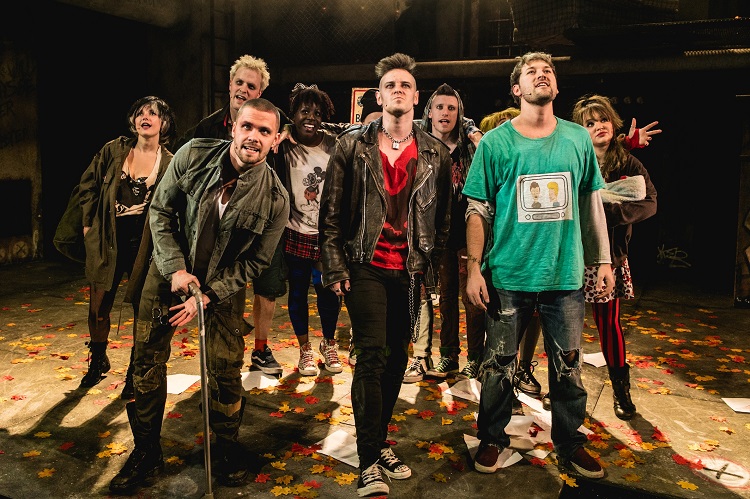 The play follows these three men, whose lives take vastly different directions, through the highs and crashing lows of this lost generation following Americans biggest tragedy.
This is far from a standard musical. This is an anarchists musical, the musical for people who hate (as well as love) musicals. It is loud, heavy guitar music and is as far away from a fairytale, from start to finish, that I think I have seen on stage. It is also not for the faint hearted. The music all comes from Green Day and the bands controversial front man Billie Joe Armstrong. There is a lot of swearing throughout the play, there is sex and extensive and graphic drug taking. It is not done for effect or to shock though. It is telling the story of people you can relate to, especially if you are of the generation who bought Green Day records. That said though, if you are easily offended or sensitive to any of these things, this is definitely not the show for you. Nothing here is sugarcoated.
Given the grit of this show, there were some exceptional performances. Faulkner's Johnny was one you want to hate but this beautifully damaged character became one you fully routed for especially as he spiraled with the appearance of the wonderfully terrible St Jimmy (Lucas Rush). Johnny's potential light at the end of the very dark tunnel was Whatsername played by X-Factor finalist Amelia Lily.
There were no poor performances in this show but the stand outs for me are the three men, Faulkner, Jones and Rushton. They didn't put a note wrong. Individually they were wonderful, together it was perfection. When Faulkner picked up his guitar and found his spotlight you know you were about to witness something magical. A point that will stick with me for a long time is the performance of Wake Me Up, When September Ends during the second act. All three characters were reaching rock bottom, all three actors soared. This beautiful performance told a multitude of stories, moved a shocked audience to tears and musically could not be faulted. This was a very high point in a night full of high points.
It's not for everyone but it is definitely for me. I rate any performance with the question, would I pay to see thing again? I also ask my guests the same question. For this it was a Yes! In fact, my guest has already booked to see it again on Friday before the run ends. Moving, funny, real and dirty. I never thought I would see something like this one stage and I'm so glad I did.
Reviewer: Helen Kerr
Reviewed: 21st June 2016
North West End Rating: ★★★★★