What could possibly go wrong with a home swap with your home in Wimbledon for a holiday in sunny Marbella? The body in the cupboard at the very start might just be an indication of what is to come when it transpires your holiday let is owned by a local gangster with big plans to take on other mobs.
Husband and wife Brian and Susan Flowers arrive with Susan's' brother Jeremy at the idyllic Spanish villa and the scene is set in a very realistic looking lounge for the entire play. Brian (David Callister) is on the phone to Paul Dobson, the home-swapper, engaging in a one way conversation bringing plenty of laughs. Whilst brother-in-law Jeremy (Patric Kearns) takes a siesta, 'My wife Susan' explores the villa who becomes hysterical when a body complete with brown paper carrier bag over his head falls out of a cupboard and pins her down. There are four cast changes in tonight's show and this is the first of them, with Michelle Morris taking on the role of Susan who gives an extremely funny dramatic portrayal as she takes control of the events to follow.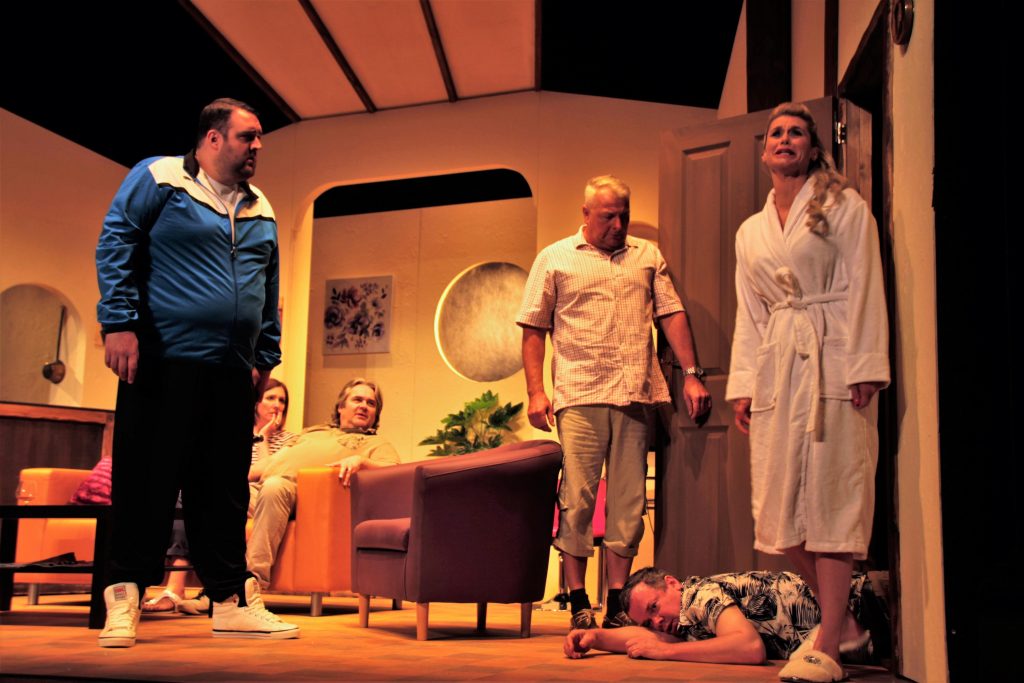 Coral played by another cast change, Louise Lytton, arrives at the villa unaware her boyfriend 'Pauly' has gone away and jumps to the conclusion that the trio have murdered someone. Identifying the body as Nick Nick Dobson (third cast change David Janson) brother of gangster Pauly, Coral is the stereotypical dim witted trophy girlfriend and her character is given justice by Lytton.
Sidney Thrush another gang member, turns up and unfortunately becomes the second victim..... With 'Harry the Hammer' on his way to remove Nick Nick, Coral warns the others about him and it slowly hits home that they may be in a spot of bother! Sidney is acted by Davies Palmer who takes on several other roles as does Ben Sleep (fourth cast change) as 'Harry' and David Janson.
Kearns and Callister bring many comedic moments and as they come thick and fast there are plenty of laughs in this completely unbelievable play. In one scene the whole cast appear to 'lose it' in true panto style, although I'm not convinced the 'mistake' was not deliberate, but no matter what, it brought the most laughs of the evening from the audience.
Written and directed by Ian Ogilvy (Simon Templar in the television series, Return of the Saint) and presented by talking Scarlet, Swap has all the ingredients associated with farce and does not disappoint on that score. With over dramatic and absurdly silly plots, a mass of unbelievable characters, who thanks to the talents of all of tonight's' performers bring it all together. With a cast of seven and nine deaths, Swap is guaranteed to make you laugh if you take it for exactly what it is... a nonsensical farce.
Continuing at the Grand Blackpool until 23rd July 2016 for more information https://www.blackpoolgrand.co.uk/event/swap/
Reviewer: Lorna Weekes
Reviewed: 19th July 2016
North West End Rating: ★★★