The Lantern Theatre in Liverpool is sadly closing down at the end of July after several years supporting Liverpool's fringe theatre community so I was excited and a little emotional to come and say my goodbye to a place I have performed in, directed in and also, sat and enjoyed some of the best theatre in the region.
You Boy is the story of two brothers and the complex relationship only siblings share. It opens at the grave of One (Oliver Burkill) who discusses his own afterlife while waiting for his brother Two (Scott Harrison) to visit. Their story is told through a series of flash backs to the brothers childhood, the actors switching between funeral/work wear and school uniforms to describe what lead ultimately to One's death.
The start of the show, the performance felt a little shaky with emotions not feeling genuine however once Burkill and Harrison settled into their roles their performances improved significantly.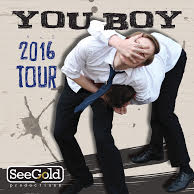 Burkill's One, the charismatic, intelligent, smart mouth who gets away with everything, sparkled. You felt drawn to him throughout and recognised the boy in front of you - every school had a One. Harrison however beautifully portrayed the damaged Two, plagued with guilt and a feeling of inferiority compared to his adopted brother One.
The relationship between the brothers felt fully genuine. You feel the affection, rivalry and to the death protection anyone with a sibling can recognise. Seeing Two confide in his deceased brother and One's afterlife reaction and often helplessness was moving and on occasion brought a lump to my throat before One would throw off a joke, as often happened with those types of characters.
The script by Joshua Meredith was extremely clever. Switching between traditional dialogue between the two brothers and one sided conversations with other characters including teachers, police, rivals and girlfriends was brilliantly written and expertly performed with timing perfect throughout.
This is a special play. Surprising, funny, emotional and thought-provoking and yet another example of the extremely talented creatives coming out of LIPA. Burkill and Harrison produced performances captivated and riveted which isn't easy in a two man show, lasting 75 minutes but was definitely helped by Meredith's smart, beautiful script and Zach Slaters clever directing and use of, what can be a challenging and very bare space.
I was impressed by You Boy and think that this is unlikely to be the last time I see Birkill and Harrison whose careers and talent can only be helped with their performances. I wish all involved best of luck with the rest of the run.
Fringe theatre is often seen as a place for poorer quality performance and productions but I think You Boy is a perfect example of what Fringe Theatre is all about - excellent writing, captivating performances, smart direction and far, far more challenges than non-fringe theatre have to deal with.
Reviewer: Helen Kerr
Reviewed: 21st July 2016
North West End Rating: ★★★★