Hand to Hand Theatre Productions brought us R.I.P. Mr Shakespeare, a very apt and fitting end to the 'Where There's A Will…There's A Season' at St. George's Hall, Liverpool.
I don't to "play fast and loose" and "without rhyme or reason", "it is high time" I present to you the "the long and short of it", the "naked truth" of this merry band of players. We began the evening with a prologue that reminded us of the legacy that Shakespeare left with us. Regaling us with the many phrases that came from the quill of the Bard still in use today.
We were then introduced to William Shakespeare, played by Barry William Powell, who, "being now in his dotage" was residing in a care home. Shakespeare was being looked after by a servant, played by Keith Hill, but he had not yet "outlived his faculty of remembering". What then played out, initiated by this very disgruntled unnamed servant, are the dreams of the Bard, in his last hour before his "journey's end".
What made this performance so colourful, enthralling, entertaining and "as merry as the day is long" were the company who had all taken on clown personae. The cast had been to Clown School in preparation for this production and the marrying of the Bard with buffoonery worked perfectly - after all Shakespeare himself knew how to use the role of the fool effectively.
The central part of the performance was taken from a monologue in 'As You Like It':
"All the world's a stage,
And all the men and women merely players;
They have their exits and their entrances,
And one man in his time plays many parts,
His acts being seven ages."
Each of the seven ages of man were then used as a device to visit characters, monologues, scenes and poetry that make up the Works of Shakespeare. We were also entertained by his characters appearing together for the first time. These included a bunch of fools (Shakespeare's clowns), a bevy of mad women and an enchantment of fairies, sprites and witches.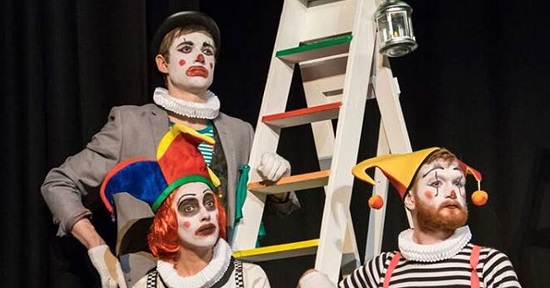 Every member of the company played their part extremely well, maintaining their own unique clown types whilst donning the guise of Shakespeare's creations and using his words. I was also impressed by the use of contemporary and period music through the evening, it effectively bridged the gap between the enacted scenes and the re-imagined ones. Many of the cast demonstrated they had beautiful singing voices too, they were truly captivating.
But "All's well that ends well" and, much like a Shakespeare play, the show ended with an epilogue - it is at this point I literally had goosebumps. This wonderful performance was concluded with the farewells and endings from Shakespeare himself surrounded by bubbles and colourful umbrellas. This truly was "such stuff as dreams are made on", a perfect way to mark the 400th anniversary of Shakespeare's death and close the 'Where There's A Will…There's A Season' Shakespeare Festival.
Nevertheless, the evening wasn't quite finished, John Gorman took to the stage. John had the vision to create the festival at St. George's Hall, inspired by the story of Ashland in Oregon, USA - a town revived through their Oregon Shakespeare Festival, now in its 80th year. He spoke about the influence of Shakespeare and mentioned the Globe Theatre in London and the Bard's home town of Stafford-Upon-Avon, but he said it was time Shakespeare came to the North. So, in full support of the new Shakespeare theatre and college in Prescot, St George's Hall are planning to make the 'Where There's A Will…There's A Season' an annual festival in Liverpool. Plans for next year are already in the pipeline, so there will be more plays to enjoy and, as John said, more of Hand to Hand Theatre Productions.
So, "All's well that ends well" and "for goodness' sake" book your tickets for next year. Farewell, "parting is such sweet sorrow, that I shall say good night till it be morrow."
Reviewer: Alan Harbottle
Reviewed: 11th August 2016
North West End Rating: ★★★★★