Alexandra Burke puts the X Factor behind her with a barnstorming performance in a funny and sassy adaptation of the smash hit movie.
If you were wondering if X factor winner Alexandra Burke was a cynical bit of stunt casting then those doubts are swiftly dispelled as she owns the stage belting out "Take Me To Heaven" that opens this fun version of the movie classic.
Anyone who has a telly will have seen the hit film so you know the story. Wannabe disco singer Deloris Van Cartier sees her gangster boyfriend murder one of his gang and she takes refuge in a run-down local convent as she flees for her life.
Burke is Deloris, and we know she can sing, but has she enough acting chops to at least partially fill Whoopi Goldeberg's massive shoes? She can as her Philadelphia accent holds firm all night and shows some nice comic touches as Deloris' flamboyant street persona initially creates havoc in the cloisters.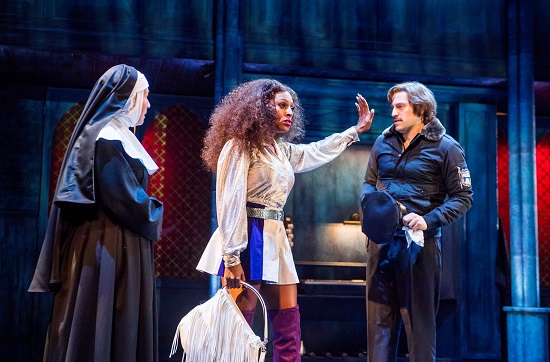 Given the lead is so early in her musical theatre career the producers have wisely packed the cast with some experienced performers. None more so than the quite brilliant Karen Mann as the straight-laced Mother Superior who locks horns with the wayward Deloris. Mann matches Burke blow for blow all night and her subtle rendition of the haunting "Here Within These Walls" really unlocks her character's motivation.
Delores is finally give the task of making the nun's awful chorus work and the moment she helps the timid novice Sister Mary Robert find her voice is well done by Burke. Watch out for Sarah Goggin as a future star especially when she nails Mary Robert's crisis of faith in "The Life I Never Had".
Last time we saw Susannah Van Den Berg in Leeds she was in the ever popular Rock and Roll Panto bringing all that energy to the naïve and tone deaf Sister Mary Patrick. But Sister Act is a musical comedy which is the cue for Rosemary Ashe to have a huge amount of fun with the batty rapping Sister Mary Lazarus.
Craig Revel Horwood may be most famous for being the comedy villain on Strictly Come Dancing but he is also a well-regarded theatre director skilfully handling this big cast. He is also a gifted choreographer managing to get the actors to master some high energy moves. The moment Deloris' love interest Eddie become John Travolta during "I Could Be That Guy" spinning round with a stage full of dancing tramps in full disco mode is pure joy.
Some X Factor winners have been reduced to playing wine bars or holiday camps but Alexandra Burke has found her home in musical theatre in a fab..u…lous show where a top quality cast look they are having just as much fun as the audience.
Sister Acts is at Leeds Grand Theatre until Saturday 27th August and touring. To book go to www.leedsgrandtheatre.com or 0844 848 2700
Reviewer: Paul Clarke
Reviewed: 24th August 2016
North West End Rating: ★★★★
Photo: Tristram Kenton