Bromance has arrived at The Lowry for a two night residence with a unique show that rivals Matthew Bourne's Sleeping Beauty which was playing in the adjacent theatre last night.
Bromance is the debut show from Britain's hottest young acrobats, winners of the 2013 Circus Maximus Award and 2014 Total Theatre and Jackson's Lane Award for Circus at the Edinburgh Festival.
Relationships are the heart of Bromance, where handshakes become handstands and backslaps become backflips. Audacious, touching exhilarating, and with a great soundtrack, this is a tour-de-force of cutting edge physical heroics, wittily exploring male companionship and its limits.
Barely Methodical Troupe mix their enjoyable personal chemistry and humour with exceptional skills in parkour, Bboying, tricking, hand-to-hand acrobatics, Cyr wheel and more.
Produced by DREAM and developed with support from Underbelly Productions and the National Centre for Circus Arts as winners of the Circus Maximus competition
At only 55 minutes from start to finish the show is over all too quickly and I felt myself wanting more as I left the theatre tonight. With a Troupe of just 3 however it would no doubt be a big ask for them to perform longer in this physically demanding piece.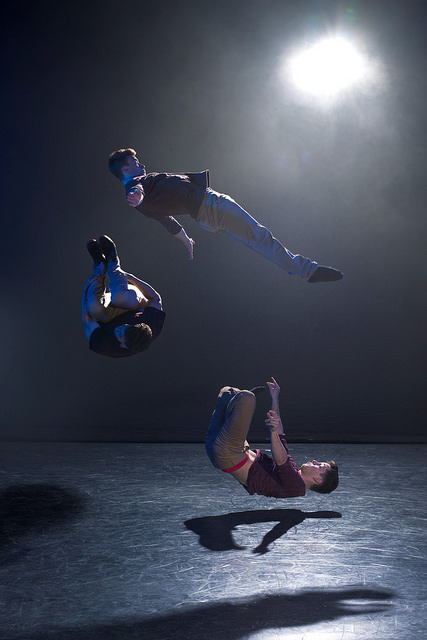 The three Troupe members Beren D'Amico, Charlie Wheeller and Louis Gift bring humour to the proceedings. Gift is the powerhouse of the trio performing most of the lifts throughout, but all display their own different types of strengths. It is clear to see from watching them on stage they have a strong bond between them, not to mention ultimate trust.
Backflips and stunning balancing routines have the audience gasping one minute and applauding the next as we are taken on the journey of friendship and bonding. The highlight of the evening is the final sequence using the Cyr wheel. The manipulation of it was perfection itself as it spun around the stage as if it were light as a feather. It was not until the end when you heard it fall to the stage that you actually realise just how heavy it is.
If you get a chance to see this group live on stage, grasp it with both hands, you will not be disappointed. I will certainly be scouring the listings for future tour dates.
Reviewer: Paul Downham
Reviewed: 24th November 2015