Roseacre is a Nordic Noir inspired crime drama, devised by the company Square Peg Theatre and part of the Push Festival at HOME in Manchester.
Beginning with the discovery of a body we see how each character is related to the murder and the pain it causes them individually. The muddy colours of the costume and set, designed by Irene Jade, completely reflected the dark gritty drama about to unfold. The beginning of the performance seemed to reflect the opening titles of a television crime series, with a sort of theme tune and the characters holding various positions. The music was cut and the transition to the opening scene was so smooth it felt almost screen edited.
Physical theatre is a main element of Square Peg Theatre's pieces and it was a particularly strong component in Roseacre. Throughout the scenes the actors would fluidly re-adjust, as if a camera was zooming in on a particular person or panning across to another part of the room. The sounds of the world - designed by Owen Rafferty - were timed perfectly with the actors' movements, again creating a very stylised, almost filmic atmosphere. This strong cinematic style, combined with the use of physical theatre really helped to create the imagined world in which these characters lived.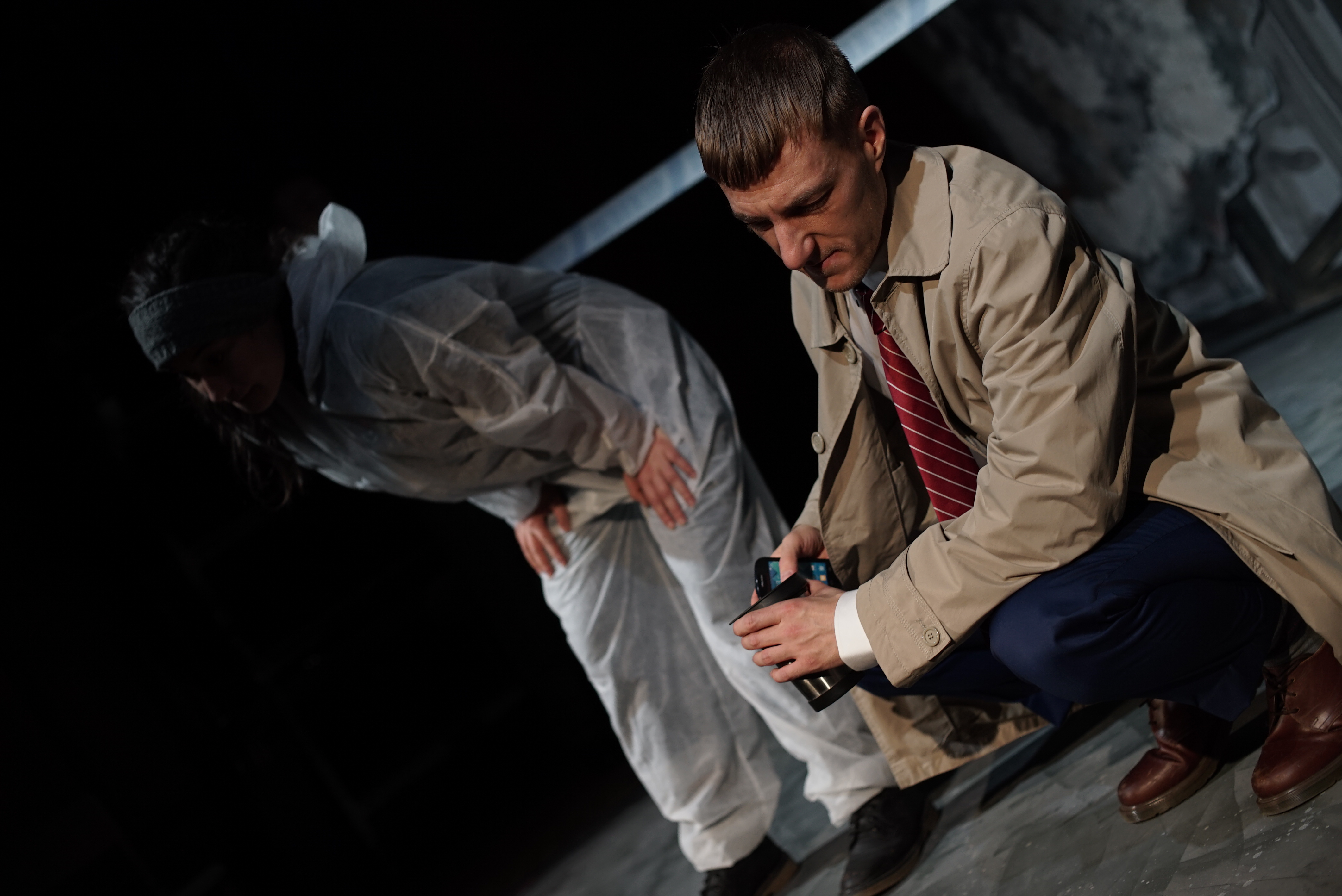 The story was heavily character based and as all good Nordic Noir 'heroes' should be, each character was layered and flawed in their own way. Although the genre shone through, there were elements of British humour peppered throughout with awkward silences after Ryan Lomas asks out his co – worker and jokes on the theme of marriage. This typically British humour, although quite funny, jarred at some points with the tense, very European feeling drama, unfolding on stage.
The relationship between Alice Hulme and Vivienne Ashcroft played by Emma Romy–Jones and Katie Robinson was authentic and a joy to watch. Their easy, comfortable relationship allowed the audience to see the connection between them in a delicate and understated way. Robinson shone throughout the whole performance; her precise movements when rearranging furniture in other scenes and detailed character work as Vivienne were mesmerising. My favourite moment of the whole play was her scene as a secondary character; that of a European accented prostitute. This dry, no nonsense, European humour lay extremely well with the rest of the play and showcased Robinson's talent extremely well.
Overall the performance was a one act 90 minute drama, however, some scenes could be trimmed creating a shorter, paceier story. Nevertheless, the performances were well executed and the physical elements combined with the direction of Michael White – who also wrote and performed in the piece – created tense moments, great 'cinematography' and believable characters.
Reviewed: 15th January 2016
Reviewer: Charlotte Green