Steve Steinman presents his newest creation to the Vampires Rock world - Vampires Rock: The Ghost Train. As his ever loveable main character Baron Von Rockula loses all he ever has and makes a new life in an abandoned ghost train, but it doesn't take long for things to turn sour - especially when an innocent virgin crosses paths our loveable Vampire. The only way to describe the show is a very adult pantomime, it has the innuendos of a panto but the mature content and context of an adult show. Be warned this is not a show for children! It may not have a restriction on age, a fact which bewilders me, but the content I believe should only be shown to those 18 and over. The set was in the style of the entrance and exit of the ride itself, with the band using it as a jungle Jim throughout the show. The lighting and SFX were those of a high quality rock show that emphasized the greatness of the music with every chord. The use of an increase of speakers and sound equipment on stage was a great addition to the vibe of the performance.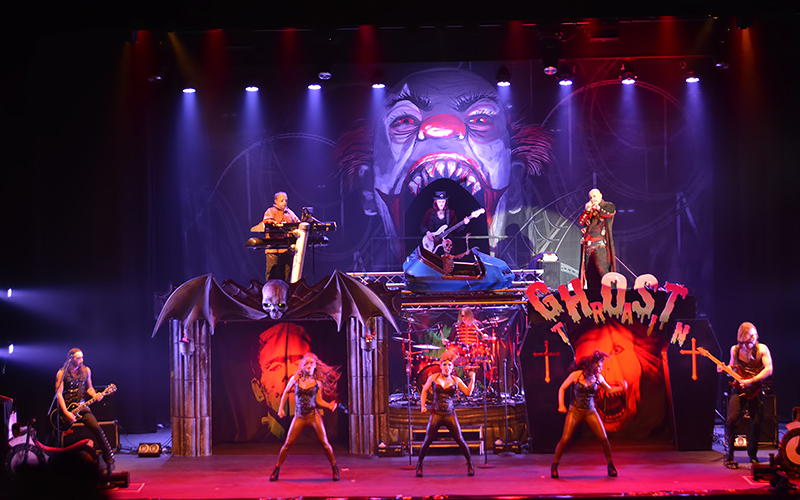 Baron Von Rockula was played by Steve Steinman - who also wrote and directed the piece. He was charismatic funny and charming all at once, he drew the audience closer with every note and every word. The song collection was at times wild and crazy, they included: We Will Rock You, Bat Out of Hell, Sweet Child Of Mine, Total Eclipse of the Heart and many more! The band blasted there was through these unforgettable songs, they all seemed genuinely excited and happy to be sharing this music - something that bands in shows can often forget. The dancing was unfortunately not the pick of the bunch, with a combination of over exaggerated and suggestive choreography, it was not to my taste as all. All the girls seemed to be copying each other but not as it were, performing. They may have had the facial expressions for brief moment - but that was all. The most recognisable and memorable moments I took away from the show came from the ad-lib, some improvised moments seemed scripted but others were pure hilarity - namely the moments with Baron and his faithful sidekick, who is rather a nuisance at the best of times.
Overall, it was ultimately happily received from the almost at capacity audience of The Grand Blackpool, it seemed like many audience members were familiar with the work itself or possibly a previous production of Vampires Rock. It was certainly a show of mischief and quirky nature, with a horde of popular rock classics that we all know and love.
With a cast of amazing dancers, musicians and actors this is a show not to be missed!
Reviewer: Brad Wilson
Reviewed: 16th January 2016