Beardyman's self-titled performance was like an amalgamation of several different experiences; Darren Foreman is a notably beardless Beardyman who leads the evening as compare, improviser and musician. Although these are fairly complimenting skill sets, if felt as though they were applied in revolving turn of one another (albeit overlapping) instead of simultaneously.
At the risk of sounding unenthusiastic about this inconsistency, let me be quite plain in saying that I really enjoyed myself. Foreman is a very clever creature sent to us from a far off imagination land aboard his "Beardytron" (his pet name for his instrumental apparatus) and he deserves every decibel of cheer from the audience. I only feel compelled to consider a music show and a comedy show separately because I can't decide whether attendees expecting one will anticipate the other.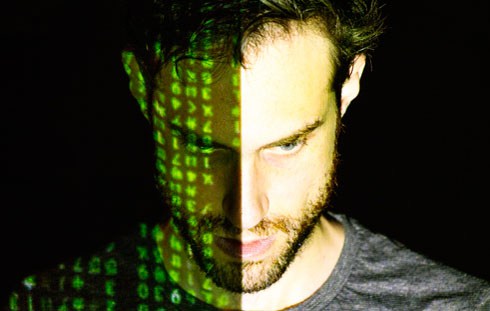 The loose format of the evening is to create an album in an hour. The song titles are the audience suggestions from a room full of people who I imagine have a strong appreciation for Cards Against Humanity. Song titles included, but were not limited to, Nick Cage, Rage on the Stage, Kanye West is My Spirit Animal, Give The Frog a Break and All My Fingers Are Thumbs. The songs made it clear that Foreman excels in rapping with an almost beat-poetry-like appreciation for rhyming couplets and also has a reliable set of pipes. The improvisational aspect of his lyrics was often secondary to his musical instinct. He would take the opportunity to regain comic ground between songs allowing the momentum to alternate between dialogue and music.
Foreman darted around his equipment with the practiced zeal of a child who wants to show you all of his Christmas presents at once. He was able to create some truly exciting and eclectic music, often from genre combinations from the audience, and using some of the most seamless live looping and sampling I've heard in some time. The audience was provided with plenty of opportunity to forget the comedic intentions of the show and just enjoy his technical proficiency. I appreciate the level of self-editing that was exercised; if something was not working, Foreman would abandon it to make something better.
Whether you go in search of improv, comedy or music you will be guided through the evening by an incredibly likeable performer. He set the tone in the room and was able to adhere to the wishes of those shouting for more drum and bass without isolating those who requested bluegrass or metal. The evening concluded with the chants of 'One More Tune' drifting off with the realisation that we were not leaving an ironic rave.
Reviewer: Jess O'Neill
Reviewed: 20th January 2016