Tonight I watched Circus of Horrors at the Plaza in Stockport. Circus of Horrors appeared on Britain's Got Talent in 2011 performing various tricks, and were the only circus to have ever reached the final. The show is set in 1899, and having never heard of it before I was attending with an open mind.
At first we were greeted by members of the cast selling programmes. As we were shown to our seats eerie music played, and I couldn't help but notice the large cardboard clown on stage which had the numbers 666 written on its forehead. Whilst waiting for the show to begin, Dracula appeared in the audience and scared many people by staring them down. He then shouted that the show was about to start soon, and began to call upon unfortunate audience members on the front row.
Following this, the rock band began to play who were also situated on the stage. Gymnasts called 'The Voodoo Warriors' came on performing impressive backflips and balances. The real highlight for me was when the gymnasts formed a type of human pyramid, with one man standing on another's shoulders! This was followed by lots of fire swallowing, which again was incredible to see and baffled me whilst I watched.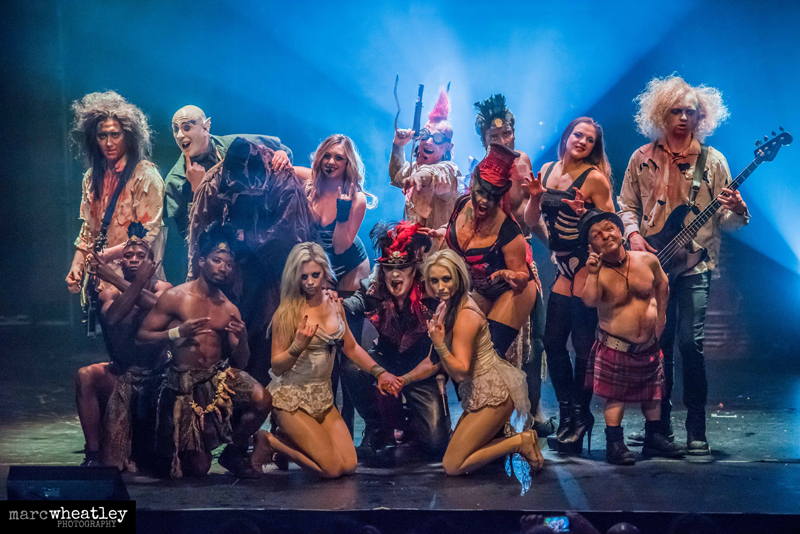 The next part of the show which I found interesting was the sword swallowing. This was done by a man who had stretched ears, and a split tongue. He swallowed many different types of swords, such as one on a chain, a curved sword and another which was powered by electricity. I found this really intriguing and wondered how on earth such a trick was possible.
An impressive part was played by the character Dynamo, who was said to be the strongest man. Two poor audience members were called upon to take part in tug or war, with the noose of the rope tied round Dynamo's neck! This was really interesting to watch and of course Dynamo won.
During a song which repeated the lyric 'I hate that clown' a large clown appeared in the audience ringing a bell. I found this terrifying, and to make it worse more clowns joined and started climbing over people through the audience, until they reached the stage. I found this extremely uncomfortable, feeling very sorry for any audience members who may fear clowns.
After recovering from the stressful clown scene, more acrobatics followed. I enjoyed this much more, with one of the cast members balancing on hollow cylinders and a wooden block. Other gymnastics followed such as a girl balancing and performing from a hoop in mid-air, I was impressed at how scary this may be and how much practise this may have taken to get right.
I appreciated the skill that came with some of the acts, as the gymnastics were very exciting. However, some parts I thought were a little inappropriate and scary, I won't be going near any clowns for a while! Overall I would say that this show is not for the faint hearted, but really does showcase some amazing gymnasts and talent.
Reviewer: Claudia Thomas
Reviewed: 31st January 2016