The Rugby Tour is a raucous romp following a group of blokes, a rugby team that warms up, practices and carries out meetings in the pub, that joins a five-a-side rugby tour in Magaluf. The club's leader, Johno, insists that they at least have to play one game, but the question is whether five players will be in a fit state to play and survive the drinking, the pranks, and the ten-pound-a-night hole of a hotel!
Written and directed by James Ogg, the lads take us on tour with them. The audience at the Dancehouse was pretty revved up for this, liquored up a bit themselves and quickly loving the distinctive characters: Turk (played by Kris Hitchen) always reducing the situation to the filthiest derivative, Gippy (Kris MacJames) with his stories of private school sex games, Johno (Jon Bintliff) the leader of the gang, Polish Pete (Brian Madden) the butt of the pranks and jokes, and Zig Zag (Edd Bower) the clever one.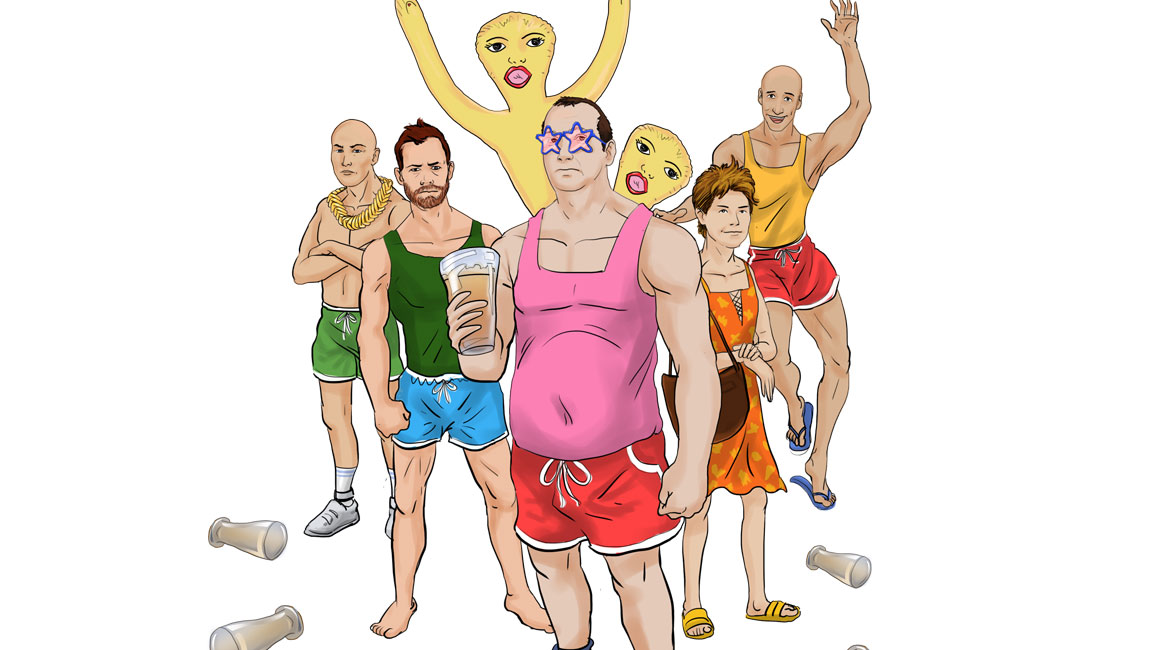 The style recalls much-loved comedy sitcoms of the past, each scene break getting a round of applause, only with much more blue and farcical humour. The jokes are sometime not for the faint of heart, but this show does have a lot of love in it as well. It's an original comedic romp that is properly entertaining, and in many ways the comedy is brave, facing up to some non-PC subjects as though they were talking about the weather. The lads quickly become our mates, and we want to find out if and how they will ever make it through their first and only rugby fixture.
The writing is pretty standard throughout, with distinct voices and multiple gags per minute. There's only a few awkward moments of crow-barring of what they must have thought were needed extra dimensions to the characters, talking for a few moments here and there about their real-life problems. These are treated a bit too simplistically, and in places is bad unnecessary exposition – this can easily be fixed for the next round of performances.
The comedy is sure to be a hit on the Edinburgh Fringe stage this August, and it will also be performed again in Manchester as part of the GM Fringe festival in July. If old-style comedy with a modern slapstick spin is your thing, definitely check this one out.
Reviewer: Ben Spencer
Reviewed: 6th February 2016