Feste's a woman, so's Malvolio(a), Antonio's just kissed Sebastian- never mind the usual shenanigans of mistaken gender and confused love that make up the traffic of the stage. We haven't even reached Viola famous monologue about the ring and we're already begging time to untie this famous Shakespearian knot that's suddenly knottier than ever.
Designer Soutra Gilmour's Illyria is a truly sumptuous rotating pyramid of postmodern frenzy. There's copious foliage, pleasing neoclassical plinths, the distant tinkling of bossanova from the arches of the pyramid. There's even a swimming pool- how decadent! At times, we feel as if we're drunken stragglers from one of Sir Toby Belches cocktail parties that didn't make it home and now, we're caught in the chaos.
But we're often begging to get out. The sense of place is well defined, but it doesn't encase the action and it's a two-fold problem for this riotous comedy. The craziest scenes are peopled sparsely; Sir Tony Belch (Tim McMullan), Sir Andrew Aguecheek (Daniel Rigby) and Feste (Doon Mackichan) desperately swirl in the empty space where the ensemble could have been put to better use.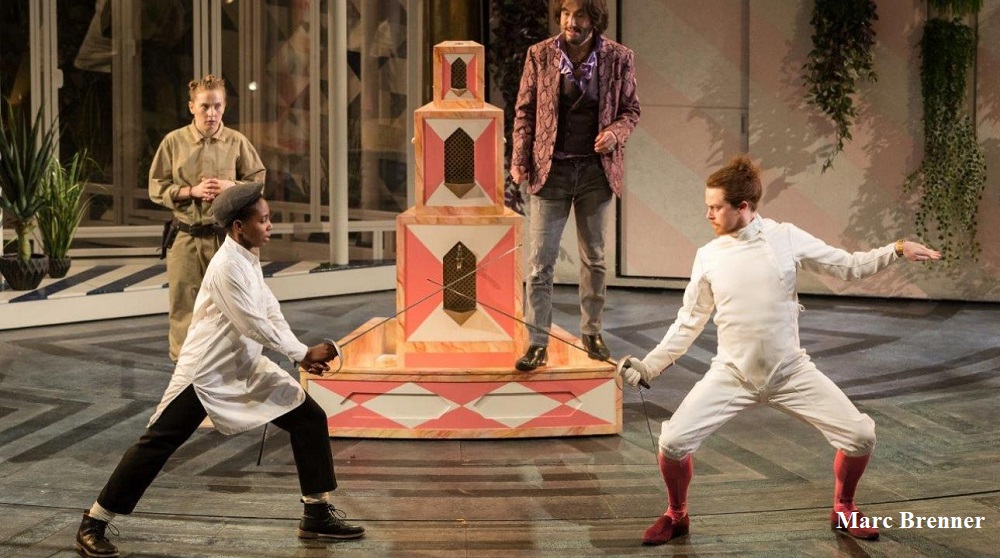 The pace ebbs and flows but mainly ebbs. Malvolia's (Tamsin Greig) letter scene has moments of extreme hilarity, driven mainly by slapstick. But, this crucial point, like so much of the rest of the action is plagued by laborious pauses for stillness or clumsy physical comedy that misses the mark. It lags to distraction and we find ourselves caught somewhere between The Two Ronnies and Beckett but we can never make sense of where on the cultural scale we are.
Yet despite this, there are some stella points that show where director Simon Godwin's work has been put in. Sebastian's (Daniel Ezra) first monologue, describing how he came to Illyria on the shipwreck is a truly beautiful piece of acting. Before dropping off the precipice into an abyss of yelling which becomes her character throughout the vast majority of the play, Olivia's (Phoebe Fox) first monologue after meeting Cesario is a delicately infectious bundle of the delight which wouldn't fail to leave even the most coldest of audience members with empathetic butterflies. And yet it is so disappointing- here we can see what Fox can really achieve in this beautiful moment if only direction gave her this chance. Feste's sonorous presence throughout is excellent, as so are her songs arranged by Michael Bruce and Dan Jackson. Meanwhile, Rigby's Aguecheek is played to perfection throughout.
Twelfth Night is often known as 'Or what you will'. But perhaps Godwin's production should be subtitled, 'but what Shakespeare didn't'. It's certainly not the strongest rendering of the infamous cross gartered stockings scene a Shakespeare fan will ever see. The infamous lines of greatness and thrusting lose their potency, especially when the comedy, written surrounding heterosexuality, falls flat in its new transposition. Gender is meant to bend in this play, but perhaps not this far. Malvolia's presence as a woman in a post 20th century context is jarring. Here, we see a woman ridiculed for her love of another woman, which makes painful viewing in the midst of this comedy; it's out of place. Tamsin Greig would have more than wonderfully played Malvolio as a genderless character, for whom there are no implications of gender, thus reinforcing Shakespeare's subtext of sexuality and class even more strongly without the audience feeling uncomfortable watching what is essentially woman-shaming. Malvolia's presence also somehow disappointingly overshadows the muted action of that all-important love triangle of Orsino/Viola/Olivia which to many is the most exciting bit of the plot. But, it's not Greig's fault that her superb casting has been reduced to a box office gimmick.
And as for Antonio's (Adam Best) love of Sebastian? It's a beautiful interpretation of the text that's never resolved fully. And thus, we watch confused and dejected as to why Sebastian spurns that love for Olivia- a woman whom he barely knows. We've been laid the bait to no successful resolution.
For many, Twelfth Night is undoubtedly a gateway drug to heavier, even more hilarious and even more heartbreaking Shakespeare. But given the constraints of Covid-19, I fear that those Shakespeare newbies tuning in hoping to begin a lifelong love affair with the bard will have felt out of their depth watching stalwart actors trapped by direction that fails bring out the brilliance of the writing.
Twelfth Night continues online until Thursday 30th April before Frankenstein plays. https://www.youtube.com/watch?v=aig5ObghHS4
Reviewer: Melissa Jones
Reviewed: 23rd April 2020
North West End UK Rating: ★★★★★