There is much to celebrate in Iqbal Khan's superb modern production of Othello than the furore when this production was staged in 2015.
Othello (Hugh Quarshie), a Moor and immigrant, is the Venetian Republic's most admired military commander, and enchanted by tales of his exotic past, Desdemona (Joanna Vanderham) has fallen in love and eloped with him, much to the chagrin of her father, Brabantio (Brian Protheroe), who as an influential senator seeks redress. With a naval attack threatened by the Ottoman Turks, the leaders are more interested in protecting their Cypriot outpost and side with Othello. Tempestuous weather results in a short-lived military conflict, and instead personal battles begin to unfold in an emotional arena where Othello feels less secure.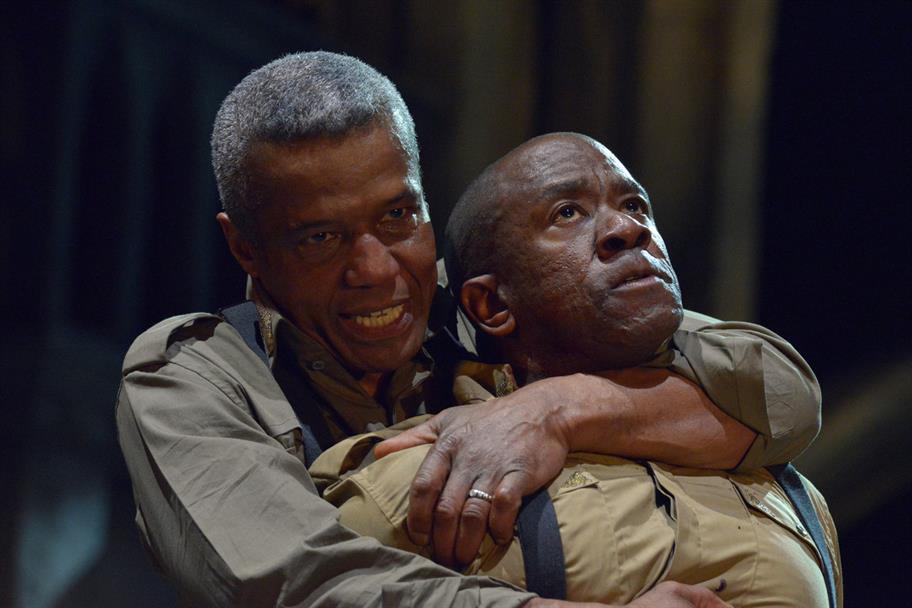 His aide, Iago (Lucian Msamati) sets out to entrap rival Cassio (Jacob Fortune-Lloyd) and in doing so soon discovers he has the power to undermine Othello himself as he uses his own wife Emilia (Ayesha Dharker) and his friend Rodrigo (James Corrigan) to play out his merry dance before the tragedy unfolds in this thrilling production that explores the rich depth of the play and the many faces of its characters with the hint that there are still darker layers unpeeled, perhaps too shocking to comprehend.
Quarshie is an excellent Othello, starting off as a distinguished, greying statesman of great charm and heroic love, but who as a soldier shows us a darker side, one capable of using waterboarding to achieve his aims, which in turn reinforces the psychological uncertainties at the heart of his character that allow him to believably flip into violent madness.
Msamati is an outstanding Iago who uses his outwardly genial character to develop a rapport with the audience who are the only ones who can see what is really going on as his wounded pride destructively drives him on. He is clearly part of the gang as the soldiers drunkenly celebrate their success, but his choice of Shona folk songs is in contrast to the street rap of Fortune-Lloyd's Cassio and it is clear that he doesn't belong. These prejudices fuel his psychopathic tendencies that simmer underneath and that Msamati brings to the surface in such a cool and calculating manner that you don't want to believe it true.
Desdemona is often presented as a trophy wife but Vanderham make her so much more in a striking performance that shows her not only the match of her husband but with a sophisticated demureness and sexuality which she carries all the way through the final scene.
Fortune-Lloyd perfectly captures the duplicity of Cassio whilst Dharker was most impressive serving to please both mistress and husband.
The palatial set, designed and lit by Ciaran Bagnall, wonderfully augments the thrust stage with stone arches and windows, with a sunken pool reflecting the Venetian canals and Cypriot harbour. The costumes of Fotini Dimou help us move between place and scene whilst hinting at the darker undertones of what is going on.
RSC were commended for their brave casting of a black Iago yet originally Msamati was offered and declined the role of Othello as he felt Iago the more interesting character. It was suggested the casting of two black actors changed the dynamic and understanding of the play, but I disagree. Msamati has previously noted that he is an actor. Not a black actor. An actor. Here we got stunning performances from two great actors that left them so exhausted they needed to physically support each other at the end in a production that took my breath away and finally gave me the Othello I always wanted to enjoy. Bravo!
Reviewer: Mark Davoren
Reviewed: 25th April 2020
North West End UK Rating: ★★★★★