Since 2007, Deusche Bank have sponsored shows every year to give free tickets to students and schools to special productions designed to appeal to a younger audience. Never has this been more vital than this year, when schools cannot take students to see theatre productions, so this release which is accompanied by online learning material is very relevant.
The Globe prides itself on its educational provision and this takes many different forms, but this production of Macbeth is an indication of how committed they are to educate a generation that is used to seeing movies and Xbox games packed full of special effects.
The story of Macbeth (Ekow Quartey) is centred around a prophecy made by three witches that Macbeth will become the Thane of Cawdor and then he will become King. His friend Banquo (Samuel Oatley) is also present, and the witches prophesise that his son Fleance (Mara Allen) will also become King. Encouraged by Lady Macbeth (Elly Condron), Macbeth sets upon a path of murder; his lust for power overcomes him and anyone in his way is removed. It leads to him becoming self-absorbed and paranoid and believes that everyone would want to kill him.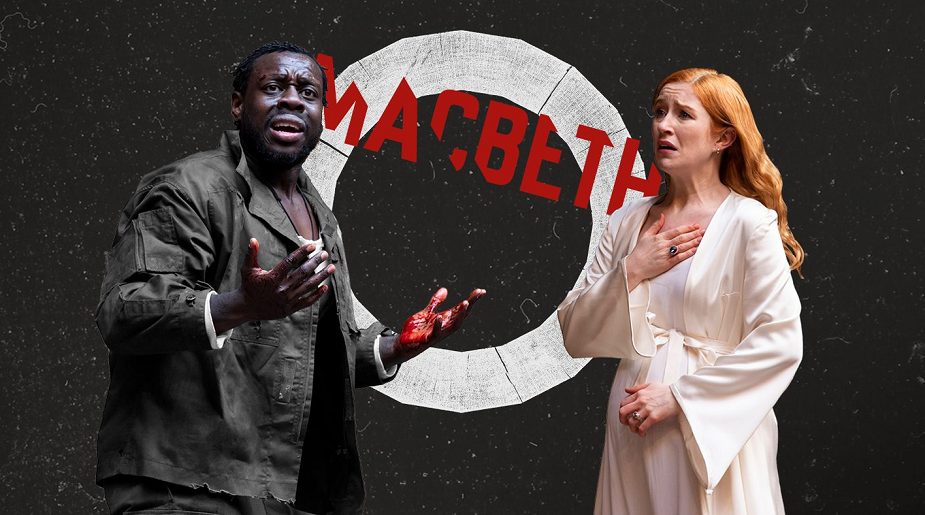 Playing to a predominately young audience, the play is quite short at a little over 1 hr 30 mins, but this allows the play to be more concentrated, with the scenes with more action holding the audience's attention. The Globe's wonderful stage positively asks for a play to be involved with its onlookers and this production does this in spades. From the beginning, the actors try to draw in the younger crowd, involving them; being in amongst them; never allowing them to disengage from the story. Shakespeare can be a hard sell to our younger generation, but productions such as these lift the words off the page and bring some meaning to what can be quite a challenging text to understand.
The costumes follow the flag of Scotland as a theme of blue for most characters', although Malcolm's (Aiden Cheng) escape to England brought the English flag into the mix and Duncan wore a stark cream suit.
This play is a very violent play, with multiple murders and it does examine, the relationship between Macbeth and his wife, who unusually is pregnant. The violence does not begin with Macbeth; Duncan's war means that Macbeth has already killed many people at Duncan's behest, so Macbeth is merely a tool, but Macbeth's madness brought on by paranoia, corrupts his mind to committing murder on his own behalf.
Overall, the play is a wonderful chance for young people to engage with Shakespeare, it somehow feels more accessible and less daunting for an English Literature student. The play is fast paced, but sometimes as an adult watching the play, the drama seems to be lost a little when some of the connection with the audience is a comedic one. Even so, it encourages engagement with the play, but this can also act as a hindrance to the tragic nature of events. The Globe are to be applauded for their assistance to School's and families to make Shakespeare more enjoyable for our young folk.
To watch the play click HERE. You will find educational links and please remember that The Globe Theatre needs donations to be able to continue to offer these wonderful plays.
Reviewer: Caroline Worswick
Reviewed: 11th May 2020
North West End UK Rating: ★★★★★