I had no idea what to expect when volunteering myself as tribute to review The Showstoppers' Alternative Eurovision Song Contest: According to the press release distributed ahead of the event, "Olivier Award-winning musical comedy improvisers The Showstoppers will deliver Europop's favourite bight of the year – direct to the world's living rooms".
Using over-the-top production values and excessive campness aplenty, this production had it all – interactive voting, celebrity commentators, original parody songs, humour abound, exceptional production values, and even a philanthropic angle, to boot. What was even more impressive was that this was all filmed by each cast member when socially distancing. A wonderful idea, and executed perfectly - Ideal for the current situation.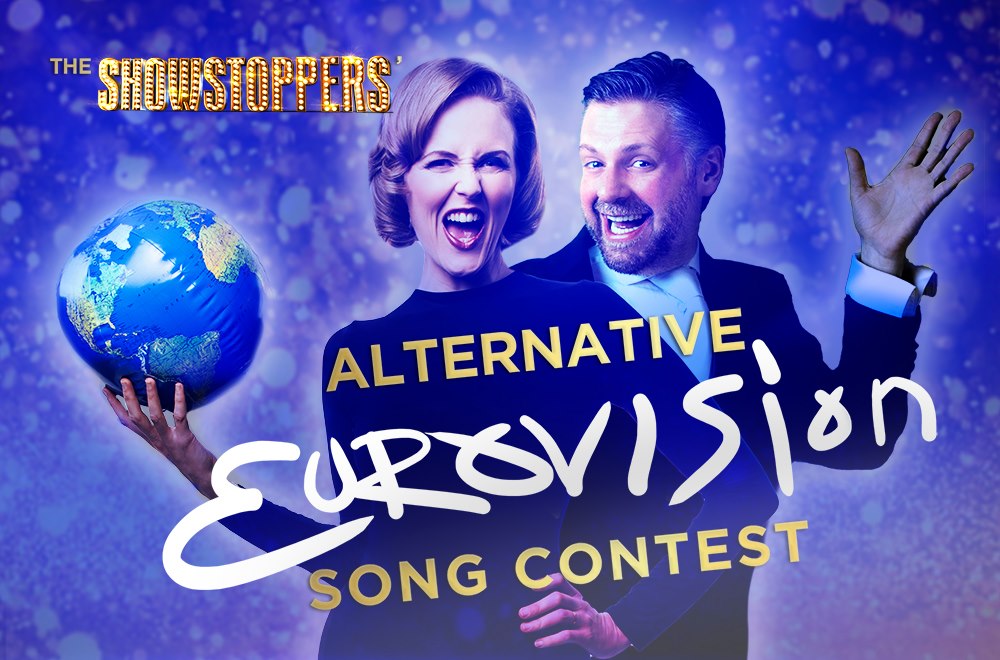 Described as a "Eurovision extravaganza", the show kicks off with the two compères Andrew Pugsley and Pippa Evans interacting together from the comfort of their own (separate) living rooms – with Pippa not able to resist a hastily concocted, tongue-in-cheek sign in the background that ways "This is not Eurovision", just in case anyone was in any doubt. This forms the basis of the humour throughout – subtle, unabashed and brilliantly funny. British humour at its best.
As they were introducing the acts, there were some technical difficulties with the sound, but both Pippa and Andrew played it off well – they kept calm and carried on, like the professional improvisers they are, fixing the issue and continuing on. After all, the show must go on!
And on it went, with impressive gusto.
A genius addition to The Showstoppers' team was the comedian Tom Allen (who many Great British Bake Off fans will recognise as Jo Brand's accomplice on 'An Extra Slice'). His biting wit and scathing sarcasm has earned Tom much prestige in his capacity as comedian, writer and actor, but in his role here he played the commentator, introducing each act with his trademark observational comedy, striking the perfect note for the performance and giving the audience plenty of laughs throughout.
With their tongues firmly planted in their cheeks, we next moved onto the acts themselves. The prude in me thought that this could tread on dangerous territory, using regional stereotypes like accents and costumes to invoke a humorous response from the audience. However, I needn't have worried – while some stereotyping did exist within this performance, I soon got lost in the performances, and viewed each as it was intended: as a bit of light-hearted fun during isolation.
I can't do justice to each and every performance we saw during this 90-minute extravaganza (it really is one you have to experience for yourself), but I think – given the amount of time, effort and imagination that went into each individual piece – it would be prudent to give each act, and their performers, their own brief mention, especially as they were conceptualised, rehearsed and filmed in the comfort of the performers' own homes.
First up we saw the character of Kristina Jansons from Latvia, with her song "(Love) Come and Get Me", played by Ali James. A myriad of fluorescent neon lights, backing dancers, skimpy costumes and bad wigs, this was, all in all, a performance worthy of the real Eurovision.
Perhaps one of the more risqué references in the whole performance was Montenegro's Marco Felatio (yes, really!). Thankfully emitting one crucial letter, which changed its whole pronunciation of his name, Marco's rendition of "Valetta" was full of crude gay overtures, but was gratifyingly made funny through the physical comedy of the piece, with the performer Adam Meggido deliberately making a hash of playing his own instruments.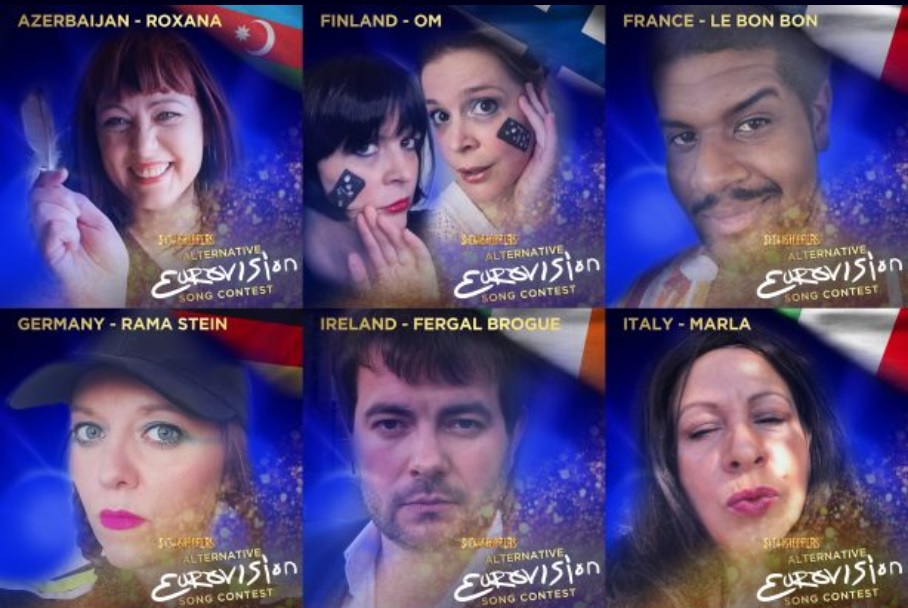 Next up was Finnish duo Olive and Mabel, whose duet "Domino" was perhaps the most stereotypical of them all. Complete with whimsical hand movements and a heavily accentuated accent, this song definitely had overtones of Eurovision's most famous export: ABBA.
Portugal's representative Bim and Bo – who sung "Familias Felizes (Happy Families)" – was surreal to say the least, featuring a puppet show with a sock puppet donkey and a range of cuddly toys. Despite myself, I found this song to be a real foot-tapper!
Next was Russia's Archangel (played sensationally by Sean McCann), whose performance of "I'm In A Shed (I'm The New King!)" was techno rock at its finest – and did, indeed, take place in a shed.
Greece's entrants, Costas and Maria, were the second duet of the performance, with their song "3 Gloves (Sexy Baby)". Although I am not entirely sure what this song was about, kudos to their physicality during the piece.
Next – and my personal favourite – was France's contribution, with Le Bon Bon's song "Super Sweet". Smouldering throughout, the song began with Joshua Jackson being showered in Celebration chocolates. Definite props for the props here.
Another favourite was the Czech Republic's offering from Yana Novakovakova (yes, really!). Played seamlessly by guest singer Jordan Grey in full clown regalia, this song was a sad political ballad about how corporate greed is affecting the penguin population (yes, really!). This song was a hilariously funny take on the political aspects of Eurovision. A standout for me here was the makeshift European flag on display, which was made out of a blue exercise ball – a real testament how thrifty and imaginative the whole cast have been to make this performance in lockdown a reality.
Germany's Rama Stein was next, with Heather Urquhart's fabulous trippy techno pop song "Bundesliga Dankeschoen Schmetterling Muttersöhnchen", which was entirely reminiscent of the 90s European club scene and described by commentator Tom Allen as "a slice of Eurovision we're expecting".
Next – and another favourite – was Sweden's offering, "Hej Fever", performed by the character Hej by Justin Brett. Complete with a feathered wig that would make any 80s TV heart-throw swoon, this performance was ridiculously catchy, with a surprise balloon drop at the end. And judging from the audience's reaction in the comments section, they loved it, asking where they can buy Hej merchandise! A true fan favourite in the making.
Azerbaijan's Roxana – played sensuously by Lucy Trodd – brought her powerful climate change ballad "Earth Cry" perfectly, complete with smoky-eyed makeup, gothic choker and diamanté headpiece. Complete with Middle-Eastern undercurrents, you could easily see this in the real Eurovision.
Hakan was next for Turkey, with a performance of "Into Your Light" that used candles and rhythmically timed claps to make it a real foot-tapper.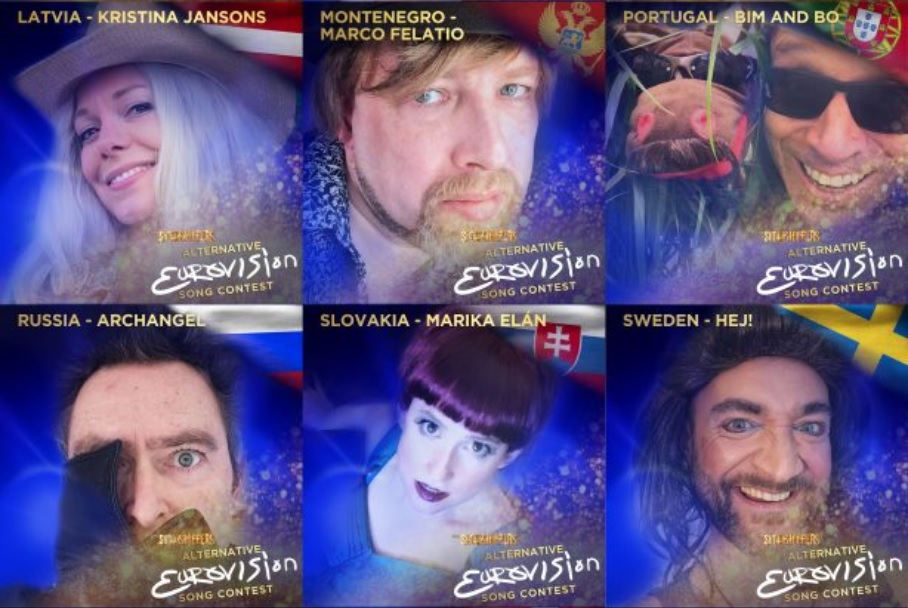 The contribution from Slovakia's Marika Elán with her song "Identity "was probably my least favourite of the evening, but the song was a dead ringer for synth pop popularised around the clubs of Europe.
Perhaps the most stereotypical of them all was Ireland's contribution – "If you're with me" – courtesy of Fergal Brogue, played effortlessly by Jonathan Ainscough. Complete with a faux-Irish accent and a tin whistle, this song was melodious and pleasurable, made all the more enjoyable through the hilariously bad camera positions, relatably reminiscent of every bad video call you've ever had in isolation.
The penultimate performance – Italy's Maria performing her ballad "Only You" – was delivered perfectly by Julie Clare, who was head and shoulders above the other performers in terms of vocal prowess in this show.
Arguably leaving the best to last, the performance selected to end the show was Denmark's Yosie Longance, whose performance "Bink Bonk Bink (Cheeky Monkey)". Delivered by another guest performer Josie Lawrence – a comedienne best known for her work with the Comedy Store Players improvisational troupe - she was eccentric in the extreme, using a toy monkey to deliver a toe-tapping tune that will stay with you much after the performance has ended.
As if this performance wasn't exciting enough, interlaced within these acts were celebrity judges in the form of actor Christopher Biggins, award-winning choreographer Arlene Phillips, comedian London Hughes and actress Claire Sweeney.
The original Grand Dame of Pantomime, Biggins was his usual boisterous, flamboyant self – the perfect accompaniment to this performance, which too was boisterous and flamboyant. A match made in theatrical heaven!
Arlene Phillips was perfectly placed as a judge thanks to her stint on the BBC's wildly successful Strictly Come Dancing, while fellow guest judge London Hughes was perfect in her deliverance of yet more comedy that wouldn't look out of place in the real Eurovision. Likewise, Claire Sweeney (as a theatrical veteran herself) was passionate and authentic in her feedback, clearly enjoying her role as much as the performers themselves.
This performance was a rip-roaring triumph from start to finish – who knew that a rendition of Eurovision that's not Eurovision could be so much fun? This was a true celebration of British comedy – a real over-the-top accomplishment for an award-winning improvisation troupe.
Not only was this a fantastic way for Eurovision fans to get their fix of European music, it was an effortless way to send an hour and a half, bringing together fans of music, theatricality, comedy and everything in between. Even more fantastically, this performance raised an impressive £6,540 for The Care Workers Charity, a huge 688% above their target of £950.
In conclusion, this performance has absolutely everything you could ever want on a Friday night. Humour, music, terrible wigs, and the feel-good factor. An absolute triumph from start to finish, and it was evident in every single second of this show that the performers loved making it every bit as much as the audience enjoyed watching it.
A brilliant idea, executed by a brilliant theatre troupe. A resounding success - I already can't wait for next year's alternative Eurovision! https://showstopperthemusical.com/alternative-eurovision/
Reviewer: Hannah Wilde
Reviewed: 15th May 2020
North West End UK Rating: ★★★★★