This evening was my first visit to the theatre to watch a ballet for over 50 years having seen only one as a young child with school and I wasn't sure that it would be something that I would entirely enjoy. Accompanied by my mother who has never seen a ballet we were both overwhelmed by the brilliance of the performances from the start of Birmingham Royal Ballet's Romeo and Juliet.
The opening act is set in a marketplace and we are introduced to Romeo (Joseph Caley) and his two friends Mercutio (James Barton) and Benvolio (Jonathan Caguioa). Romeo is the son of Lord Montague (Wolfgang Stollwitzer) and is soon embroiled in a fight with the nephew of the families' sworn enemies the Capulets. At this point I have to say there is so much to take in, it seems as though the entire cast are on stage and in their beautifully designed costumes I am hooked already. The magnificent scenery continues throughout the ballet and combined with the costumes you are transported back to Shakespearean days.
The fight between Tybalt (Rory Mackay) and Romeo escalates as Lords Montague and Capulet join in and it is only upon the arrival of the Prince of Verona (Michael O'Hare) that the feud is ended, albeit reluctantly.
Set to the powerful music of Sergei Prokofiev, the Royal Ballet Sinfonia conducted by Koen Kessels interpret this ballet beautifully and enhance each move. I don't think I have truly listened to music in such a way and maybe this is because, naturally as there is no dialogue in a ballet, it helped me to understand each performance.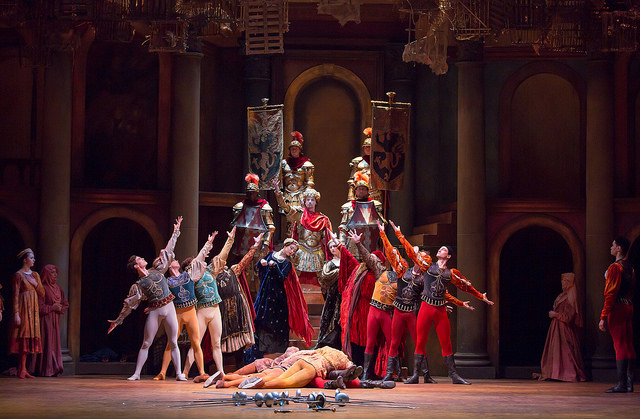 In the next scene Juliet (Momoko Hirata) the daughter of Lord and Lady Capulet (Jonathan Payne and Ana Albutashvili) is introduced to Paris (Feargus Campbell) a young nobleman who they are delighted to welcome to the family as her betrothed although Juliet is far from happy.
'Gatecrashing' a ball hosted by the Capulets, Romeo becomes mesmerised by Juliet (as was I) and this becomes a true love at first sight moment for both of them. Later, Juliet unable to sleep, steps onto the balcony when Romeo sneaks into the garden and they declare their love for each other. This is probably the only scene I knew of Romeo and Juliet!
The story continues of the battle the young pair face to be together, secretly marrying, but unfortunately the feud between the families resurfaces resulting in the death of Romeos' friend Mercutio. Romeo retaliates and kills Tybalt resulting in him being exiled.
As he departs, Juliet's parents insist upon her marriage to Paris and threaten to disown her if she does not. Distraught she turns to Friar Laurence (also portrayed by Stollwitzer) who married her and Romeo, for help. His solution is to give her a sleeping draught which will convince people she is dead, he will send word to Romeo to return and together they will be able to get away. Before taking the draught Juliet agrees to wed Paris. The following day her parents and Paris discover her 'dead'. As the news spreads Romeo returns to Verona distraught at her death unaware that she is merely in a deep sleep as he had not received notification of the plot from the Friar. He finds Paris at her side and furious to see him there fights with him and kills him. Unable to live without his true love he takes a poison. Upon awakening Juliet finds Romeo at her side dead and overcome with despair, tragically, she stabs herself and dies too. Reunited in death.
Knowing nothing about the technical names for any of the dance steps it would be unfair of me to judge anyone's performance this evening. But as a layman I can say that tonight I have witnessed a truly entertaining, energetic, colourful, powerful, tragic and totally powerful ballet. I am in awe of Hirata as Juliet, who despite her diminutive appearance gives a massive stage presence, I absolutely loved her 'tippy toes' (apologies for layman's terms!) and she appeared so light on her feet. Caley, as her lover Romeo equally gave an outstanding powerful performance. I would like to mention everyone by name but there are just too many however there isn't anyone I feel who didn't give it their all and that is to be applauded. Well done to everyone.
The whole production is well put together, the slightest of criticism would be when the curtain falls between scenes it would be good to hear more of the music during this time but I must stress this is only a couple of minutes.
I would suggest knowing the story of the ballet beforehand is recommended to fully appreciate it. Having a quick read of the programme during the interval and knowing who was who enabled me to understand it and added to my enjoyment. My reintroduction to ballet has been a total success and I cannot wait until the next one…. It won't be 50 years!
Romeo and Juliet continues at the Lowry until Saturday 5th March 2016
Reviewed: 2nd March 2016
Reviewer: Lorna Weekes