Little Orphan Annie, a small girl with big dreams of finding her real parents. Set in 1930's New York at Christmas time, Annie becomes the lucky child of the Orphanage to spend Christmas with Mr Warbucks – a billionaire who plans to adopt her, much to the dismay of Miss Hannigan – The Orphanage Matron.
The production itself came to the stage of Liverpool Empire Theatre for the first time tonight with this cast. Lesley Joseph as the protagonist, the one you love to hate, Miss Hannigan was certainly a star well cast in my opinion. Most known for her role as Dorien Green in Birds of a Feather, it's easy to see how well suited she is to this type of role. She played the character with such ease, and even in moments when she didn't have anything to say she certainly raked in the laughs with her comedic presence and flair. It was brought to my attention that this was not the first time she took to the stage to play the woman with distaste to children, first taking to the stage in the Victoria Palace Theatre. It didn't go unnoticed as it seemed like she was at home with this character throughout and that she really enjoyed the whole creative process of building her character.
I also loved the connection shared between Miss Hannigan and Rooster – played by Jonny Fines, throughout all their collaborative scenes and musical numbers such as "Easy Street", where their voices mixed extremely well together. My only criticism was that Joseph's American accent was not as strong as what you would hope for in a production such as this having noticed it dropped quite a few times, but with everything else she brought to the character it's only a small cross to bear.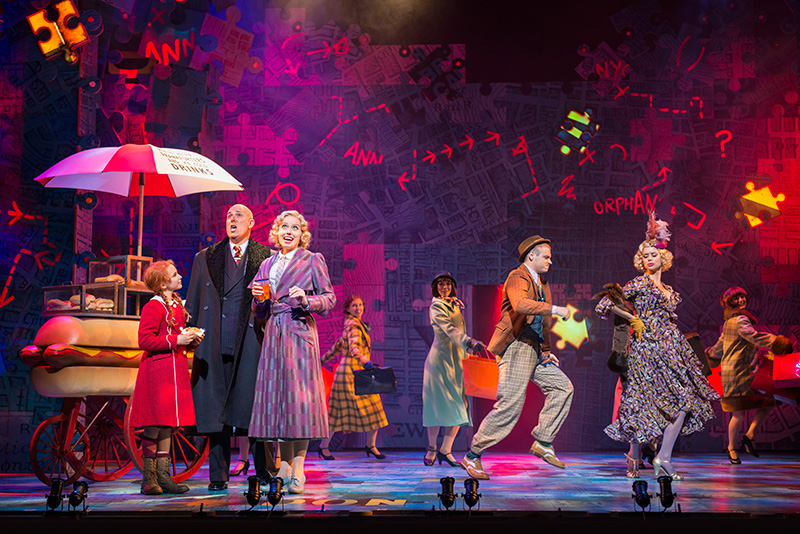 The orphans where a real stand out for me, as I thought throughout all the ensemble led routines they really pulled it together and did amazingly for children of their age group. The choreography was slick, complex and modern which was interesting to watch and at no point did it feel like too much was going on, which is a big thing for me as I feel when there's too much going on it can spoil it entirely so a big shout out to the choreographer Nick Winston for that one. Their harmonies in the musical numbers where beautiful too, a particular favourite being "You're never fully dressed without a smile" where their voices blended perfectly and remained consistent.
The star of the show was Annie, Anya Evans (Team Liberty) taking on the big hits in the Musical such as "Maybe", "Tomorrow" and "Hard Knock Life". There was no fault to Annie's voice throughout at all, and her interpretation of the role was refreshing to see. I think something you're always guilty of when watching children perform is thinking "How do they remember all those lines" "How do they perfect every single routine" and it's such a cliché but it's true that they did outshine some of the older performers in the production.
The set was very simple but effective, consisting of a blue/green backdrop of New York featuring jig saw pieces with lettering jumbled up with the names Miss Hannigan and Annie. To bring it to life and differentiate between scenes they had big doors for the Orphanage and a big letter W surrounding the door to represent Mr Warbucks home. I was particularly impressed with how effective it was to have the bench used as the theatre seats during the "N.Y.C" number to then give you the impression of a horse and cart when the ensemble led off the stage and tapped the heels of their shoes like the clopping of a horse. It's little details like that, that set a scene off majorly for me, and I think allowing the audience to trigger their imagination rather than making it too clear and spoon feeding them with the literal will make it something to remember for a long time to come.
The whole cast and crew are ones to watch after tonight's performance, it delivered on every scale, there was not one person who left the theatre disappointed in what they had witnessed. It was such a good atmosphere and you really felt the connection with the audience and the cast, when at one point an audience member shouted "He's a billionaire say yes" to Mr Warbucks proposal of adopting Annie.
A feel good story, with humour and songs to stick in your head for days, something would be missing from your life if you didn't get yourself down to see it before it sells out.
Reviewed on: 7th March 2016
Reviewed by: Amanda Woods