Thank goodness this show was only an hour long...my nerves couldn't have taken much more!
Circolombia is comprised of twelve performers from Colombia and their show, Acelere, is described as 'circus with guts, gusto and grace'. I certainly agree with the guts, gusto and grace but I'm not entirely sure I would describe it as a circus. There are a whole lot of things going on: contemporary dance, singing, rapping, some general mingling and absolutely nerve shredding, look-through-your-fingers acts of mind boggling daredevilness!
The show was preceded by a fifteen minute performance by Skylight Circus, a group of young people from Rochdale varying widely in age who have undertaken three workshops with Circolombia to learn some skills. They were very impressive and fearless and performed very well indeed, considering that they have only trained for nine hours.
The main show began and I have to say, it took a little time to get going and at first, I wasn't really sure what to make of it. There was some beautiful lighting which spot lit various groups of the performers around the stage and there was a narrative which didn't do a lot to enhance the show but nevertheless, it was quite an atmospheric way to start, even if it wasn't entirely clear what was going on.
All the performers wear very colourful clothes and several of them sang at various points which did add to the vibrancy of the show.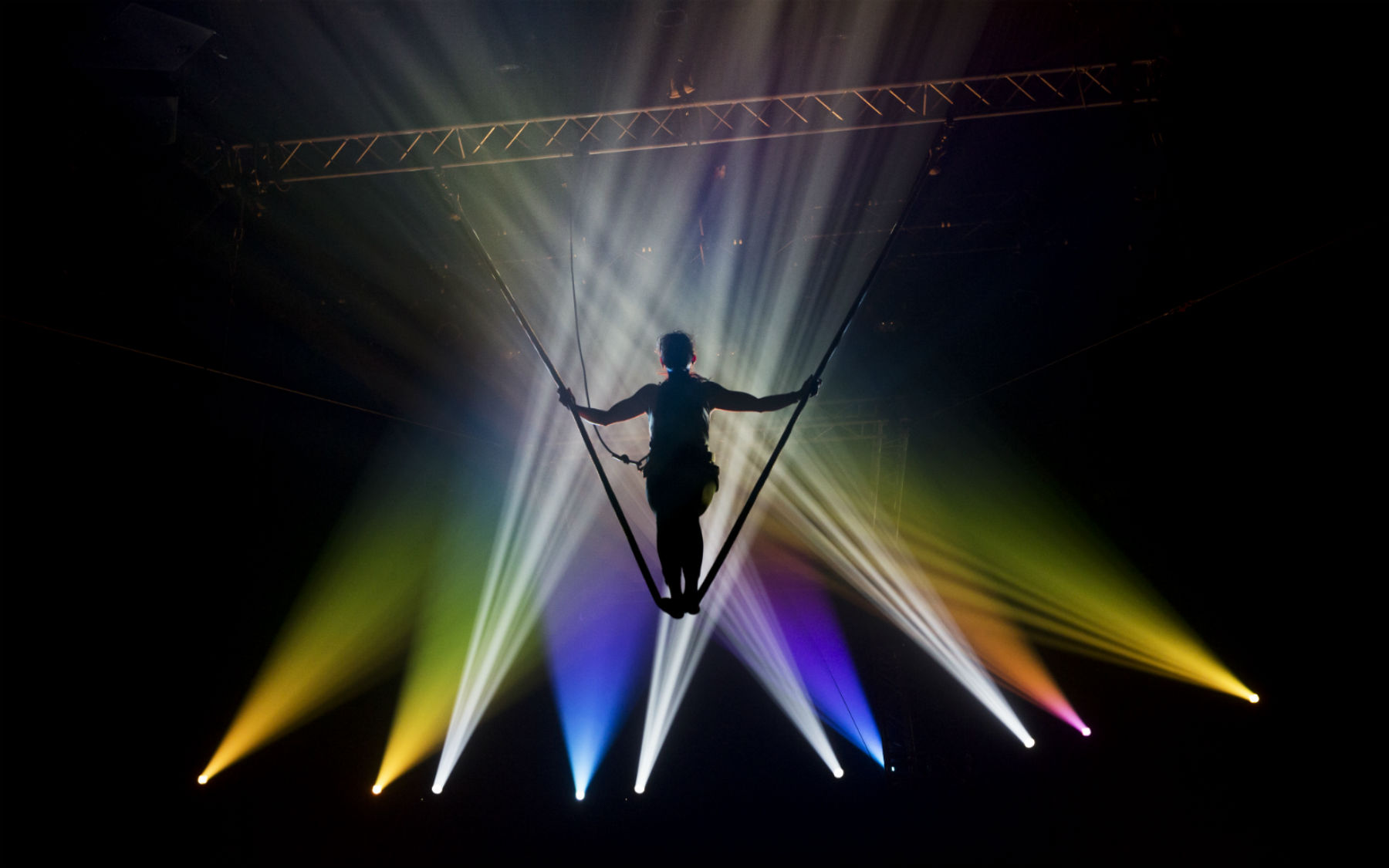 The stand out moment of the night was when one of the female performers was hoisted off the ground holding on to a rope...with her teeth...and a male performer was hoisted up by her...holding on with his teeth. I could hardly bear to watch! This was done with great elegance and amazing control. The lighting was beautiful and it was almost like watching mid-air ballet...until you realised that all that was holding them many, MANY feet off the ground (without a safety mat) was their teeth. Yikes!
There were some amazing displays of athleticism and, well, sheer guts to be quite honest. I think the Health and Safety regulations in Colombia must be significantly less stringent than they are over here judging by what I saw tonight!
I'm not really sure how accessible this show is for children – although there were a lot of 'wow' moments which children will enjoy, there is also a lot that they won't because it won't hold their attention.
There were a few times when things went a little wrong but this is no criticism – these performers are clearly of the mindset that 'the show must go on' - even when one of them appeared to bang his head quite badly. The audience were very much behind them all and willing them on. The loudest cheer of the night was when a second attempt was made to execute a backflip from a swing, landing on a pyramid of other performers as it didn't work the first time. We all wanted it to work – and it did – and it was amazing!
Some of the stunts almost made me wish I had a cushion with me to hide behind because if they had gone wrong, they would have gone very wrong. My theatre companion was clearly of the same view as after a run of unnerving (but very well executed) acrobatics involving almost impossible feats, I heard him say "oh what now?!" I have to say that this is the first show I have been to where I have come away with sweaty palms and in need of a recuperative cup of tea!
The show is an hour long with no interval so there's no chance of getting a quick brandy at the halfway point (take a hip flask!).
If you go expecting a circus with spinning plates and clowns, then this is not for you. I'm not really sure the mix of contemporary dance and rather bizarre walking around the stage fits in with the circus theme but there is no doubt whatsoever that this is an extremely talented group of performers and also an extremely likeable group. Their energy and fearlessness appears to be unstoppable.
If you fancy having your nerves jangled to within an inch of their life, Circolombia are appearing at the Lowry until Sunday 27 March.
Reviewed on: 24th March 2016
Reviewed by: Nicky Lambert