This was a one hour wordless piece of highly physical theatre presented by the acclaimed and award-winning 'The Ricochet Project', who in recent years have gone from strength to strength since being founded in 2007 by Cohdi Harrell, and their latest offering, Smoke And Mirrors sees Harrell team up with Laura Stokes and bring forth a visually stunning and physically exhausting set of vignettes.
Using specially selected pre-recorded music, some with spoken word, the duo use their bodies in ways most of us would believe unnatural or impossible; such is their ability and technique.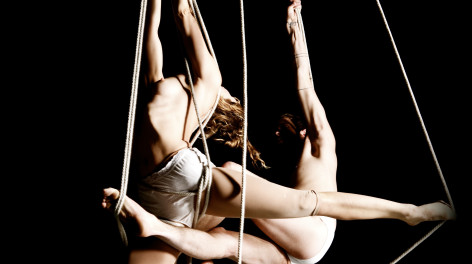 Part interpretive dance, part Physical Theatre, part acrobatics, part aerial, wholly thrilling and innovative, they use a swing, ropes and two chairs with some rather clever use of lighting, and leave us, the audience, to interpret and gain what we can from the experience. No explanations are given and no answers to unasked questions. This is a game of smoke and mirrors - a game of deception and seeming to be something that isn't.
The duo start off dressed as businessman and woman, and throughout the hour they perform solo pieces and duets, and each time they appear for their next vignette some more clothing has been taken off until both are wearing nothing but their underpants. A rather obvious but nevertheless potent metaphor. In the final short sequence, both sit sullenly facing the audience and dress again as they were at the beginning. All things come full circle. The final words spoken by the 'voice' being, 'we think too much and feel too little.'
This is an absolute must-see for anyone who is interested in seeing how to optimise body language to express feeling / emotion, and for anyone who just simply wants to be in awe of two outstanding performers who enact the most incredible and jaw-dropping manoeuvres with grace and seeming ease.
Reviewer: Mark Dee
Reviewed: 1st April 2016