Making the impossible appear possible!
The Quays theatre at the Lowry Salford gave stage to 5 world class illusionists today, that mesmerised and astounded the audience with their trickery, illusions, deception and mystery magic that was truly mind-blowingly good.
Technical issues prevented the show from starting on time, however this just added to heightening the atmosphere and the sense of tension in the waiting audience, however once the show started it was easy to see that the intricate nature of the tricks performed must require a massive amount of preparation and so the short delay was soon forgiven.
The show kicked off with the baby-faced smiler Edward Hilsum stunning the audience with his old style magician tricks without saying a single word. Hilsum effortlessly had doves appearing and disappearing through fire and handkerchiefs leaving the audience with the usual magic show confused looks …… of how did he do that!? For a magician so young to captivate and audience with an almost mute performance showed maturity and true magical delivery relying on nothing more than his spellbinding magic.
Next up was the astonishing mentalist Alex McAleer who with his charismatic charm and devilish good looks had the audience eating out of his hands within seconds. Alex's ability 'read' minds (or just being an amazing conman) has to be the best thing I've seen in theatre for a very long time. Derren Brown move over, this dapper young man has my vote for best in town. His mind-blowing ability to 'read' the minds of randomly selected members of the audience (myself included) bordered on unnervingly spooky but spectacular at the same time. I could have watched this performer all night as his talent to entertain was enchanting and jaw-droppingly good.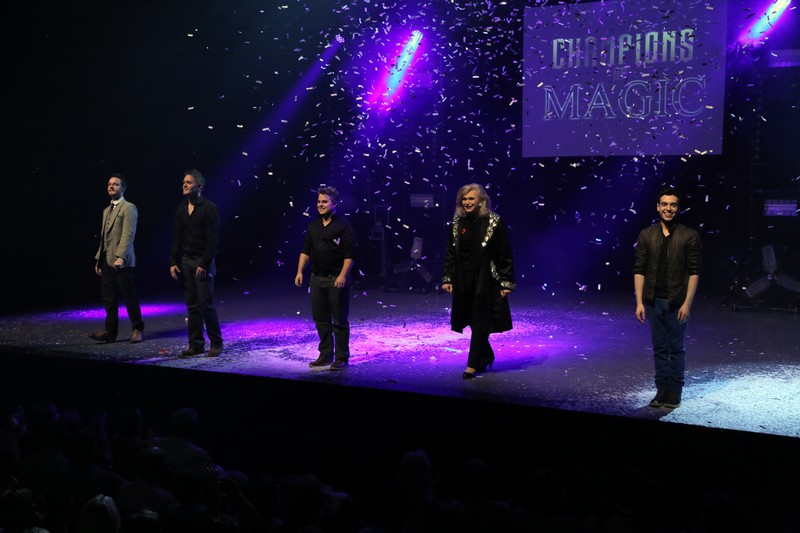 Third up was the 'Queen' of magic Fay Presto (great play on words) whose old fashioned (yet modern feel) magic style of rope cutting, Chinese linking rings and sleight of hand tricks had young and old entertained with her witty and cheeky delivery being belly-laughingly funny as well as extremely talented. Her confident and slick delivery of magic and interaction with the young girl selected from the audience to help out with her tricks was so endearing it almost made me cry. I am sure little 8 year old 'Darcy' won't forget that magical moment for a very long time…. I certainly won't!
The performers appeared more than once throughout the matinee, having them appear in quick succession after each other and with their individual style of magic this kept the show lively and varied, guaranteeing there was something for everyone. With fiery pyrotechnics and stunning lighting this magical illusion show was dramatic and baffling in equal measures and will keep me wondering for a long time how they did it all.
Marvelled by the water and sand and sleight of hand coin tricks that Edward Hilsum demonstrated which were also projected onto the large screens gave a greater depth to the close up magic, ensuring everyone in the auditorium had a close up view of the fascinating tricks . The whole interactive element gave a feel of intimacy and inclusion in the shows magic.
Closing the matinee was (Sam) Strange and (Richard) Young the magical comedy duo who gave the show a Vegas type finale with disappearing people and classical box tricks of shrinking, disappearing and impaling, not to mention the thrilling climax and illusion of walking through the huge industrial steel blade fan. Complete with the stunningly pretty silk acrobat and magician's assistant this final piece was entertaining and silly all at the same time.
This family fun magic show is touring at another 7 venues in April and if there are any tickets left I can't encourage you enough to grab yourself a ticket and you will be guaranteed a magical experience that you won't be disappointed with. More information is at www.championsofmagic.co.uk
Reviewer: Victoria Wilmot
Reviewed: 3rd April 2016