Pasha Kovalev became a household name through Strictly Come Dancing when he joined as one of the professional dancers in 2011. He won the glitter ball in 2014 with his celebrity partner, Caroline Flack. Sadly in the 2015 series, he was voted out quite early on with his celebrity partner, Carol Kirkwood.
This tour is part 2 of the "Life Through Dance" tour and is entitled "It's All About You". I was lucky enough to see part 1 last year and I thought it was spectacular.
Joining Pasha on this tour are dancers Anya Garnis, James Wilson, Marcella Solimeo, Robert Rowinski and Victoria Burke, as well as Ricky Rojas: A West End and Broadway actor who was singing in the show tonight.
The show began with a lively Cha Cha: Always guaranteed to give a power surge of excitement. However, we then went into a film with Carol Kirkwood who introduced the show but then read an excerpt from Pasha's book...I did feel this went on a bit and sapped the high level of energy which the Cha Cha had done so well to bring to the audience only moments before.
The dancing continued with a Jive which contained a lift (which should really be described more as a 'throw') which was quite amazing – if it had gone wrong, it could have gone VERY wrong.
We then had another song...with no dancing accompaniment. I was a little disappointed about this as it was beginning to feel like we were having a song after every dance.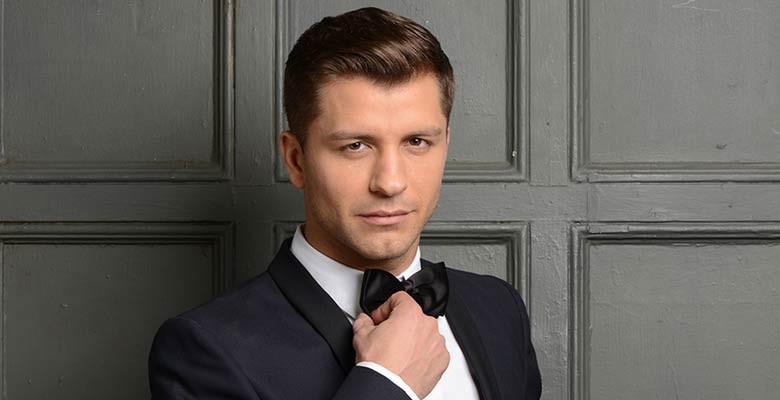 The next dance began life as a Foxtrot and then merged into a Tango (very nicely done) before finishing in glamorous and smooth Foxtrot style. Very nice indeed.
An American Smooth to "When I Fall in Love" followed - very dreamy and beautifully danced, followed by a lively Charleston to some great 1920s style music.
The choreography tonight involved elements of contemporary dance and some of the dances weren't clear cut, traditional style ballroom dances. For example, we had a contemporary style Argentine Tango danced to "Santa Maria" by The Gotan Project. For me, this song is made for either traditional Tango (Ballroom or Argentine) and the version danced tonight, whilst danced excellently, didn't really hit the spot and deliver the sharp, clean Tango that I wanted. A lot of it was danced out of hold and it lacked a lot of the intense drama that you can only get when dancing in hold.
Following this, there was a short black and white film of Pasha and Anya dancing, with a voiceover (which struck me as just a little bit pretentious I'm afraid). It did seem a little bizarre to me that everyone was there to watch a live performance but here we were watching a film of it? The audience did seem slightly bemused.
The final dance of the first half was a Rumba – I think – although I'm not sure as it had elements of a Ballroom dance, although the music conveyed the emotion of a Rumba. However, whatever it was, it was danced beautifully by Pasha and Anya with a stunning upside down lift so it doesn't really matter that I can't put a label on it!
The second half began with a lively, party-feel Samba with all the dancers taking part and executing a floor spin in perfect symmetry. A Paso followed – again with Pasha's twist on the choreography. We transitioned from the atmospheric Spanish guitar into lively music with all the aggression and shaping in the dance that you expect from a Paso. No cape work...but bare chests (from the men, calm down!) and it was very dramatically danced by all the dancers.
We were treated to a contemporary dance performed by Pasha, James, Robert and Anya. This was quite stunning choreography with some jaw dropping moves and it was very powerful and dramatic.
Pasha then came on stage and invited three ladies to dance with him. He picked three very – shall we say 'keen' - ladies, one of whom couldn't keep her hands off him (I'm sure he is used to this!) Pasha is exceptionally good with people and very likeable: he danced with each of the ladies (who were non-dancers) but at no point did he make them look foolish or silly and they all did very well indeed. He is a charming gentleman and I'm sure each lady has gone away with a lovely memory of her dance.
A Quickstep to "You're the One that I Want" followed but I was a bit disappointed that it didn't have the pazazz and glamour that you expect from a Quickstep – the male dancers being dressed as high school "jocks".
The evening ended with a crowd pleasing Cha Cha.
I have seen other Strictly stars in their own shows and have felt that over the years, they have developed into a cabaret style act with more emphasis on variety and less emphasis on dancing. I'm all for variety...except when it hijacks a dancing show. I wouldn't like to think that Pasha's shows were now going down this avenue as last year's "Life Through Dance" tour was very enjoyable and was purely dancing. I mean no disrespect at all to Ricky with my comments about the singing: he has an excellent voice and is a very good entertainer but I was there to watch dancing, not singing and there was just too much of it for me - seven songs altogether.
It pains me to be less than 100% enthusiastic about this show but unfortunately, it lacked the wow factor that last year's tour had and I just felt a little short-changed because of all the singing. I would also have preferred a higher content of traditional choreography. That said, the rest of the audience were enthusiastic and receptive so maybe I'm just a bit too fussy.
Reviewed on: 5th April 2016
Reviewed by: Nicky Lambert