A Midsummer Night's Dream at Blackpool Grand Theatre. What a magical evening. Firstly the theatre is absolutely stunning, known as 'Matcham's Masterpiece' from the detailed Victorian architecture.
I was excited to see what was in store as this production from the RSC is performed by 18 professionals and will visit each region and nation of the UK, using local amateur theatre companies who will play the Mechanicals.
Poulton Drama group did not disappoint. I wouldn't have known they were an amateur company without being told and their performances were as great as the 'professionals'. What a fantastic atmosphere the play had and the two companies worked together harmoniously.
The set was interesting and really well used throughout the whole performance. Central to the set was a floating staircase that could be moved around easily. This was great for the Forrest scenes making the illusion of greater space and invisibility. There were also stand-alone doors around the set which provided some great comical moments for Lucy Ellinson who played Puck.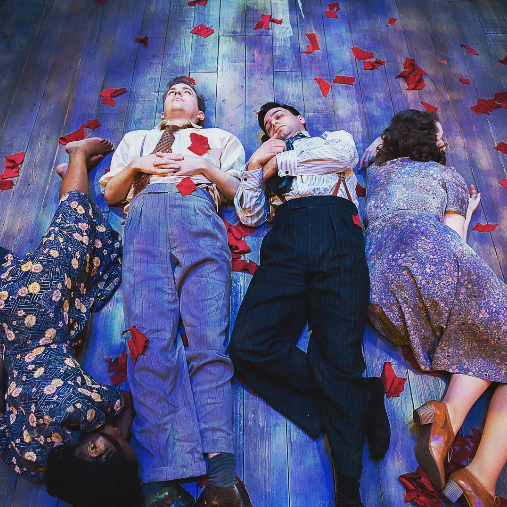 Ellinson gave an outstanding performance of this well-loved sprite. A perfect balance of mischievousness and innocence. She gave the whole production an extra sparkle of cheeky madness which was played out to the audience and got a great reaction. Jack Holden as Lysander gave a playful and energetic performance and drove the show with this energy through the lover's scenes.
Another stand out from the show was the Mechanicals play. I have watched this many times and never has it made me laugh as much as this time round. Garry Houghton gave a fantastic performance of Thisbe and comedically was very entertaining. Titania's fairy train were played by local school children who I'm sure we're very excited to be part of an RSC production.
Out of the 18 professionals there was also a live band who were equally as impressive. The music complimented the style of the play and the movement that was used throughout the piece.
Midsummer is running until Saturday 9th be sure to book tickets soon as it is an unmissable production. I expect there will be many different levels of performance from the Mechanicals whilst the show is on tour but what a better way to celebrate Shakespeare. Also if you're local to the area I'd definitely recommend seeing what Poulton Drama are up to next.
Reviewed on: 5th April 2016
Reviewed by: Jane Hollingsworth
Photo by Topher McGrillis (c) RSC