The Lowry Theatre again welcomes the Birmingham Stage Company for an education packed touring production of Horrible Histories - Incredible Invaders, and Groovy Greeks. The Birmingham Stage Company is unique in British Theatre as 100% of its income is from ticket and merchandise sales. The Company was formed in 1992 and has staged over 70 productions all over the UK and throughout the world. They welcome feedback on their shows via twitter @_HHLiveOnStage and on facebook.com/birminghamstage, they also have their own website at www.birminghamstage.com
Neal Foster is the Actor/Manager and writer with the Company which he founded in 1992 and he has co-written and directed all of the most recent Horrible Histories. He has wonderfully adapted Terry Deary's books for the stage. Deary who now lives in County Durham was born in Sunderland in 1946 and plays the part of Zeus in Groovy Greeks. Terry spent much of his early life working in his father's butchers shop before his Arts career began in 1972. 1993 saw the first of his Horrible Histories books published. His Horrible Histories TV show is now in its 6th season and was the first children's show to win a Comedy Award. The theatre productions created with The Birmingham Stage Company are now in their 10th anniversary year.
Tonight's show of Incredible Invaders sees Terry Deary's book brought to life by the talents of Evelyn Adams as Mavis who takes us on a journey through the invasions of the Romans, Saxons and Vikings. Evelyn who trained at the Italia Conti Academy of Theatre Arts and lists BBC TV's Doctors as one of her credits, is a bubbly performer who engages well with the audience. Mavis is initially threatened with being a sacrifice by the druids when she gets saved and made a slave by the Invading Romans. The Romans want Mavis to build a road and we get our first modern day quip. Following a trip through the Roman reign with an appearance by Boudicca wonderfully played by Holly Morgan. Holly read English at Cambridge University and trained at Mountview Academy of Theatre Arts with numerous theatre credits to her name and TV roles including Channel 4's Fresh Meat.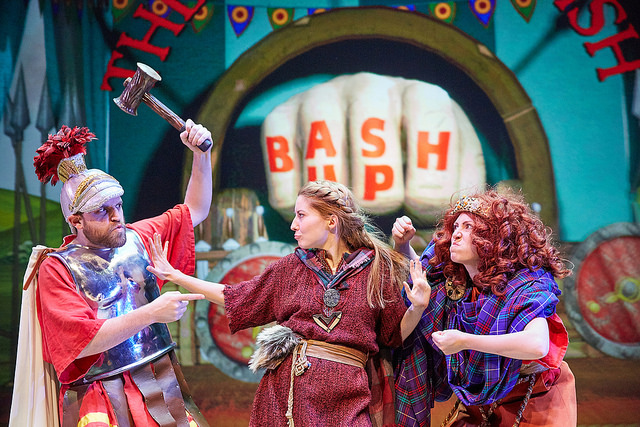 Mavis is next saved after the building of Hadrian's Wall when along come the Saxons and the Romans leave to fight wars back in Rome. However she again finds herself becoming a slave. And meets up with Alfred the Great portrayed by Elliot Fitzpatrick who trained at the Birmingham School of Acting and he frequently collaborates with Shakespeare's Globe Theatre.
After a 15 minute interval to allow the audience to get their 3D glasses from the foyer the show resumes (watch out for the fun on screen during the interval once you have your glasses). Along come the Vikings in a Longboat. We are then taken through the history of the Viking reign and a short song (audience are asked to join in) to remember how names of town and Cities have come about from the different reigns of Britain. The final actor to take a starring role is Tom Moores as William the Conquerer. Tom was a student of English at Kings College London for his BA in English Literature and an MA in Shakespeare Studies.
The 3D Bogglevision really enhances the 2nd half of the show with some slightly scary bits for younger children.
Credit has to be given to 3D creations for the fantastic 3D imagery and to designer Jaqueline Trousdale along with producer Adrian Littlejohns, sound designer Nick Sagar and choreographer Kenn Oldfield for pulling this production together into a slick entertaining and educational experience.
All in all this production is a fantastic way to teach children and grown-ups alike in a fun and easy to understand way about history. I cannot recommend this show highly enough, and would recommend anyone with children to take them along.
I for one am looking forward to Horrible Histories - Horrible Christmas that hits the stage at The Lowry from the 7th December till Sun 8th January.
Reviewer: Cory Coxon
Reviewed: 6th April 2016