It is hard to believe that Blood Brothers was originally developed as a school play in Liverpool in 1981, before its writer Willy Russell transferred it to the West End for a short but successful run in 1983. The musical then went on to win the Olivier Award for Best New Musical and went on a year long national tour before returning to the West End for a revival in 1988 where it stayed at the Albery Theatre for three years, and later transferred to the Phoenix Theatre in 1991. It became the third longest running musical production in West End history. It finally closed in November 2012. However it is one of the very few musicals I have never seen before and one I know very little about. Unsure why this is, it was just never one I felt the urge to go and see but every person I know that has seen a production, be it in the West End, on tour or amateur production, have had nothing but positive feedback so I then became intrigued to see a production.
Wakefield Little Theatre proudly presents, by popular demand, the original play (NOT the musical as I was originally hoping for) at Barnsley's Lamproom Theatre, from Tuesday 26th May to Saturday 30th May. The show is thought provoking, highly entertaining, yet deeply moving, funny yet tragic all at the same time. Not one to be missed!
The play tells the story of Mrs. Johnston, a working class Liverpudlian, a deserted wife with seven children who is pregnant again, with twins. She works as a cleaner for middle-class Mrs Lyons, who is unable to have children herself. Mrs Lyons suggests that one twin be given to her, so that the child could grow up to "have everything". A pact is made and the boys are separated at birth. Following a chance meeting when the boys are nearing their eighth birthday, their lives become linked but their contrasting environments force them apart and their upbringing prevents a proper understanding of each other, with tragic consequences.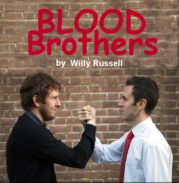 Wakefield Little Theatre first presented this production at the Lamproom Theatre in October 2000, in collaboration with the Lamproom Theatre Company. Tonight's performance, with only a cast of seven, was simply stunning. Narrator Paul Haley gave a chilling performance, with a somber expression and fast paced speech in rhymes, he gave the play its dark and serious edge. Helen Grace was loveable as Scouse mother Mrs Johnston, and even treated us to some A cappella singing. Andrew Crossland and Dean Booth gave outstanding performances as brothers Mickey and Eddie. I particularly loved how they portrayed the younger brothers (aged seven), with childish foolish behavior and charm, making the progression of their characters into adulthood believable. Nick Wade portrayed several characters – Mr. Johnston, the alcoholic, commitment phobia excuse of a father, to Milkman, Doctor and Policeman. Each role was played to perfection. Polly Lovegrove was a delight as Linda, the girl the brothers formed a friendship with in childhood, each brother having a secret love towards her but both being too shy to pursue it. It is Eddie who eventually convinces Mickey to ask her out. The story has a strong emphasis on the social class divide, and despite being set in the late fifties through to the early eighties when the boys are both adults, a lot of the issues the story raises are still seen today in everyday life.
Never have I seen such a powerful and emotion-stirring story portrayed on a stage, by such a small cast in what is a rather small theatre. I could hear several people sobbing by the end of tonight's performance, and rightly so! I was literally moved to tears by such a powerful performance of one of the very few plays turned musicals that I had previously known very little about prior to this evening. I was excited to see that Wakefield Little Theatre will once again be performing Blood Brothers in June this year as part of their Annual Drama Festival (seven plays in seven days!), at the Theatre Royal in Wakefield. This seven-day event starts on Sunday 29th May with Blood Brothers taking part on Friday 3rd June; I for one definitely want to be on the front row for this performance! However before then, I definitely feel another visit to see this performance at the Lamproom is in order before the last performance on Saturday 30th May.
This is the first production of this particular theatre company that I have seen (Wakefield Little Theatre), but after this evenings performance I now will be watching their Facebook page like a hawk for further show announcements. Bravo to all involved in this wonderful production.
Reviewer: Lottie Davis-Browne
Reviewed: 26th April 2016