A successful musical these days is judged by longevity not necessarily by just how good it is, and as Avenue Q enters its 13th year there are no signs that this juggernaut of a show is about to end anytime soon. Playing at the Palace Theatre in Manchester this week the audience on opening night appear to agree. It is a show that has everything, it's a little bit rude, a little bit sad, and lots of fun, and it is difficult not to connect to at least one part of the story. I even sensed from the audience reaction some had not used the internet just to book their tickets!
What started as an idea of a puppet version of Hamlet in the late 1990's, co-creators Jeff Marx and Bobby Lopez decided to turn the story into a show based on themselves and their friends after the original Hamlet idea was knocked back by the Jim Henson Company. It is a story about Princeton (Richard Lowe) who struggles to find his purpose in life. In the process he meets friends, finds love, loses love and finds it again.
Princeton's love interest is Kate Monster (Sarah Harlington) and despite early success his head is turned by Lucy The Slut also played by Harlington. Along the way after moving into Avenue Q Princeton also meets newly wedded Brian (Richard Morse) and Christmas Eve (Arina II), Nicky (Stephen Arden), Rod (Richard Lowe) and the one and only Gary Coleman (Etisyai Philip).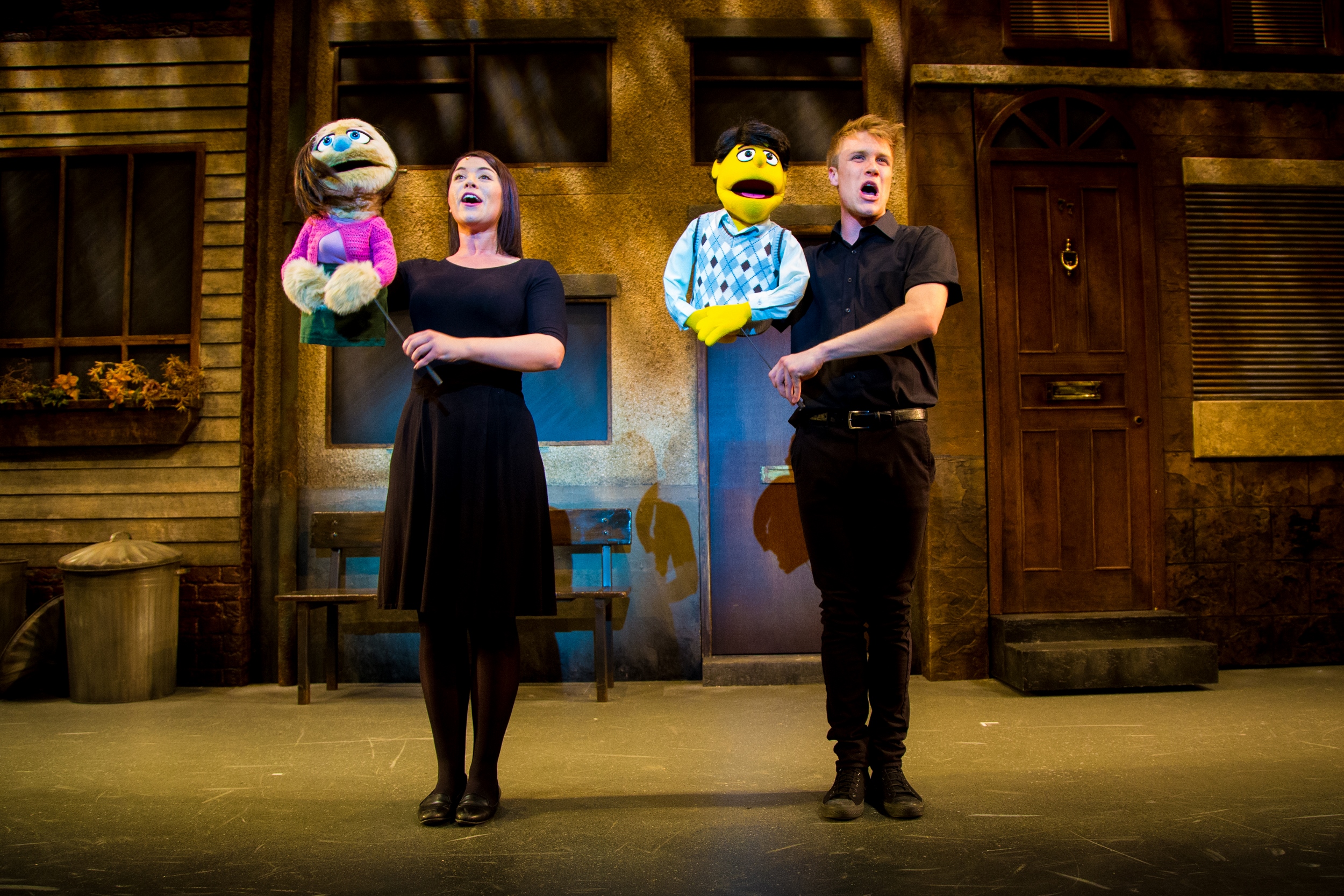 With Trekkie Monster (Stephen Arden), Mrs Thistletwat (Jessica Parker) and the hilarious Bad Idea Bears (Stephen Arden & Jessica Parker) the casting is complete. Each and every member of the cast apart from Philip, Morse and Arina play a variety of roles switching between voices without delay and proving themselves to be expert puppeteers. Harlington is particularly impressive playing both Kate and Lucy in the same scene. Such is the expert nature of the puppet manipulation you find yourself focussing on the puppet and not the human so don't notice who is providing the voice.
In this two hour show there are a number of highlights. The two that stood out for me and the rest of the audience tonight were Trekkie Monsters "The Internet Is For Porn" and just about everything the Bad Ideas Bears did. The book by Jeff Whitty is an absolute work of art with so many hidden jokes within it. I would imagine even after a second or third visit you'd still be hearing new jokes. Visually the show is also sublime with Kate and Princeton's love scene proving to be as steamy as it was hilarious, and maybe slightly disturbing if you stopped to think about it for just a moment.
The choreography in this show is also a joy. With cast switching from puppet to puppet it cannot have been an easy task to co-ordinate and is a credit to Cressida Carre who is also listed as the director for this production.
There is also a 'secret' ensemble in this piece who are not seen except once until the final curtain call. Working tirelessly behind the scenes operating puppets special mention should be given to Rhiane Drummond, Gracie Lai, Cameron Sharp and Josh Tevendale. A fabulous 6 piece band under the direction of Dean McDermott completes this superb company.
From start to finish Avenue Q is a joy to watch and one of the best shows to grace the Palace Theatre stage this year. With a ridiculously talented cast and of course troop of puppets there is nothing not to like about this show. If it were up to me I'd decree you have to see this show at least once in your lifetime.
Reviewer: Paul Downham
Reviewed: 3rd May 2016
Photo: Matt Martin Photography