As the title suggests, this is a play about Judy Garland. More specifically it is a play about her final years, her last UK concerts at The Talk Of The Town, her engagement and marriage to her fifth husband Mickey Deans and the unlikely love of her homosexual pianist Anthony Chapman.
It has been well documented that Judy Garland had a very troubled personal life. Financial instability and debt followed her around wherever she went; and her dependency on drugs, started by the film studios as a young girl, needs no further explanations here, save to mention that these were the key themes of the evening's entertainment, focusing on her tragic and pathetic later life until her untimely death at aged just 47.
Peter Quilter's brilliant script uses just four actors, and his sparkling dialogue is excellently written. A barbiturate cocktail of uppers and downers in itself. The caustic one-liners and sarcastic biting comedy so well judged and placed perfectly as a foil to the horror and tragedy of a life that was so frail and falling apart.
"My chin and tits are in a race to my knees."
The set by David Shields is just wonderful - the interior of a suite in 'the best hotel in London' complete with grand piano and a large window taking pride of place at the rear, and this seamlessly and quickly changes into the stage at The Talk Of The Town for Judy's performances. I am very keen on swift and unfussy scene changes, and these were superb. The only question I have is why Judy Garland was unlit when she came down into the audience?
This production is now half way through its UK tour and so has bedded in nicely and the three main actors work alongside each other superbly. This play is about Judy Garland, and finding someone who could perform this tour-de-force and demanding role must have been a casting director's nightmare. Enter Lisa Maxwell, already something of a Musical Theatre star in her own right, Maxwell's interpretation of the tormented Garland was just spot-on! Somehow Maxwell embodied her completely and acted, spoke, sang, and even looked like her. In a word, she was magnificent.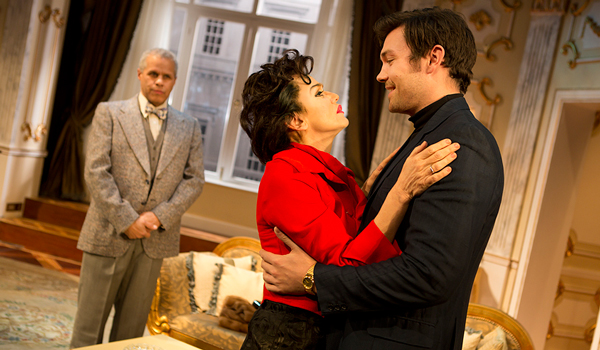 Supporting her were two fine actors. Sam Attwater played her final husband-to-be, Mickey Deans. His balancing between passion and exasperation for Garland superbly placed, along with his professional courtesy but natural distrust of her UK pianist. But it was this role that was the biggest surprise of the evening though. Somehow we expected Maxwell to take centre stage and be magnificent, which she was, but being billed alongside Gary Wilmot, then there was also an expectation that Wilmot too would delight the audience with his exceptional talents as a Song and Dance Man. But no, for this role he played the quiet, respectable, polite and reserved homosexual pianist, Anthony Chapman, secretly adoring Garland, and being her rock for her when things fell apart with unerring sincerity and gentle bonhomie. Admittedly he does the play the piano throughout, but other than that in this role he takes very much a back seat. A surprise, but a lovely one. To see such a huge star of the Musical Theatre stage take on such a role and embody it so perfectly only makes me admire him as an actor and as a person all the more.
If the script is to be believed - and in all other respects it was accurate - then Garland had her chance of salvation. Chapman admits that he loves her and asks her to come away with him back to his home in Brighton, away from the stage and bright lights; to live a happy and carefree life, without drugs, and with him cooking her meals and adoring her. It sounded so idyllic and romantic, and if only she had said yes.... but of course that's not how the story ended sadly.
"It's a terrible thing to know what you are capable of and never get there."
Daniel Buckroyd is the director, and full credit goes to him for this too. The directing is tight and slick, sensible and sensitive. The relationships between these three protagonists and their individual characters so beautifully brought out and intertwined. Never allowing the humour in the play to take control, and always leaving the audience wanting more.
The only other mention necessary is Craig Hamblin who devised a couple of really excellent fight routines. Extremely clever, using Attwater's height and stature against Maxwell's diminutiveness.
This was a truly excellent piece of theatre, and also really quite informative too for those who wish to learn a little about one of Hollywood's superstars and the mother of Liza Minelli.
The show is on at The Opera House here in Manchester until Saturday, and then continues on tour until the beginning of July. Catch it if you can!
Reviewer: Mark Dee
Reviewed: 3rd May 2016
Photo: Pamela Raith Photography