Hairspray has spritzed into the Regent theatre Stoke to introduce us to the Nicest Kids in town and they'll be here all week. The town of Stoke was well and truly welcomed to the Sixties when this brilliantly bright show opened last night. The theatre was buzzing beforehand last night with people of all ages waiting to see the classic and feel good show. On arrival into the auditorium there was swinging sixties style lights creating the vibe of the show before it even started.
Then Freya Sutton opened the show in true theatrical style with 'Good Morning Baltimore'. Sutton was hilarious as Tracy both with her line delivery but also and especially in her interactions with Link played by Ashley Gilmour. Truthfully Sutton is the perfect comedy actress and portrayed Tracy in such a way that she had the audience in the palm of her hand. She was brilliantly casted and I was far from surprised when I'd read she'd played the role before. Everyone needs to see her in this role she is truly spectacular.
The apple can't have fallen far from the theatrical family tree as Matt Rixon and Peter Duncan who played Edna and Wilbur. Together they were absolutely stunning, 'You're Timeless To Me' was one of the highlights of the show for me. The song itself is comedy gold but with these two performing it honestly it's something else. The relationship between the two of them just comes across beautifully. I now don't think I want to see anyone else in these roles as honestly they just wouldn't even come close to these two. I was in fits in hysterics whenever they were on stage together. There was even a slight technical issue with a prop last night that they just laughed through together in the most professional but hilarious way. Truly complete Comedy Gold. The Turnblad family unit with could not of been cast better if they'd tried.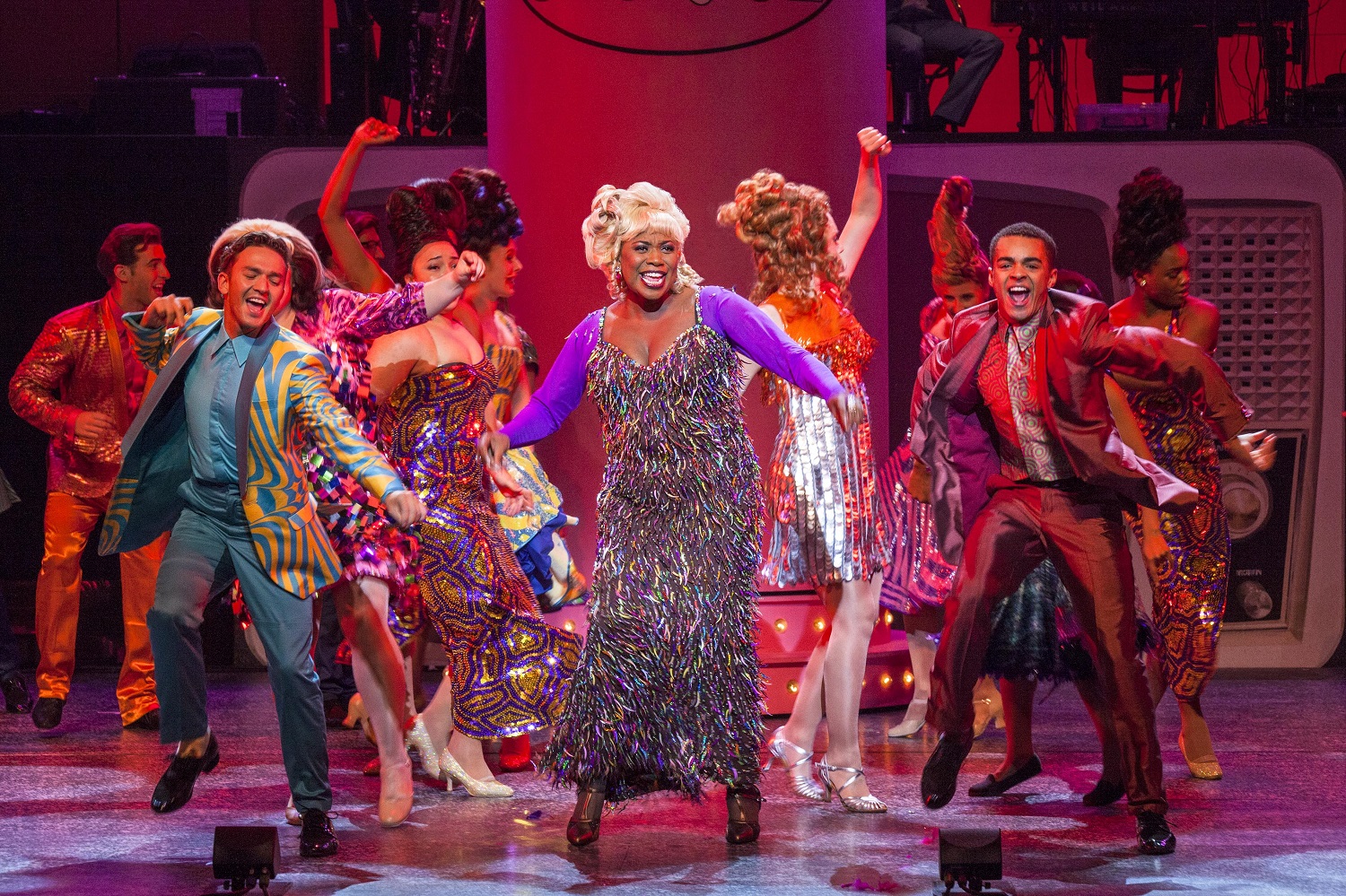 Whilst were talking about parents, Claire Sweeney as Velma was wonderfully wicked. She showed last night why she has such a long list of theatre credits to her name. She played the Villain brilliantly and a highlight was in 'You Can't Stop the Beat' she crawled across the audience. In such a frantic fashion, she was brilliant and somehow still made the character of Velma funny. As the mother of Amber played by Lauren Stroud the two of them bounced of each other perfectly and you could truly see the mother daughter relationship between them.
Brenda Edwards, was completely stunning as Motormouth Maybelle. Her rendition of 'I Know Where I've Been' brought a tear to my eye. She is vocally flawless and the emotion she put into everything she did was spectacular. She is an absolute revelation and I'm thankful that the X Factor introduced us to her because everyone in the theatre world should see her in this role. The relationships she had with Dex Lee as Seaweed who was the swarvest person on that stage he oozed charisma and was brilliantly funny and Hannah Fairclough who played Little Inez, who was an understudy but portrayed the character perfectly was simply beautiful. I think it's safe to say every family unit in the musical stole it. Every single family casting was stunning.
Monique Young as Penny was every inch as innocent and funny as she should be the relationship between her and Dex Lee was beautiful to watch and so sweet to see it blossom. They both created this relationship stunningly. Anthony Selwyn who is understudy Corny Collins played the role and played it stunningly. He caught that corny should be at the forefront of change with Tracy and they built that bond almost instantly. He was a little Baby faced for Corny but it somehow worked, it almost put Corny with the kids helping build that bond with Tracy. As for Ashley Gilmour as Link he was every bit as charismatic as he's supposed to be, he was vocally stunning and he and Sutton worked perfectly together.
Tracy Penn and Adam Price, who took on the Authority figures probably had one of the hardest roles in the show as they had many roles they had to create and capture on that stage. But somehow they made it seem effortless, every role was fresh and funny. They never lost that spark of creating new characters and if you didn't know they multirole in the show you would of thought it was a different person every time. The chorus were simply stunning as well. Everyone on that stage deserved to be there it was stunning to watch.
The staging itself was simple yet effective. There was a giant TV in the background for most which was projected upon to create different atmospheres. The costumes were beautiful and bright they embodied the show perfectly.
Overall, this is the first time I've seen the standing ovation start without the bows even starting. Everyone began to get up on their feet the second 'You Can't Stop the Beat' had finished. The show was mesmerising and heart-warming it's the perfect feel good show and I'd go again and again if I could. I may look to go again this week because truthfully you cannot help leave the theatre without the biggest smile on your face. It creates such a strong feeling of happiness everyone was up on their feet and dancing in the finale. It was amazing to see and at this point you could truly see how much the cast loved performing the show. Both the cast and the audience alike were sharing in the happiness the show created. I just honestly loved it, every single second of it.
Hairspray is showing at The Regent Theatre until Saturday 14th May. Tickets are now on sale and are available from The Regent Theatre Box Office, by calling 0844 871 7649 or visiting www.atgtickets.com/stoke
Reviewer: Leanne Ashworth
Reviewed: 9th May 2016