The most difficult problem with this dance oriented show was getting myself to a point where I could free myself from my prejudices and get along there. Dance? Disabled Dance?? What's this all about? Hieronymus Bosch, a sixteenth century Dutch religious Zealot as the thematic background? I am really struggling here. I list my reservations only because I am human and along with many who love the theatre I worry about having my sympathies stretched too far. However that's exactly the point of theatre in all its forms and there are a lot of very important things to say currently about disability. Clare Cunningham is a using this piece to say them in a very powerful way.
It is not a long show, only 40 minutes and it's a very singular study, which I think would be better if there were more not less of it. Performed on a bare black stage in the Lowry's new studio theatre and performed by Clare alone it is a thematic study of disability. Set to Ecclesiastical music and performed by Claire alone with her crutches, with her back to us for 20 of the 40 minutes we are made aware of the a beautiful but extraordinarily painful struggle for survival of a crippled body.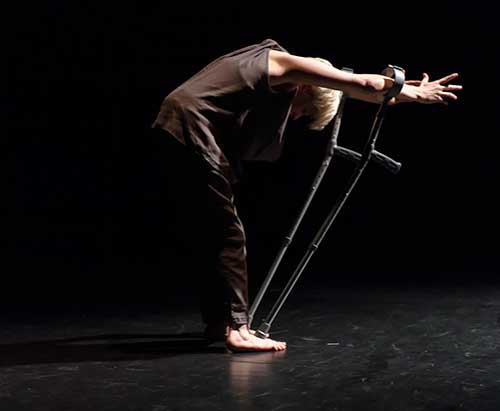 Accompanied by haunting cello music she used the crutches more as integral body parts for contorted but beautifully expressive dance steps and sinks exhausted to the floor in silence for a while. Then facing the audience, she strips off her outer clothing and presents herself, continually moving, straining to stay upright and proud before retreating to the back of the stage, A classical singer by training she ends half crucified, half elevated by the crutches which support her half hoping for death. We see her symbolic struggle with the frustrations of life as a disabled person and the indignities that an uncaring state system heaps upon the needy. She uses the highest of art forms as her vehicle for comment has a stunning operatic singing voice and challenges our sympathy. So why not extend the theme and shows how disability affects her whole of her being?
As it is she is memorialising all those who were killed by the Nazis because they were crippled and ignored by other regimes as less worthy than others. "We, the disabled, what are worth? Look at what I am. There is nobility in overcoming my challenges. Have compassion and acknowledge my right to live".
This short show had a very big effect on its audience, but is really a fragment. I truly think it should be developed into a full length piece to have a wider impact.
Reviewer: Elaine Bermitz
Reviewed: 10th May 2016