At the Lyric Theatre, Salford this evening the stage was set very simply with a hanging lamp and chairs for the guitarists, a plain black backdrop with two white panels that were occasionally lit up red. Taking to the dimly lit stage 15 minutes later than they should have started, to a sparse audience, Olga Pericet appeared dressed in a black trouser fitted outfit with a white bolero and was accompanied by two guitarists Antonia Jimenez and Pino Losada and two male singers Miguel Lavis & Manuel Gago.
Pericet, with precise toe tapping, hand flicking and arm movements associated with flamenco dance, stylishly takes us through what appears to be many moods and flirtatiousness from one singer to the other who wail throughout the show and appear to be in pain at stages! I would have liked to have had some information at the start of the show with a brief outline of the story whether printed or narrated which would have enhanced the performance for me as I found it difficult to keep interested not understanding Spanish and not being able to interpret by the dance moves alone. Watching expressions on the guitarists helped knowing when some of the moods changed.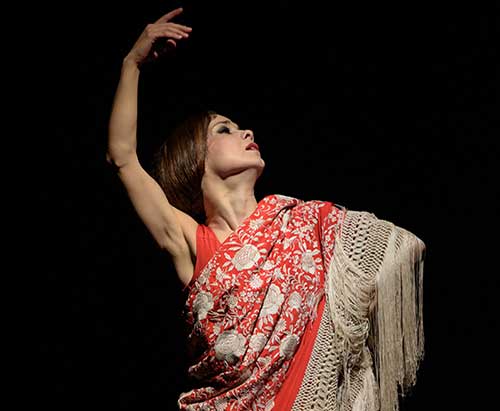 Wearing black against a black background and with poor lighting did not show off the dancer's skills and I was happy to see her change into a red frilled outfit as she appeared solo to taped music and the show became much more interesting at that stage. There is no doubt that Pericet is a controlled and talented dancer blending traditional flamenco dance with a modern approach and at times engaging with the audience and at others in a world of her own.
Between costume changes we were treated to the fabulous talents of both guitarists whether playing solo or as a duo although some of their performances felt a little too long at times.
Returning to the stage in a more traditional costume, certainly of the style I would relate with the flamenco anyway, Pericet continued with the drama, with finger snapping and foot stamping along to the wails and loud hand clapping of the two male singers which was probably the highlight and of the most interest for me of the evening from the dance. Swishing the costume around the stage with ease and a certain arrogance showing a passion with her moves resulting in calls of Olé Olé from the audience. (A bit of Spanish I do understand!)
There followed a beautiful haunting solo spot from guitarist Antonia Jimenez before Pericet returned to the stage in a similar outfit that she started the show in.
The finale again featured wailing, hand clapping, foot stamping and guitar playing as is associated with Flamenco, Dance should be enjoyed by those not knowing the exact terminology for the moves performed and to a certain extent I did but have to admit I lost interest at times as it felt too repetitive. I just wish I had understood more what had been going on. The show this evening lasted 75 minutes without an interval.
Reviewer: Lorna Weekes
Reviewed: 12th May 2016