"POP-TASTIC"
WOW... I'm a little on the young side to remember Jackie in its heyday but as it was around for almost 3 decades, I do still have fond memories of it – reading the gossip columns, the advice pages by Cathy & Claire and who can forget the quizzes (I'm mostly A's...) But none of that was forgotten at all, in this fast paced, sometimes emotional look into Jackie's life and where she is now... Highs, lows, love and lost love all play a part in a great show.
Jackie was played extremely well by Janet Dibley. Dibley sang well and maintained a loveable character who the audience wanted to see happy. She had a fantastic on stage chemistry with her son David, played brilliantly by Michael Hamway, whose vocals were superb and really shone through in the numbers he did (my particular favourite of his was 20th Century Boy). This young man is very talented and will hopefully, go far…Now appearing in Jackie's head is Jackie, that's right, the younger version of herself played very well by Daisy Steere who had a super voice and fantastic stage presence. The comedic timing between her and Dibley was excellent... As we all know there must be a love interest and there was, played fantastically well by Nicholas Bailey... Now a little confession, I have always had a bit of a crush on Bailey and I knew he could act but oh my, when he started to sing, I was blown away... Smooth, silky and powerful and I adored his & Dibley's version of Love is in the Air...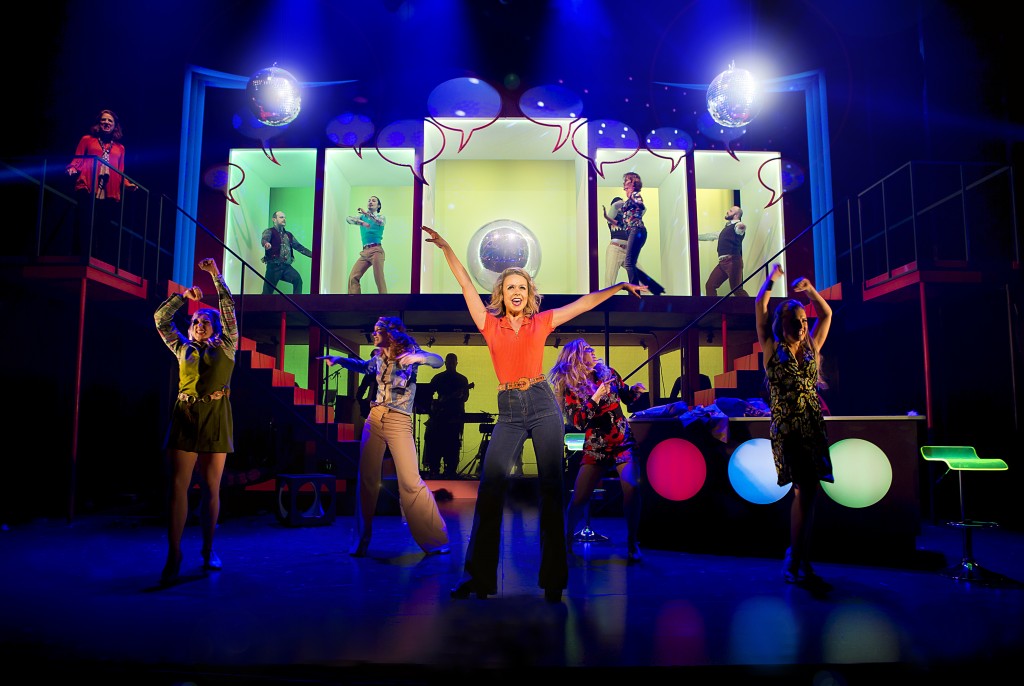 Other leads did not disappoint, in fact there was no-one on that stage, that didn't deserve to be there – Jackie's ex husband, John, played & sang well by Graham Bickley, just managed to squeeze the smallest amount of sympathy from you, when he realised he still loved her, whereas her arch nemesis, spoilt Princess, Gemma 'the horse' was brilliantly played by Tricia Adele-Turner.. David's friend Keith, played by Sam O'Hanlon and Cathy & Claire, played by Laura Mullowney and Hayley-Jo Whitney, respectively, were superb cameos, all with excellent vocals.
Jackie's best mate, Jill was played incredibly well by Lori Haley Fox: her vocals were brilliant and her facial expressions during David's confession of undying love (20th Century Boy) were comedy gold... However, for me, one performer shone through - Frankie, the bartender (played by Bob Harms) was absolutely amazing. His timing - superb, his vocals - fantastic and his 'pelvic' movements and dancing were all wonderfully camp, in a manly way.. He was really quite something to watch...
This fabulous cast were supported by a wonderful company and some amazing dancers, however I do feel that sometimes there was too much dance – the numbers felt a little too busy... On another side to that though, I loved how the cast were the ones changing the set and that this had been worked into the choreography which meant it flowed seamlessly.
Sound/lighting and set design were all excellent with no first night nerves showing at all. Super! Hair and make-up were definitely in keeping with the period and the costumes were delightfully colourful.
The small, but fantastic orchestra was led by Dan de Cruz and were placed at the back of the stage, which meant there were no problems with not being able to hear the performers at all... Voices and instruments blended well.
To summerise, this is a feel good musical full of classic songs, great acting, superb memories of the 70's and all presented in a nice ribbon, by director Anna Linstrum... Well done Anna, a fantastic job.
I encourage you to catch this fab blast from the past while you can because Love is most definitely in the Air. Enjoy the rest of your run guys, you certainly deserve the praise.
Reviewer: Hazel Bumby
Reviewed: 17th May 2016