As you enter the studio for Dogma Theatre Company's debut play Cabin Fever, the tone is set immediately through blue hazy lightning pushing through eerie darkness. Within minutes a succession of water droplets echo throughout the room and it is easy to feel as though you are in some form of cave or abandoned location.
It is soon revealed through prompt and consistent set changes that the location is a cabin strewn with blue prints, maps, newspaper cut outs and other forms of documents; there we are introduced to Roland.
Cabin Fever follows Roland (Brendan Lucia), a young man whose father was abducted by aliens, in his desperate and frantic pursuit to shed some light and find answers on the traumatic event; however no one believes him.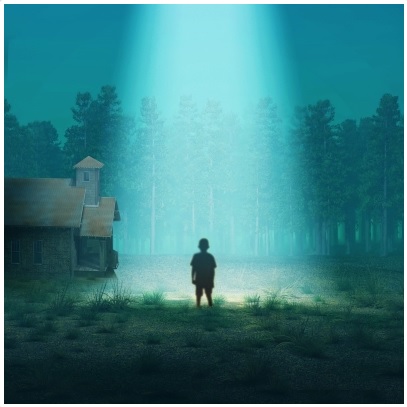 At times, Gabrielle Colferai's direction of the play felt as confused as Roland's thoughts, frequent flashbacks and constant scene changes made it hard to keep up. Distinction between present and past were at times unclear. However Lucia remained strong and committed to his portrayal of the wide eyed, unhinged Roland and held his own when often onstage alone.
Calum Witney's writing proved imaginative and complex, although often lost in translation amongst the fast paced action on stage. Witney's portrayal of Roland's Father was grounded and genuine throughout and the earlier scene of a young Roland and his father was probably one of the strongest. Light-hearted and relatable, Lucia's physical switch from adult to child was crisp and believable.
Another strong partnership within the show was surprisingly between Roland and assumed prostitute, Laura (Leoni Hughes). Although they were not featured in many scenes together, their bond and genuine care towards one another was a relationship that would have thrived if explored in more depth. Both were awkward, self-absorbed and often silent; but it worked.
One aspect that kept the ambience subdued was the array of lighting displayed throughout the piece. The use of pathetic fallacy always linking the representation of mood, through lighting, to the characters often sombre presence. Blue and white being the main choices of colour and spotlights often exposing characters one at a time. Additionally, Fizz Margerson's choice of sound score complimented the tone of the piece from the very start until the very end. The odd, unearthly accompaniment was appropriate and fitting.
Cabin Fever has the potential to go far, as in terms of technical elements; it has it all. However for such an erratic and fast paced piece, it was at times a little dull and didn't quite grip the audience as it should have. With some clarification and restaging, Cabin Fever could definitely go far.
Reviewer: T. Smith
Reviewed: 4th August 2018
North West End Rating: ★★★