Presented by Boom Boom Productions, 'If The Shoe Fits ' is a comedy written by Donna Lesley Price and directed by Richie Grice who both star in this entertaining play.
It's just another day at Goody 2 Shooz, an upmarket shoe shop set in Liverpool that 'even Colleen Rooney would be turned away from' and highlighting the lives of five very eclectic characters who only have in common their workplace ....or do they?
All that is about to change after bitchy 'tart' shop assistant Chas, brilliantly portrayed by Jodie Nesbitt, reveals some information, shocking her co-workers and boss Jamie (Richie Grice) to the core. The day starts off normally enough but soon becomes apparent that all is not well with Sally (Lucy Gittins) as she breaks down in tears and matriarch Liz (Charlie Griffiths) offers a comforting shoulder to cry on (well, one has to get the gossip somehow!)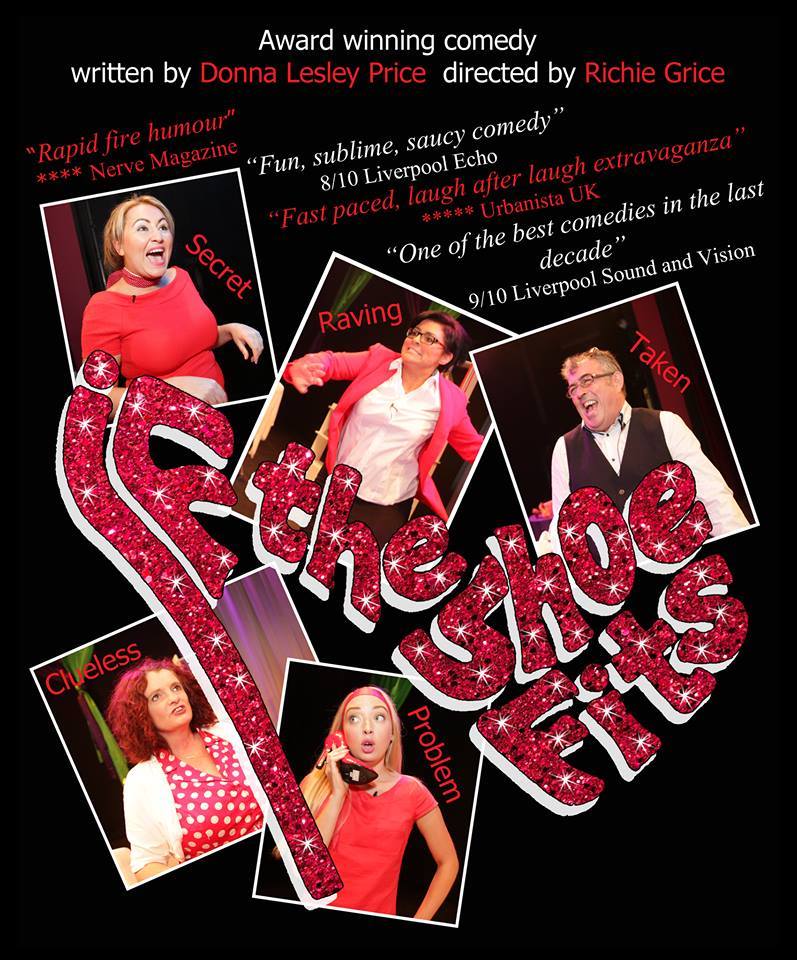 Daphne performed by Price is an hilarious character, totally naive but with great ambition and there are some real comedic moments as she serves a customer with a shoe fetish (Shaun Fagan) and her dealings with a priest and DJ, movie maker Guntha Porne Tache (both parts hilariously played by Trev Fleming).
Customer service is not quite a priority as discovered by a chavvy 'hair in rollers' customer returning some shoes. Abbey Fitzhenry has all the attitude of a chav and plays this part and that of barmaid convincingly.
The day progresses with wrong deliveries and an array of customers when the bombshell hits and there is only one thing to do in such a situation, shut up shop and head to the bar declares shop proprietor Jamie (Ritchie Grice). Grice is hilarious throughout the play and is very much at ease on the stage, ad libbing with Charlie Griffiths when a slight sound technicality crackled but this just added to the funny moments. As the drinks flow the dramas of the work colleagues personal lives begin to unfold revealing some shocking circumstances for some. With subjects not associated with a comedy these are touched upon with sensitivity by the cast.
The set for the first half features a shop floor scene and is bright, colourful and very believable with displays of the latest in designer shoes. This transforms to a bar for the second act and serves the play well.
There are strong scouse accents, witty one liners, perfect comedy timing and all delivered by a cast who simply bounce off each other. Some of the delivery is fast and coupled with the strong accents could easily be missed if not familiar to the dialect. There is some adult content and profanities so I would suggest not suitable for young children but these moments this evening are met with laughter each time.
All in all 'If The Shoe Fits' is a highly entertaining, cleverly written, comedy drama with plenty going on to keep you intrigued and laughing at the same time.
Reviewer: Lorna Weekes
Reviewed: 13th June 2017
North West End Rating: ★★★