After being lucky enough to review their opening two shows of the Summer season, tonight I was back at Chester Storyhouse for their opening show of the Autumn season, Footloose.
I was excited to see how they've transformed their auditorium from the 500-seat thrust stage to the 800-seat touring stage. I was blown away. It looked magnificent, I felt like I was in a completely different theatre.
I received a very warm welcome as I entered the Storyhouse and feel it has come a long way over the Summer, really settling in and feeling like a theatre.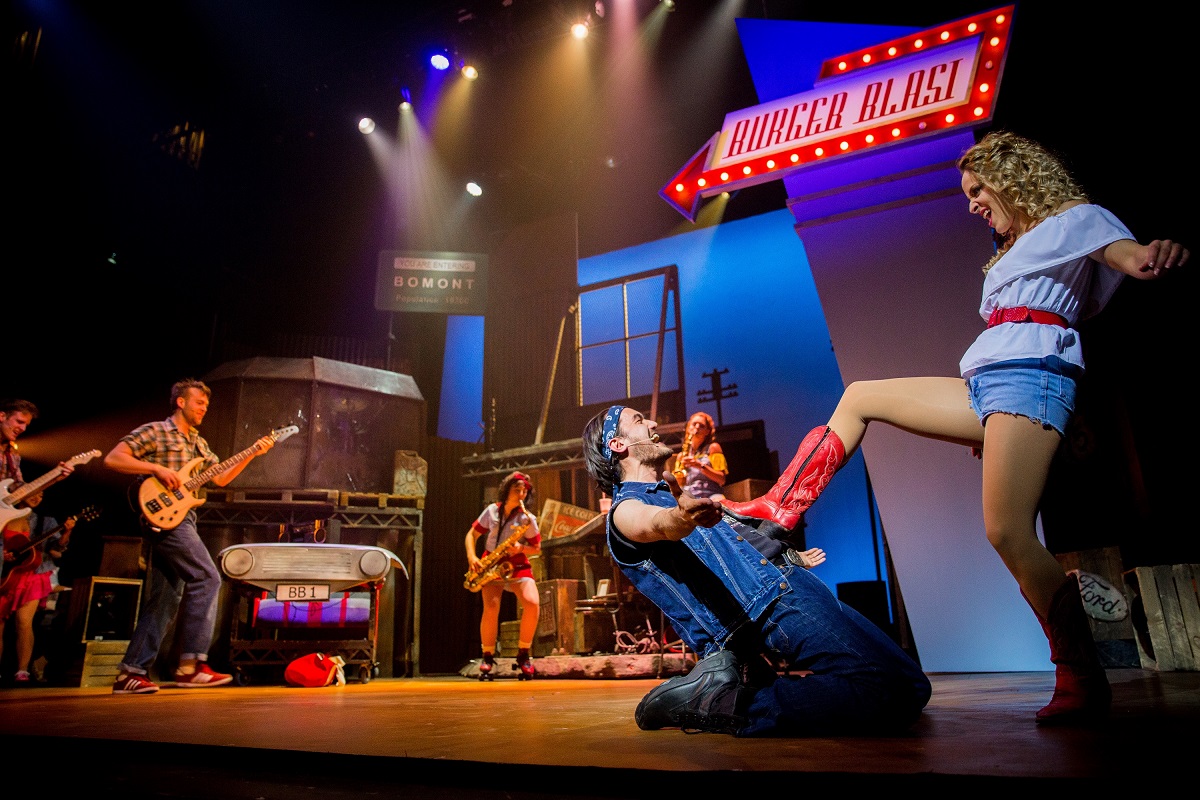 I took my seat and awaited the main event. WOW. What a show! What makes this show different to others? This phenomenal cast. The energy they give, the amount of characters this small cast play and to top it all, they play all the instruments in the show, on stage. Led wonderfully by their Musical Director, David Keech, on drums.
Director Racky Plews has done a phenomenal job with this show. Every action, every step utter perfection. Every last detail taken care of, not just main action but everything on stage, in the background, telling its own story.
Matt Cole's choreography left me in awe. It was slick, tight and oozed energy and the 80s vibe.
Our main guy, Joshua Dowen as Ren McCormack was an utter joy to watch. He completely owned the stage, with killer moves, energy that never waivers and vocals that blew the audiences socks off, this guy is a force to be reckoned with. Dowen plays a big character with a huge storyline and lots of action but my favourite scene is a quiet scene with Reverend Shaw, played by Reuven Gershon, where you see raw emotion and the heart of the show.
Willard, played this evening by Dominic Gee Burch was wonderful. Such humour, loveable qualities and brings a new life to the character. His on-stage presence is a joy to witness from start to finish.
Another stand out was Emma Fraser as Wendy Jo. Fraser took Wendy Jo to a whole new level. Here comedy timing perfect and left up wishing for her to be on more to see what she did next.
This cast works so well together, like a family, taking over each other's instruments while the other came into a scene. Beautiful.
The set was mostly static with the central piece turning to portray certain scenes and parts brought on by cast but it really worked. Quite an intimate set and space drew the audience in more and allowed us to be part of the story.
The way this show is put together is mind blowing and the level of talent on that stage is out of this world.
If you're lucky enough to get to the Storyhouse this week to catch Footloose, I urge you to do so, you'll be "Kicking off your Sunday shoes" and dancing in the aisles by the end. https://www.storyhouse.com/event/footloose
Reviewer: Damian Riverol
Reviewed: 5th September 2017
North West End Rating: ★★★★★