Cornley Polytechnic drama society present "Murder at Haversham Manor" and what could possibly go wrong?
With the stage open on a drawing room and a study positioned on a second level, you are faced with the set that is used throughout The Play That Goes Wrong.
With the "Director" greeting the audience and backstage crew frantically running around you can see how this production is about to pan out.
The Play That Goes Wrong written by Henry Lewis, Jonathan Sayer and Henry Shields is a non-stop, full on journey of laughter, physical comedy, genius script and a hugely talented bunch of actors.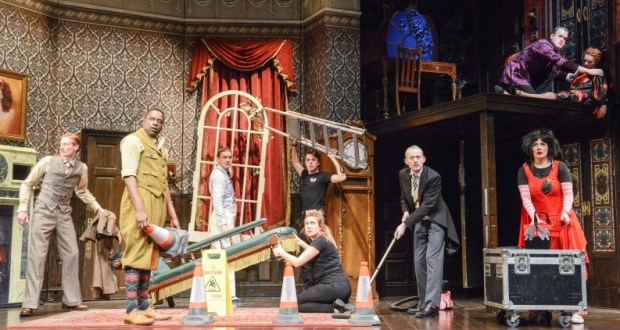 The set designed by Nigel Hook is absolutely phenomenal. At first it looks pretty basic but as the show goes on you see just how complex and clever it actually is. It needs to be seen to be believed. Lighting plays a big part in making this play a success and creating the illusion things have gone wrong. Well done Ric Mountjoy on a great lighting design.
Director Mark Bell has brought together a wonderful cast to deliver this hugely popular show and get them to make the audience believe that things have actually gone wrong is a talent in itself.
Jake Currans as Chris is a joy to witness. He is supposed to be the professional "director" of the play and wants everything to go right but he gets the complete opposite.
Perkins played by Dennis played by Benjamin McMahon is the character who gets everything wrong. From miss pronouncing words to giving incorrect cue lines, leading to a very funny "line loop" in the script.
My favourite character was Cecil (Max) played by Bobby Hirston. Hirston played the character very childlike, soaking in the applause and attention and delivering lines very over the top and over energetic making him even more loveable to the audience.
Kazeem Tosin Amore as Thomas Colleymore (Robert) had a very physical role, especially on the raised study area during a tricky scene with scenery and props. Very cleverly set and delivered exceptionally by Amore.
Catherine Dryden as Annie and Ellen Valentine as Sandra both delivered brilliant characters. I laughed so hard at their physical comedy and full on fight scene which got bigger and better as the scene went on.
Steven Rostance as Charles Haversham (Jonathan) and Gabriel Paul as Trevor really added character to the show, creating more humour, sometimes indirectly but adding to the whole performance.
The programme for this play is wonderful with interviews with the "cast" of 'Murder at Haversham Manor' and so the reason some characters have two names. It takes a while to realise you're reading their character bios first then the actor's later. Extremely clever and adds to the set up of The Play That Goes Wrong.
The only downside I found was that a couple of parts were dragged out in the first acts becoming a little laboured compared to the rest of the show and then parts were frantic and so losing a bit of dialogue in the muddle losing a little of the story but overall it is fantastic.
You'll laugh until it hurts and leave with a huge smile and admiration for this wonderful cast and phenomenal set. I know I did.
Reviewer: Damian Riverol
Reviewed: 29th January 2018
North West End Rating: ★★★★