Cirque Berserk is a circus production adapted and perfected for the suitability of the stage and its theatre goers. Like me, you may think this indicates a slightly toned down version of what you can experience in a conventional 'big top' venue, rest assured I was much mistaken and you would be too.
The diverse range of performers from various places across the globe and the skills they demonstrate is mind blowing. From knife throwing to aerial strap performers, from dancing with flaming bolas to acrobatic tumblers, this show has it all and then some. It is when you think you've seen all they have to offer and then they throw something totally unexpected at you, that you realise you're in the midst of something truly spectacular.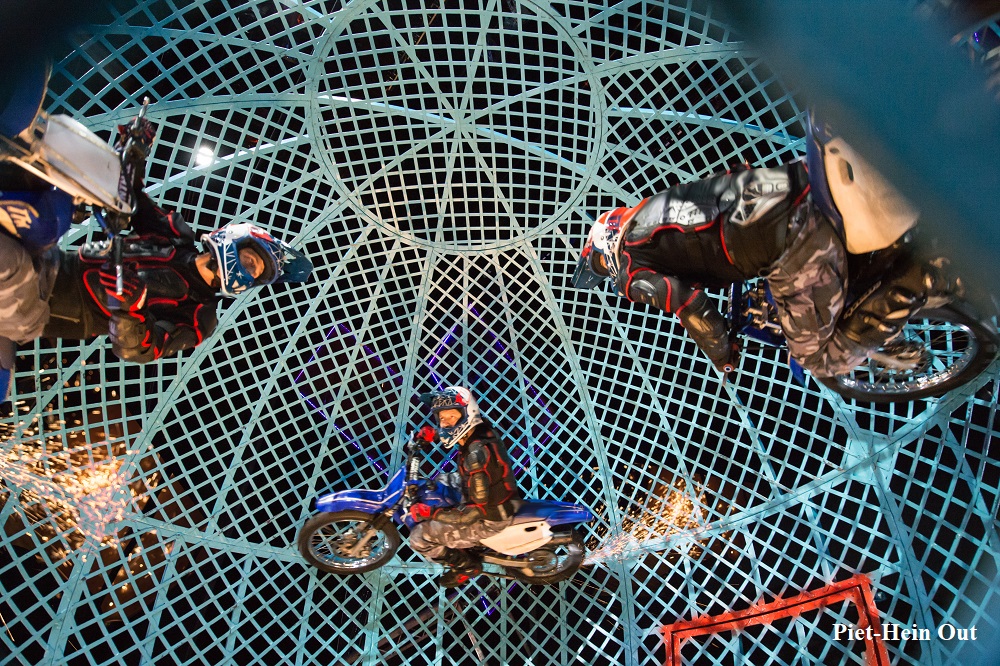 Throughout the whole show, the music that accompanied the acts was fundamental in creating atmosphere and tension amongst us audience members. At times it was dramatic, then it was intriguing and even comedically used for effect in between the nail biting acts. The arrangement of the performers was excellently planned and ensured your experience was as high as the aerial pole performer, and as low as the acrobats doing limbo underneath a barely off the ground stick blazing with flames.
Despite all of the performers being incredibly skilled in their own right, there were a few stand out acts which must be mentioned. Firstly, the astonishing motorcyclists (Lucius Team) who demonstrate the 'globe of death' and quite literally take your breath away. If you think you've seen this sort of stunt before, you haven't seen anything yet. This show gives the UK its first experience of the aforementioned act on a stage, and the audience lapped up every moment.
Secondly, Germaine Delbosq sticks in my mind for her foot juggling expertise. Her act may not seem that exciting, but when you're sat in your seat with your mouth wide open in admiration, you know you're watching something pretty special. If her on stage antics are anything to go by, Delbosq must be a dab hand (or foot) at multi-tasking. At one point we witnessed her effortlessly spinning a hoop with one foot, balancing and flipping a tube type object with the other and juggling balls in her hands, all at the same time. Amazingly, this was not her only act either as she makes up one third of the Bolas Group. Bolas being a throwing weapon made with weights on the end, originally used for capturing animals. What this trio do with them is much more entertaining though.
I could go on and pinpoint the highlights of all the acts, but it would be much more worthwhile to see this hair raising group of artists from all over the world for yourself. The Floral Pavilion makes for a perfect place to host the show and I would recommend this to young children and old age pensioners alike.
In conclusion, once the show stopping production had finished, I have to admit our standing ovation didn't feel nearly worthy enough of our collective appreciation. The talent standing before us was a pleasure to have watched and a fantastic representation of what people might just be capable of.
Reviewer: Sara Starkey
Reviewed: 31st May 2018
North West End Rating: ★★★★★