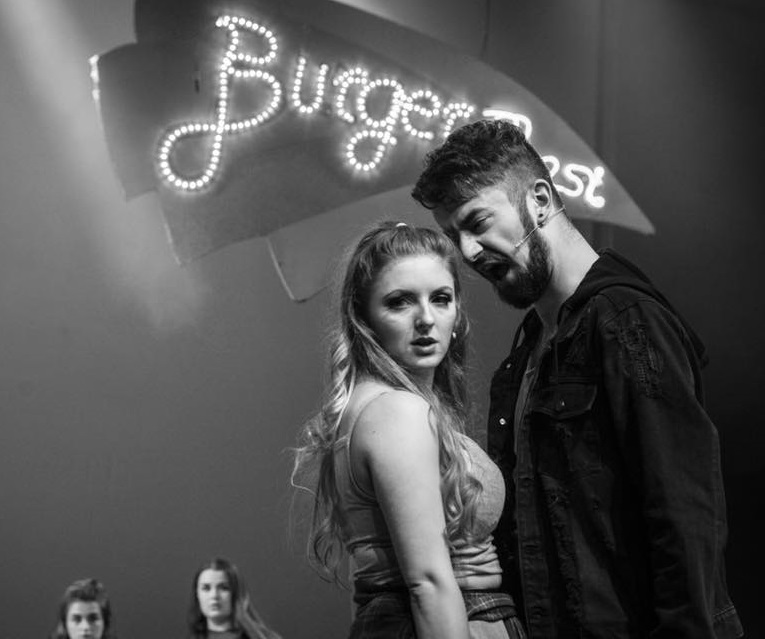 Encore Productions present 'Footloose' at the Brindley Theatre Runcorn which is a fun, lively musical filled with love, country wholesomeness and of course rock and roll making it likeable and appealing in every way.
The story follows a young school boy, Ren McCormack (Jake Hankey) as he faces a culture shock following his move from Chicago city to the small farming town of Bomont. Ren is full of life and loves to dance which causes a stir in his new town where dancing is against the law ordered by the local preacher. Ren gets into lots of trouble as he struggles to fit in and begins to make a bad name for himself.
Things change when the revenants rebellious daughter takes a shine to Ren and he finds the courage to stand up for what he believes in- Dancing! However his fight to change Bomont is far from easy as Ren opens some sensitive wounds and has to convince the locals to see past his bad reputation to support his cause. With themes of loss, love, grief, youth and self belief, the beauty of this musical is that it changes form light hearted fun to deep, emotional tests in an instance and encore productions had the talent to produce this excellently.
I felt that the cast were a little nervous in Act one and the opening number lacked the vibrancy needed to wow the audience however as the show progressed, the cast became more comfortable on the stage and the high energy that is required for this production was achieved, particularly in the second act. There were some phenomenal scenes which I could have watched over and over again including 'I Need A Hero' 'Mama Says' and 'Let's Hear It For The Boy'. These scenes brought humour, fun and elegance to the production making it very memorable.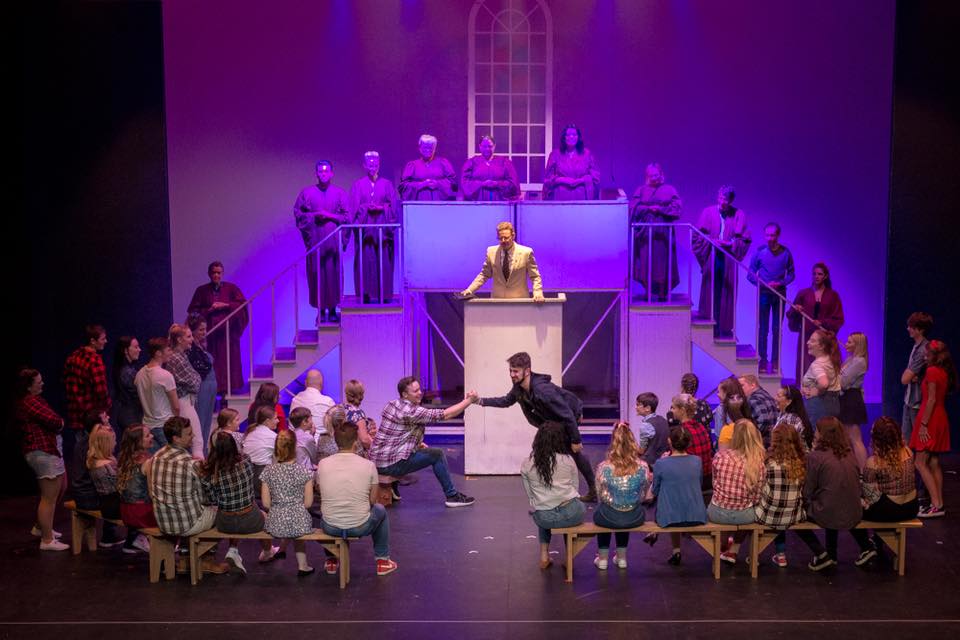 What stood out most about this company was their vocal abilities – songs such as 'The Girl Gets Around' and 'Somebody Eyes' had intricate harmonies which are only achieved through individual brilliance and a huge amount of rehearsal so a huge congratulations to Ashley Walsh, Musical director and to the cast of Footloose for bringing those harmonies through in every song and for generally being pitch perfect.
With such a huge cast that ranged massively in age, producer and director, Nick Cupit had a challenge on his hands taking on this musical which some would say is better aimed at young adults. However through clever direction and meticulous staging, Cupit managed to find a space and role for everyone and the show flowed seamlessly despite the 50 cast members on stage during the big numbers! This was also thanks to choreographer Natasha Bill who made excellent use of the large numbers simplistically but effectively during 'Somebody's Eyes' and she got everyone moving during the more complicated numbers such as 'Still rocking' and 'Footloose' (finale).
The talent of this cast has no limits with standout performances coming from the brilliantly charming Hankey brothers, Alexandria Smith who managed to be sweet, sexy and rebellious all at the same time and the wonderful comic duo Izzi Feld and Jake Liken. Izzi's voice is sublime and one I could easily listen to all day and Jake made me laugh every moment he was on stage with wonderful characterisation that made the whole audience fall in love in him.
The only way is up for this production and with opening night under their belt; 'Footloose' is set to soar in the Brindley Theatre this week. With a heart-warming story line, electric energy, hilarious moments and outstanding vocal talent, this show is a complete success and a brilliant night of entertainment for everyone. 'Footloose' the musical continues at the Brindley Theatre Runcorn until Saturday the 29th of September 2018, for more information and tickets please visit https://thebrindley.org.uk/
Reviewer: Bláthíne Maguire
Reviewed: 27th September 2018
North West End Rating: ★★★★