Firstly an admission, I am not a newcomer to this production and first reviewed it three years ago and was blown away by Paul Metcalfe and his band as they performed and paid tribute to Rod Stewart.....so how have things progressed?
Well firstly a slight set change with sax, drummer and keyboard players positioned at the top of an illuminated platform three steps up and two guitarists at each side of the stage. Once again the lighting, (father and son team Andy and Ryan Linklater) and sound (Richard Wood) are amazing and really contribute to the show. The band have changed too but the chemistry between them and Rod (Paul Metcalfe) is evident and they recreate the music of Rods hits flawlessly. Often overlooked in reviews, these guys, each and every one of them, deserve special mention, but stand out performer has to be young 23 year old Xander Bone on saxophone....he can certainly make that instrument talk and is incredibly talented, an absolute star in the making. Al Vosper contributed a great deal to the show with his fantastic guitar playing along with Dave Troke on bass. With Rocky Morris on drums and M.D. Rob Yeo on keyboard the brilliant band line up is complete.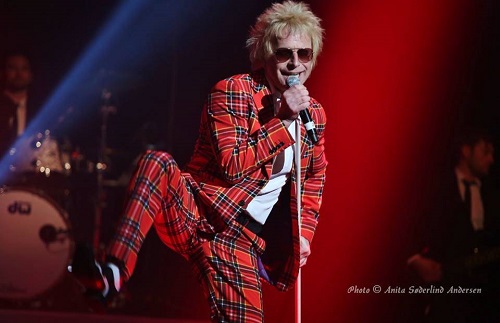 Metcalfe is a pure entertainer, as soon as he makes an appearance there is a connection to the audience and his stage presence and charisma is on full throttle as he kicks off with 'This Old Heart of Mine', swinging the microphone stand around and strutting about. No need to warm the audience up they are with him all the way from first song to last with demands and chants of 'We want More' at the end! His resemblance to Rod is uncanny and there are moments you forget this is a tribute act. Rods siblings ,sister Mary and brother Dan, have endorsed the show with comments I can only agree with, 'Pauls voice and mannerisms were the closest I've seen to Rod himself' and 'I've seen some Rods in my time but Paul is the best one I've ever seen'. But as tributes go this show differs, especially during the first half as Metcalfe reveals a short history of Rods life and how he progressed over the years to the present date with his career. He makes it interesting as he talks of his unexpected conception, his family life, his loves and wild days and the bands he performed with. I love the way he talks of Rod whilst sounding and looking like him but not acting as him, that is saved for the singing. Supporting the stories are projected images on a screen behind the band and it's amazing to think Rod is now 74 and had a successful career which still continues.
There are several authentic costume changes but the cheers are saved for when Metcalfe appears wearing a red tartan suit, tartan being a trademark of Rods image. Although he was born in London in 1945 he has a great bond to his Scottish ancestry.
The second half concentrates more on the songs but the whole show has all the favourite hits from rock 'n' roll to the most loved ballads including 'Handbags and Gladrags, 'Have I Told You Lately' 'Hot Legs' and no Rod Stewart show would be complete without 'Sailing' and 'Maggie May'. Throughout Metcalfe is a true professional and his representation of Rod is incredible. The audience loved him, singing and swaying and dancing in the aisles, joining in on choruses which Metcalfe scored them '11 out of 10'......well back at you 'Some guys Have All The Luck, it's an 11 out of 10 from me to you! I'm happy to report that the standard set when I reviewed you three years ago has not faltered and although this is a new show is presented equally as entertaining and rates amongst the top tributes. A definite must see. https://www.someguyshavealltheluck.com/
Reviewer: Lorna Weekes
Reviewed: 7th September 2019
North West End Rating: ★★★★★