It's the classic horror trio, Dracula, Frankenstein (ok, the monster – or is it?) and Dr Jekyll and Mr Hyde. Well, quartet then, perhaps. And maybe the most memorable. Everybody understands what is meant by a 'Jekyll and Hyde' personality. So no pausing for exposition, and you're immediately drawn into this atmospheric play by the incredible sound and set design.
The music is mesmerising, traditionally sinister yet so modern; some of the best I've heard. Similarly, the costumes, of which more later, are a feast for the eyes.
The stage effectively evokes Jekyll's laboratory, back lined with shelving, decorated with ominous collections of bottles. Otherwise, completely bare apart from a large chest in the middle and a couple of trap doors, flanked by two lamps. Admittedly, Jekyll's labyrinthine house is suggested perhaps more by the use of that word but the cast convey its size, whether investigating or running for their lives.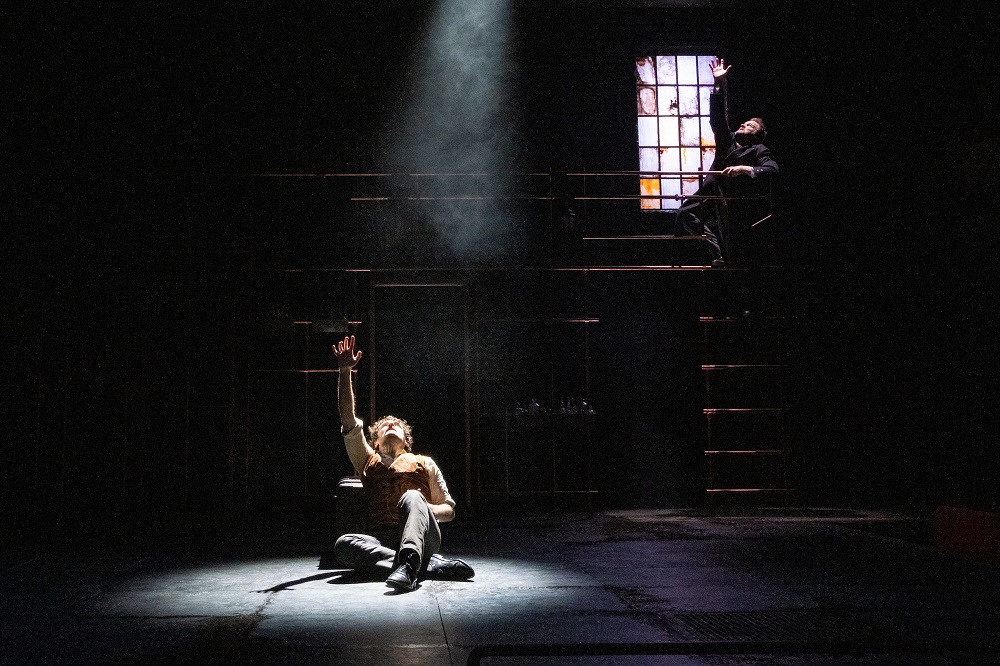 When we're in Lady Gabriel's home, this is indicated by her presence, although some kind of prop could have been useful at the end when it isn't clear whether her niece Rose is waiting outside there, or the laboratory.
Above all, the cast cannot be faulted. Edward Harrison as the good Doctor, is, literally, a soul in torment, just like Mr Hyde, played by Matthew Flynn. Interestingly, using two actors, they've made them completely different, although Jekyll is dapper in fancy waistcoat; as indeed is Hyde, commenting on his coat and boots as if trying to convince himself he is really alive Both are obsessed, but while Jekyll seems all too human, from a confident, flirtatious young man to somebody as passionate as he is anguished, Hyde is compulsively strange, restlessly wandering around and muttering, largely incomprehensible, yet able to strike up passable conversations with other people. When Jekyll realises it is he, as Hyde, who has committed such dreadful acts, and worse, how much he relished them, it is a chilling scene. As is the way they vie desperately for the light, and perhaps a little more so than the rather abrupt ending.
The two men are balanced by the introduction of two women; meet their match, as it were, for the latter seem thoroughly modern, and both of them extremely clever: Lady Gabriel, sober and stately in grey; Rose in an exquisitely striking ensemble, beige trimmed with turquoise, which, innovative for those days, can have the skirts made shorter for the purposes of riding a bicycle. Or, in her case, having to flee. However, these new characters may seem a little contrived being an ultra-modern view; politically corrected, you could say. Nonetheless, it makes for considerable interest, for Rose, beautifully played by Rose Hesmondhalgh, is no romantic foil but intrepid and independent, any involvement with Jekyll purely scientific. There is also conflict between her and Lady Gabriel, the latter occasionally at a loss as to how to handle her young relative, threatening to send her away. Natasha Bain turns her into a remarkable creature, although some of her words and actions do not make complete sense. There's much resorting to the belief that a woman can change her mind, each time she goes from absolute refusal to sudden compliance. And it is left to us to work out why she and Jekyll were once so close, what drove them apart and why she abandoned science when it was her passion too.
Still, it's always a pleasure to be inspired to write a good review - you know you're in safe hands with Glyn Maxwell and Storyhouse. And better not be sorry by missing such an excellent show. Until 19th October https://www.storyhouse.com/event/jekyll-hyde
Reviewer: Carole Baldock
Reviewed: 10th October 2019
North West End UK Rating: ★★★★