Providing the laughs tonight; The Comedy Store's Thursday Night Live. A comedy institution for Manchester, the concept is simple, have a laugh, a drink, a pizza and a good time.
The regular weekly show kicked off a little later than usual with our compere for the evening; Paul Thorne, a veteran regular here at the Comedy Store and has travelled the globe with his branding of comedy and as such he knows just how to warm up a Manchester audience and is fantastic at the heckle put down and general musing with the audience. I had the fortune of being sat on the front row and it was inevitable really that I was asking for trouble, and sure enough; Paul was very funny with it and it was always light hearted, always fun, I'm a German Robot Wars Contestant if anyone was wondering.
After greeting the audience, Thorne welcomes our first act of the night; Paul Sinha. Now Mr Sinha will be more familiar to people as one of the Chasers on ITV's The Chase but not as many people know he's a stand-up comedian. His content was quite interesting, humorous in parts but lacking in big laugh gags or hilarious stories; Sinha's set came across too rehearsed, too scripted and a bit wooden as a result, but it wasn't distasteful and he held the audience for the majority of his set.
The last act was Carey Marx, his Dark humour and sarcastic style was a real hit with the audience, funny most of the time, thought provoking and silly but all in the right balance. Marx has not been one to shy away from controversy, his style of comedy and his own gags have been under fire in the past in the press; in particular, a joke referencing 'little people' and Warwick Davies but as close to the mark as Carey's humour goes, it's all in good taste and in my opinion, is shocking but funny, not offensive.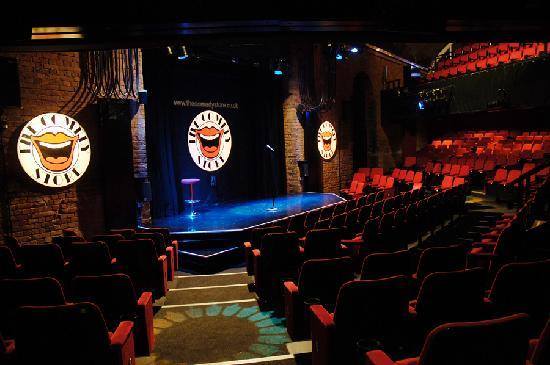 Verdict: A great evening all in all, as always at the Comedy Store, the place for a good laugh!
Reviewer: Max Eden
Reviewed: 12th January 2017
North West End Rating: ★★★★