The Comedy Store dominates the trendy Manchester Deansgate Locks and evidently is a popular venue for all ages and types on a Sunday evening. Comedy evenings offer a host of packages from stage show only, with bar/informal dining or with a two course a la Carte dining experience.
Reviewing at the comedy store stirred a little uneasiness for me, a middle aged woman, entering in to the bustle of Manchester city night life on a bank holiday weekend. The Comedy Store is a TARDIS-like venue; its glass fronted entrance gives the deception of a small intimate venue. On the contrary this vibrant venue has a wealth of space for casual and al la carte dining as well as a spacious bar area and a more than adequate theatre-styled auditorium with a seating capacity of 500. Tonight's audience ranged from late teenager's to great grandparents and the dress code seemed to be 'anything goes' especially with the hen and stag parties that attended tonight comedy show. The evening promised an evening of laughter from 3 very talented comedians and a wonderful host and compare Justin Moorhouse, and this was truly delivered.
The show comprised of two halves, the first half staging two magnificent stand-up comedians, Javier Jarquin and Daliso Chaponda, then the second half, finishing the evenings with the wonderfully talented comedian and musician Rob Deering.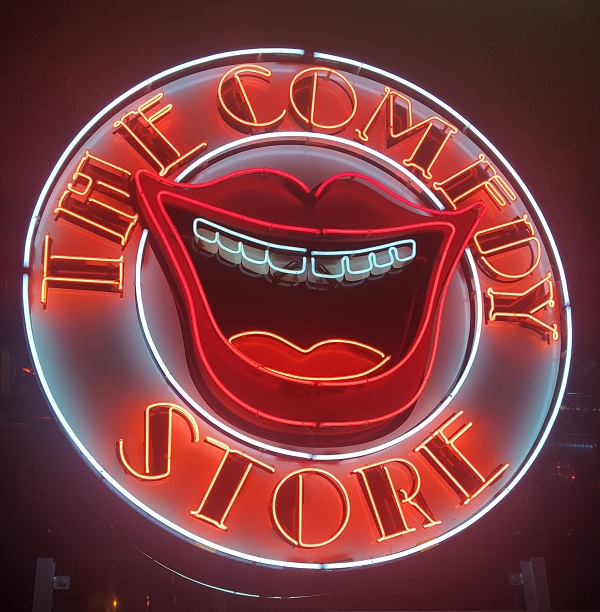 Justin Moorhouse kicked off the evening as host and instantly warmed up and seduced the audience as he bounced onto the Comedy store stage with his boyish charm, quick wit and remarkable ability to engage by his comedy genius with the audience. Next up was Javier Jarquin son of an Latin-American dad and Chinese mum who grew up in New Zealand and settled and married in the UK 5 years ago, hilariously recounted his adaptation to the British way of life, and being married. Jav is truly talented and hysterically funny as he worked through his material seamlessly from one sketch to another, and he was most definitely my favourite performer of the evening as I was literally crying laughing.
Second up was Daliso Chaponda a Malawi comedian, who has lived in the UK for 10 years and is now Manchester based. Deliso recently became Britain's Got Talent, Amanda Holden's Golden buzzer act giving him a guaranteed place in the 2017 semi-finals. Daliso is always political and a little controversial in his material and again Daliso skirted on the edge of hilarious and offensive, but none the less was as humorous as ever. His material relating to dating women was genuinely side splittingly funny.
Following a 20 minute interval and an opportunity to sample the delicious stone baked pizzas the second half staged Rob Deering a superbly talented musician who wooed the audience and ended the evening spectacularly. Rob with his easy charm, cheesy singing voice was as slick and professional as musical comedians come, as he used all the pedals and switches at his disposal on stage to create a highly impressive one-man soundscape powered mainly by energy and excellent guitar skills.
All in all, the comedy store is an amazing venue in the heart of the city that is well worth a visit. It is great value for money, and has the friendliest and most helpful staff I have ever met in a busy city centre venue. Its ever changing line up of comedians' guarantees fresh material and a different experience on every visit. Tonight's stand-up was a belly laughing experience and I would highly recommend 'the best in stand up' to anyone who fancies a great night out.
Reviewed by: Victoria Wilmot
Reviewed: 30th April 2017