The Lowry Theatre has partnered with theatre company Paines Plough on its landmark Roundabout project. Formed in 1974 over a pint of Paines in the Plough pub, Paines Plough is the UK's national theatre of new plays and has commissioned, produced and toured more than 130 new productions. In 2014 they launched Roundabout, the UK's first ever fully accessible, demountable and portable plug-and-play theatre.
Each Autumn Roundabout tours the country following its appearance at Edinburgh Fringe Festival, the space becoming an inspiring creative hub that – whilst temporary – aims to be truly embedded in and owned by the communities it visits. In 2015 The Lowry joined Paines Plough on a 3-year £800,000 ACE strategic touring programme with the aim of bringing the thrill of live performance into the heart and fabric of Salford communities where there is little access to or tradition of engaging with new theatre writing. This year they have taken Roundabout to Little Hulton as part of the inaugural Little Hulton Goes Large event from Thu 7th – Sun 10th September 2017.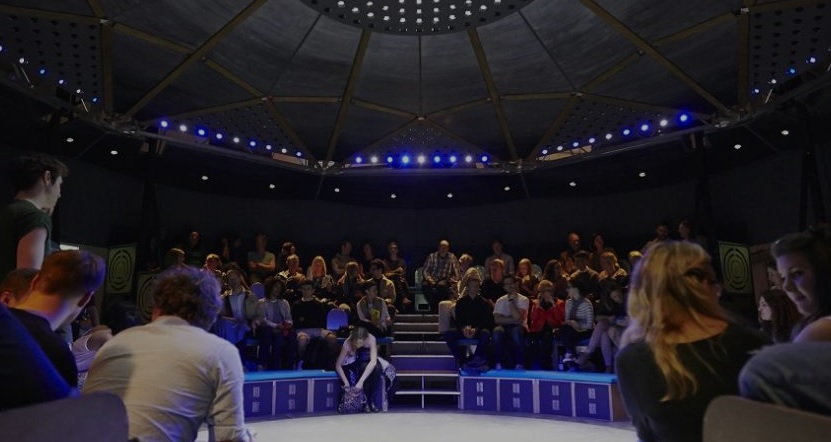 Tonight at the Roundabout Mancunian comedian Justin Moorhouse dominated the stage at the pop-up theatre, using the material from his UK tour latest standup show 'People and Feelings'. Hitting 47 years old Justin is still on his hilarious quest to make sense of the world and the people in it.
Justin Moorhouse erupted into the theatre round, bell ringing and smiling as he instantly seduced the audience with his lovable boyish charm. Justin seamlessly covered life and world topics from Brexit, paedophiles, his three truths of life, to life with his teenage children and fear of 'Ninja sodomisers', making each bizarre topic hilariously funny.
Justin Moorhouse never fails to have me crying with laughter and I can truly say I am a long-time fan of his. I've seen him numerous times on stage over the years and I've always left his shows with an aching body after laughing so hard, and tonight was no exception. Tonight, however, was off the scale funny as the audience bore witness to a moment in Justin's comedy career that I am sure he won't forget in a hurry. Mid story telling (a tale I've heard many times before in his stand up) of the tale of Sharon being knocked out by her brother Oggie (Andrew), what initially appeared to be a heckler turned out to be the mum and dad of the childhood friends he was talking about. Justin was visible as shocked as the audience, followed by ruptures of laughter as Justin was uncovered and caught out with his 'I never lie' statement earlier in the show. It was hilariously funny to see Justin pull back from his exposure.
A brilliant night at the Roundabout and a pleasure to watch a comedian who's every moment on stage is captivating and funny in a unique and intimate theatre space.
Reviewed by: Victoria Wilmot
Reviewed: 7th September 2017
North West End Rating: ★★★★