I had not been to the Comedy Store for several years but on entering the venue I knew it was going to be an entertaining night. Deansgate Locks was crowded and the club was incredibly welcoming and clearly fired up for a good night.
The MC for the night was Imran Yusuf. Intelligent, witty and able to deal with audience hecklers with ease. Controversial and political at times and often involving the audience he introduced each act with genuine warmth. On asking the audience where they came from he discovered a group of students from South Africa and could immediately share his hilarious experiences of getting cash out of an ATM in South Africa and compared it to the UK. Unplanned comedy such as this demonstrated he was expert at his craft.
First on was Mick Ferry. Not for the easily offended as no topic feared and immediately picked on the front row of 'stag do' men. Highlighted the issues of 'having a miserable face'. Absolutely not the seats to be chosen if you don't want to be picked on or are sensitive in any way. A great act to start off the evening.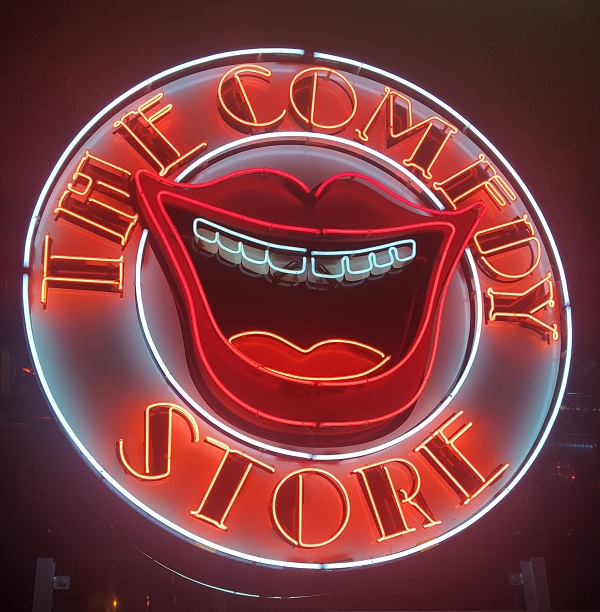 Tony Basnett was a new comedian performing on the night. It was his first time on at the Comedy Store. Stories from his home town of Hartlepool and his definition of what 'posh' meant in this area was very funny. Perhaps a little nervous initially he soon warmed up and had the audience connected. Definitely, one to watch in the future.
Paul Sinah was on next and prior to the set, he was undoubtedly known to many as the 'guy from The Chase' but as soon as he came on he had the audience hooked. Hilarious anecdotes when describing his Fathers reaction to when he told him he was gay. As a trained GP, Quizzer on The Chase and a Comedian, Paul was very popular with the audience.
Sean Collins, a Canadian comic was wonderfully refreshing. Even when receiving some heckles from the crowd he dealt with each one perfectly. At one point he reminded the audience that it wasn't a chat show and actually asked a couple to stop talking. This caused him to veer off his material but this in no way impacted on his performance. His dealing with the 'put down' of audience members was equally as funny. As a Canadian, he had observations about the way Britain 'closes down the country' during an inch of snow fall- humor that was observational but also scarily accurate.
Finally- the most off beat, dead pan comic of the night comic who could be described as potentially having a smattering of Bob Mortimer about him was Andy Askins. He arrived on stage with an electric guitar that he initially stated he 'couldn't play- it's just there to give me confidence'. He was side splittingly hilarious from the moment he opened his mouth. Stories of his wife and family had the audience hooked and he eventually played the guitar and sang his own parodies over the music of popular tunes. Dark in places but the perverse and almost surreal nature of the lyrics were perfect to end the night. My guest for the night was crying with laughter. I'd love to see him again.
The Comedy Store in Manchester epitomises the heart of this wonderful city. Best in Stand up is a night out where no subject is unaddressed and made me realise that Manchester delivers quality humor that is totally enriching and at the very least, makes you chuckle even on your way home.
Reviewer: Angela Kelly
Reviewed: 8th September 2017