With Ryanair cancelling flights and the price of a freddo reaching astronomical heights; we need comedy in our life more than ever; so, a trip to the Comedy Store for one of their 'Best of' Friday shows was essential.
The comedy store at Deansgate locks is rammed with people all looking for some light relief from the week just gone; Rich Wilson MC'd the night and did a terrific job in warming the Manchester crowd which included a few stag dos and party revellers which provided plenty of material for most of the night.
The first act up was Marcus Birdman who delivered quality material about family and ambitions, unfortunately I caught Birdman here at the Store a few months ago and it was exactly the same set and jokes as before so had somewhat lost its impact. Dave Fulton followed with a set based on looking at Britain as an American outsider living here; there was some material that didn't quite hit the mark but the majority was humorous, including interacting with an American audience member who voted Trump.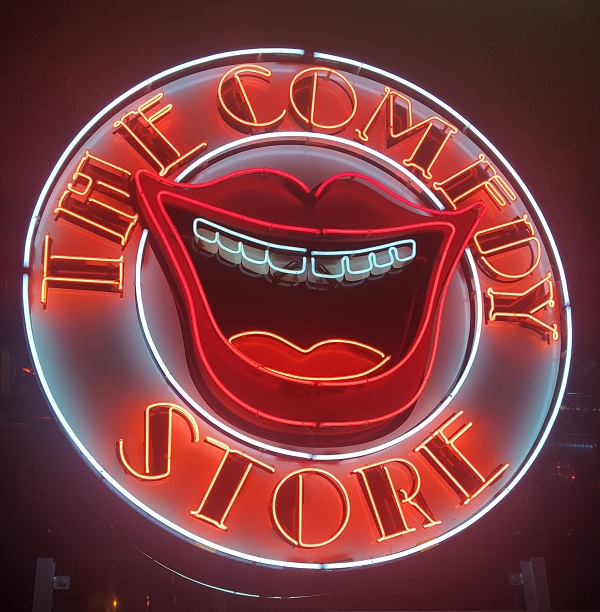 Rich Wilson greeted the audience again for the second half after the brief interval and interacted with a few audience members and once he'd dealt with a number of repeat hecklers, it was straight back to the comedy with Dominic Holland opening the second half, I personally thought Holland was the best comic on stage this evening; telling wonderfully witty stories of his immature scooter riding injuries and dealing with his eldest son's fame as the new Spider-Man. Yes he really is the father of Hollywood's new Spider-Man. His storytelling method is finely crafted and clean and goes down well as a result.
Closing the show was probably the most eccentric bizarre comedy act I have ever witnessed; Phil Nichol bounced on to stage with more energy than all the other acts put together but at times you didn't know whether to laugh or cry as this extraordinarily extrovert comedian ripped through the audience, leaving some audience members no choice but to make a swift exit as he encouraged the remaining audience to chant for their removal, yes these particular punters had been annoying through the other acts but in my view; it was a step too far, there was some very funny material but it was far less frequent for me to enjoy Nichol's set.
I'll be back to the comedy store because I know it can be so much better but tonight it just didn't hit the right spot.
Verdict: Hit & Miss
Reviewer: Max Eden
Reviewed: 29th September 2017